What most people call scissors, professionals like me know them by their real name, shears. Every cosmetologist knows no two shears are alike, and they come in many different colors and styles. They can come made with two or three holes, full hole circle or just hole resting spots, and can additionally have a swivel thumb or a double swivel thumb.
Best Double Swivel Shears At A Quick Glance
[content-egg-block template=custom/new_list_test]
If you are a new cosmetologist just starting out all these different shear options might sound funny to you, but since you are on this post I'm sure you've at least heard of a double swivel shear. Having the best double swivel shears are going to improve your overall haircutting game and help you build a bomb ass clientele.
[su_divider divider_color="#fae8f0″ size="2″ margin="5″]
---
What Is A Double Swivel Shear?
A double swivel shear is any two hole shear that has a moveable thumb piece. It allows users to move their thumb in any direction they wish; up, down left, right, vertical, diagonal, and in any other circle movement you could possibly need. There are literally zero movement restrictions with a thumb swivel piece. 
Why Do People Use Double Swivel Shears?
A big reason people started using double swivel shear is for health reasons. Double swive work off of your bodies ergonomics.
They work with your fingers, hand, wrist, elbow, and shoulder to help reduce repetitive use injuries. This product works with your body to keep it healthy longer which in turn will keep you behind your chair longer extending your career as a cosmetologist.
Knowing all of the hairdresser health problems that can occur will bring to light how important health-conscious products such as double shears are to the cosmetologist.
These swivel shears help prevent cosmetologist prone injuries including:
Another big reason hairdressers use these are for comfortability reasons. Because the thumb rotates any which way you need, you can hold them in whatever position is necessary. Instead of working to the shape of the shear a double swivel thumb will work for you.
It allows you to switch up your hand and arm positioning into more comfortable positions, that wouldn't be possible with standard shears; making your cutting experience more comfortable and better for your limbs.  Example: You may be cutting face frame layers that require typical shears to be placed in a palm to palm technique or a backhand to palm technique which requires you to bend your wrist and raise your arm; but with the use of the double swivel you are able to hold the shear in the proper hand placement with the ability to drop your wrist and shoulder into a more comfortable, less straining position.
When Should I Start Using Double Swivel Shears?
NOW! The earlier you use these the better so you can prevent injuries before they even have a chance to start. It is better to be proactive than reactive when it comes to any injury involving your health. A cosmetologist is only as good as their hand health; an injury to your body is an injury to your bank account and overall career. Without good hand and arm health, you will be out of work looking for a new job quicker then you can say "Do you want to prebook".
If you do end up getting hurt you are going to miss time away from the chair which is money not only lost from missing work but an opportunity for your clients to go to someone else; which is always a risk of losing them as a regular. Don't give your clients a chance to cheat on you, sometime they might find the grass is greener.
The biggest impact an injury can have on someone is additional money lost into repairing the damage already done such as surgery, physical therapy, and doctor appointments.
[su_divider divider_color="#fae8f0″ size="2″ margin="5″]
Testimonial
Being a cosmetologist myself I know how crucial tools are to the trade. Almost everyone I know and everyone at my school was taught how to cut hair with a standard 2 hole shear. I didn't even know there where different types of sheer options out there until my first salon job. A shear seller came into my salon and I felt like I was looking at an alien the moment he pulled out a swivel and double swivel thumb shear! Originally I thought they were stupid and I was never going to use one; however, that quickly changed.
I have minor arthritis in my hands and I was told to either adjust my cutting technique, switch shears or live with my hand pain. So I tried out a few different swivel options over the years, and my favorite ones are listed below.
Learning Curve 
Not gonna lie, it was a bit of a learning curve at first switching shears because your hands have muscle memory that takes a bit to break but once you do you'll never look back.  It instantly helped my hand pain and my haircutting time improved greatly. 
Because it improved my overall haircutting time I was able to get more clients in and out of the chair resulting in mo money in my bank! More people also increased my clientele list, which is the main goal for every cosmetologist. 
I can not stress enough how important it is to just trust yourself, and use these new shears. You're going to want to grab your old ones and use excuses as to why you don't want to use your new ones. I get it, your shears are like a third hand and over time the structure and weight start to fit your hand specifically.
What helped me break my habit of using my old ones was using my new ones on a super busy day. Whenever I would use them on slow days I would only use them for five minutes into my hair cut and switch back to my old pair. On a busy Saturday, I forced myself to use the new ones and after that full day, I never went back to the old ones. Being busy didn't allow myself to think twice about which ones I was using and I just had to cut the hairs in my chair. Holding standard ones now feels so uncomfortable and harsh on my hand movements.
New things are always scary and uncomfortable at first. But I've learned in life anything that first feels uncomfortable will end up benefiting you in the end! Let us go over all the different swivel thumbs I have personally tried and tested! You might just find a pair that suits you.
[su_divider divider_color="#fae8f0″ size="2″ margin="5″]
This was the first pair I tried because it was the most similar to normal shears. I figured if I was going to start cutting with a swivel I was going to do so by just dipping my toes in the water, so to speak.
This has the classic look and feel overall to it. It is the least intimidating transformation tool you could use for shears, and it is for sure an easy switch up.
Not gonna lie the thing that caught my eye first was obviously the color; which is a rainbow titanium coating. 
It is made from Japenese 440c Steel and the length is 5.5" which is the length I was taught on in school; therefore the most comfortable length for beginners.
For those who like longer sheers, this is a good length to still have around to use for face framing or when precise hair cutting is needed. It is great for cutting hair anytime you are using your fingers as a guideline.
A personal con in my book is that the finger rest for the pinky is straight and not curved, which personally fits my pinky better.
Pro: I suggest this for those who want to test out a swivel without diving into some big bucks off the bat, in case it just isn't for you. 
Con: This is the most basic shear and it doesn't come as a package or with any extras like guard inserts.
There is an elevated tension screw that is helpful to twist and make tight as your shear loosens up over time. I did have to get these sharpened at least once a year!
---
If you like this product but want a few more extras I suggest looking into this one!
It has the same multicolor coating, but with a whole ton of extras!
This set includes:
Shark Fin Case
Shear Fit Finger Fitting System
Polishing Cloth
Shark Fin Lubricating Oil Pen
Finger inserts have glitter inside them which is a bit of some added eye candy!
The top finger hole is raised a bit making a divot for your middle finger to comfortably rest on.
[su_divider divider_color="#fae8f0″ size="2″ margin="5″]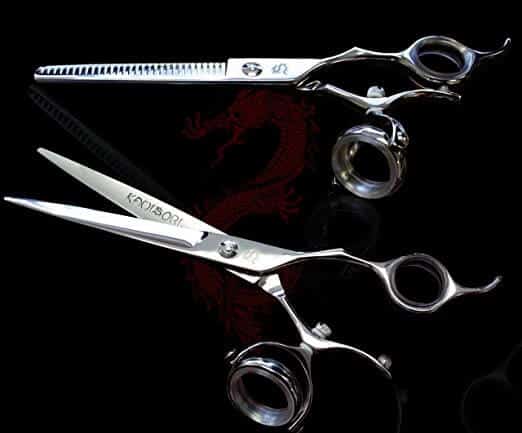 I decided to try a double swivel with a more comfortable finger rest that is arched up, for better pinky placement.
Once again this is a 2 hole product, that additionally has offset handles. 
Great for those who want a more modest color, this is made from Japanese ATS-314 Forged Cobalt Steel and is left in its natural silver form. 
This product has a 3D convex edge, which makes the overall cutting experience feel more smooth compared to a beveled edge.
Pro: This comes in a set with a 30 tooth thinner shear and a travel case, which is great if you make house calls to clients. Is also available in the left hand. 
Con: It does have a durable ball bearing tension system but it does not come with a raised knob that allows you to tighten it yourself.
[su_divider divider_color="#fae8f0″ size="2″ margin="5″]
STOP! You are probably scrolling to fast if you just passed this becuase you thought it was the same as the above shear.
Where the above one has 2 holes, this one as you can see has 3 holes! This provides for more support for your fingers thus allowing you to cut faster and with more precision. 
Once I tried this 3 hole double swivel I never went back to any other shear type. This is super comfortable to use and will make you feel like you have more control over where the blade is going and what you're about to be cut.
Rainbow titanium coating is the color to this 5.75′ shear which is just a smidge bigger than the first one we went over. Made from Japanese 440C Steel. It has a no push semi-convex edge. 
Much like any good product, this one has a raised tension screw with pink jewels!
Pro: 3 holes allows for people to have a proper alignment for their middle fingers which is huge at preventing carpal tunnel syndrome.
Con: If this is your first time using a 3 hole sheer it's going to be a larger learning curve to try a 3 hole sheer with a swivel thumb.
Does not come with any extras!
[su_divider divider_color="#fae8f0″ size="2″ margin="5″]
I call this the MAC DADDY set! It not only comes with extras, but the thinning shear also comes with a double swivel thumb!
It is a bit longer coming in at 6.25′ but after a few uses, you won't even notice the additional length.
Included extras include:
Shark Fin Case
Shear Fit Finger Fitting System
Polishing Cloth
Shark Fin Lubricating Oil Pen
This set is also available in 5.5 " if you prefer a shorter length.
Pro: Comes in a set with extras, and the thinning shear has a swivel as well! This set does include a lifetime warranty which is a big plus with any shear set.
Con: With a longer inch length it will take some getting used to.
[su_divider divider_color="#fae8f0″ size="2″ margin="5″]
Final Thoughts
With so many products on the market, it can be hard to pick the right one for you. No matter what type of shear you choose eventually they will all have to be sharpened at some point.
For those sets that don't come with extras make sure you purchase finger inserts if you need them or transfer over your current ones!
It is not suggested you allow others to use your shears, ever! Everyone has their own unique cutting style and force they use when cutting. Sharing tools will ruin them and they will start to bend in different directions, rendering them useless.
Take care of your haircutting tools and clean them properly so you can have them for years and years!