My Favorite Meal Prep Tupperware At A Glance:
---
Meal prep isn't only for workout buffs or people trying to get in those gains. Meal prep can be helpful to people with large families that seem to always forget about dinner and end up going to a drive-thru. Perhaps you're a slave to your work at the moment with 18-hour workdays and can't even pencil in a drive-thru, so you're left with the vending machine. Meal prep can be a helpful tool to get your eating schedule back on track and improve your overall health, mind, and time. Finding the right Tupperware for meal prep can make all the difference in the world!
What Is Meal Prep?
Not a tough question to answer here, folks. Meal prep is the process of planning and packaging your meals. Typically people will grocery shop for a week's worth of meals, make the food and package it into Tupperware. So an easy schedule to follow for meal prepping is to grocery shop on Sunday and package all the food to last you Monday through Friday.
Things To Consider When Choosing Tupperware For Meal Prep
Meal Prep Tupperware Material
The material will play a huge part in the process of picking out your Tupperware for meal prep. Glass or plastic, that is the question. Both are great choices for meal prep Tupperware, with each material having its own set of pros and cons, but the overall MUST that the Tupperware should have is being microwaved safe!
Glass: Pros
Non-porous making them the safest material
Chemical free
Easy to clean
Durable
Can be used forever, but if need to be thrown out can be recycled
Holds heat better than plastic and won't absorb smells
Clear, so you can see what's inside of it quick and fast
Glass: Cons
Weight: typically heavier than other tupperware material options
Fragility
Price: usually a more expensive tupperware option
Top Glass Meal Prep Tupperware Pick – Rubbermaid 22 Piece Variety pack
This 22 piece set is the perfect Tupperware for meal prep! Glass bottoms are microwave, dishwasher, and freezer safe. In addition, easy one snap plastic lids are BPA-free, making them perfectly safe to store food.
This set can even be used in the oven up to 425°F. Set includes three 1-cup, three 1.5-cup, three 2.5 cup, one 4-cup, and one 5.5-cup container, plus lids. 
Plastic: Pros
Lightweight making them easy to transport
Price: usually the cheapest option for meal prep tupperware
Typically comes in a larger variety of shapes and sizes than glass
Plastic: Cons
Some plastic tupperware can leak bisphenol-A or BPA
Can get scratched with hard utensils
Not recyclable
Can break down over time from high temperatures and overuse
Top Plastic Meal Prep Tupperware Pick – DuraHome Food Storage Containers
This  Tupperware for meal prep set comes in a set of 44 pieces! One of my favorite things about this set is how clear the plastic visibility is, making sight inside to your food crystal clear.
Pack includes 16 sets of 8oz. + 16 sets of 16oz. + 12 sets of 32 oz. Lids and lids are interchangeable between sizes. Microwave and dishwasher safe. 100% food-grade BPA -free polypropylene. Each meal prep Tupperware included in this set is leak-free and is stackable, allowing easy storage.
Meal Prep Tupperware Style
Once you have figured out what material you prefer, you should think about the type of Tupperware meal prep style. Meal prep Tupperware can come in different sizes, such as round or square. Up to date meal prep, Tupperware comes in collapsable styles, bag styles, bento box or a variety of packs of each.
A few factors can determine the style you want to pick out. Fridge and freezer space is on the top of the list for consideration. Meal prep is meant to be for a whole week, so your fridge and freezer space should be thought about compared to Tupperware dimensions. Most Tupperware is made to be stacked and often come in varying sizes to fit, like Tetris.
Another factor in picking out Tupperware style is your lifestyle. Suppose you have to commute to work you want to find meal prep Tupperware that will fit into your daily routine. Biking to work means you might want smaller collapsable bags that don't take up much space, vs. driving to work gives you the flexibility to buy bigger round or square containers. If you stay at home, you have endless options of meal prep Tupperware.
Health is one of the biggest factors in picking out Tupperware for meal prep. Meal prepping for weight loss or weight gains might steer you towards the bento box Tupperware. Bento box Tupperware is great for meal prep because it has pre-divided sections for you to put all your food in. If you medically have to measure out food, you might want to pick out meal prep containers in pre-measured increments.
Reusable Silicone Food Storage Bag – Snack – Everspring™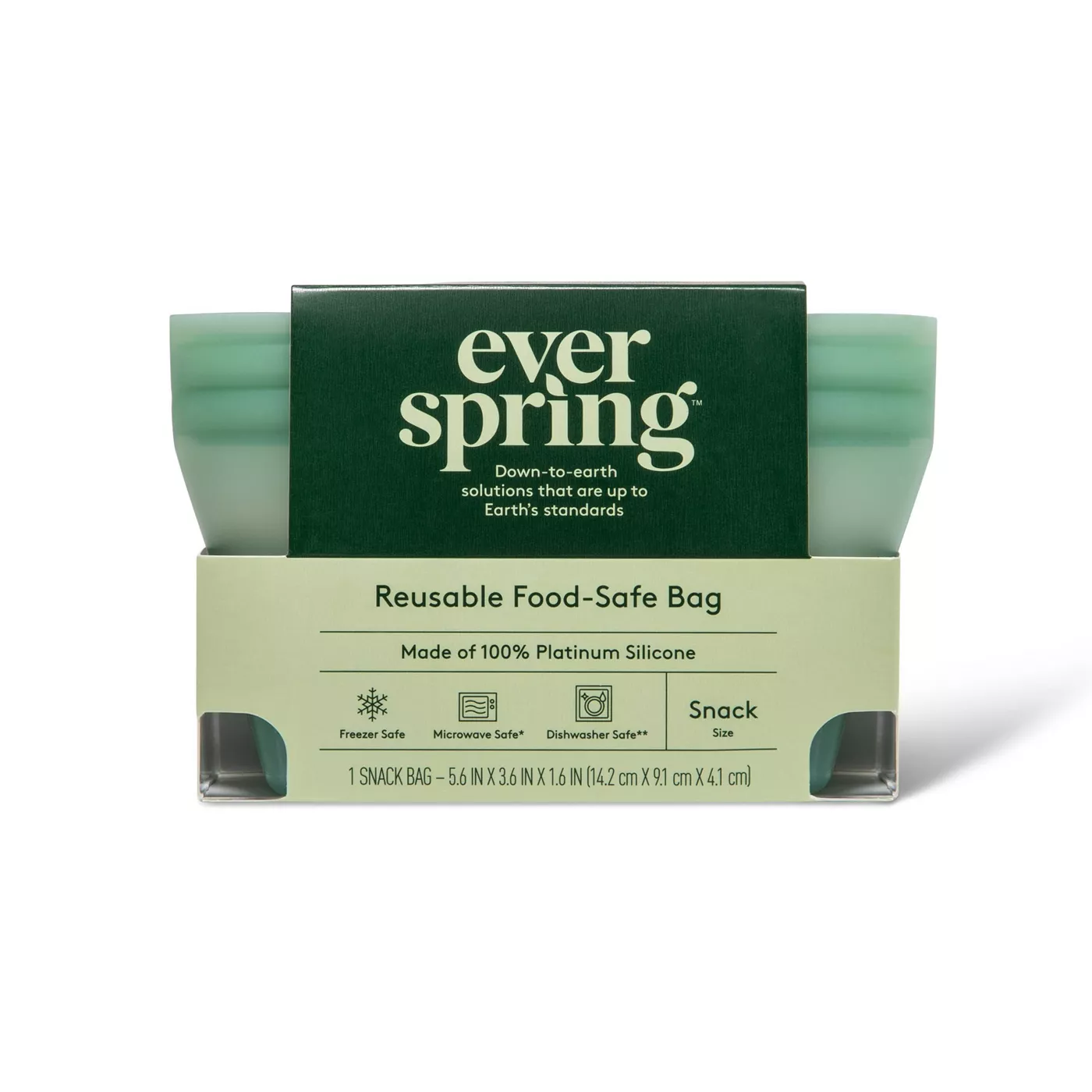 Swap out your go-to plastic food bags with a Reusable Silicone Snack Bag from Everspring™.
This food storage bag is made from 100% platinum silicone that's both freezer-safe and microwave-safe, making it a great option for keeping food fresh in the freezer or heating packed foods. T,
the snack size is just right for holding small servings of food, and the top seals close to keep contents secure. The bag is even dishwasher safe, so you can easily clean it up between uses.
Down-to-earth solutions that are up to Earth's Standards.
100% Satisfaction Guaranteed.
Top Pick For Collapsable Meal Prep Tupperware – Set of 4 colored containers
Comparing with old fashion heavy glass containers, those space savers are light weighted and easy to carry. You can always bring one of them with you and start to protect our earth by using your reusable leftover container instead of a one-time plastic bento box.
Meal prep tupperware is orderless, non-stick, an BPA free. Each container comes with a lid and is vacuumed sealed.
 The collapsible design shrinks down the size more than 50% when the meal prep box is not in use. They are foldable stackable, and the space-saving feature can help you save your kitchen cabinet space and keep your cabinet organized.
Top Pick For Bento-Box Meal Prep Tupperware – 7 Piece Bento-Box
Most eye-appealing meal prep Tupperware set. 7 different bento-box Tupperware with 7 different colored lids. Tupperware comes with 3 separated compartments and one easy to snap lid.
Reusable, microwaveable, dishwasher, and freezer are safe. Each bento-box meal prep Tupperware is made to stack onto each other for convenient storage.
Final Thoughts
Tupperware for meal prep can seem like an overwhelming thought at first, but much like anything else in life, it becomes second nature over time. My best advice is to figure out if you want glass or plastic as the material and eliminate Tupperware meal prep options from there. Double-check piece count and plan accordingly if you need to buy one set or multiple. Most companies give you a 100% satisfaction guarantee which should put your mind at ease. If you don't like the first set, you get no worries, return it and pick another set that can work better for you! Remember, meal prep isn't just for fitness buffs. Meal prep can help make your life run smoother and easier.
If you need any ideas for meal prep recipes, I suggest starting here! 40 healthy meal prep recipes sure to satisfy everyone's cravings.