I have been in your shoes, searching the internet for all things Beachbody and first-hand testimonials. Does Beachbody work? Can you lose weight with Beachbody? What does a Beachbody Coach do for you? Is joining Beachbody worth it?
Take a breath and relax. In this article, we will go over all the answers to your questions and so much more. I can answer all the questions you have running around in your head right now.
I won't pretend it is for everyone, and I will go over a few cons of the program because at the end of the day, nothing is perfect or a one-size-fits-all…even in a world where it claims to be.
I quit coaching Beachbody for a reason, and the myth of MM isn't a myth. I will get more into this down below!
Beachbody Review
Offer Women A Community
Your coach will usually put you into some Facebook group or group right on the Beachbody app when you join. This helps create a sense of community and is great for accountability.
It is nice to talk to other girls doing the program, and you can bounce motivation or suggestions back and forth.
It can be a bit much at times since most coaches will try to post interactive stuff every day, but this will depend on your personality, as if you find this a positive or negative.
Some people like that, and others choose to respond once or twice a week; it's up to you!
You can always mute the group on Facebook.
After a year, the topics all felt the same, the conversations were the same, and after a year, it got pretty old pretty fast. Because so many new people are constantly entering your girl gang, it's hard to grow ad change as a group because it always feels like each month starts over, and it's kept in the "honeymoon" stage without growing and evolving for those in the group who have been there for a while.
A group should grow and evolve and cater to not only new sign-ups but there should be more conversation around those who have been around for a while. More conversations should be discussed on how to mix programs or how to incorporate third-party workouts like cycle or pilates. But from a marketing standpoint, they won't do that because all you need is Beachbody to get results.
If you're a newbie to working out again I will admit after signing up you get a huge energy rush and the initial community can be just what you need to jumpstart your wellness journey. I don't want to discourage you but I just want to be honest, I believe it isn't a community that lasts a lifetime. But not everything that comes into your life is meant to last forever.
Accountability
If you are looking for a coach to hold you accountable, make sure you vet them first.
Take a look at their social media (typically Instagram) and see if they might have a website. This will give you insight into their personality, how they run their programs and if you think you will mesh with them.
It is common in this community to sign up under a coach, thinking it will help you with your wellness goals, only to find out they aren't a good fit with your personality, and you have to wait until your contract due date is up to switch to another one. You can't end your yearly contract early, and therefore you are stuck.
Finding the right coach off the bat will be the most beneficial to you and your fitness journey. Each coach runs their program differently and will have different types of resources for you. But each coach is trained by the same by the company, so they are all kind of cookie cutters.
Vet your coach's Instagram or tick tok platform of choice and see how they interact with others, and take some time to really watch their natural personality shine through.
You can also hit up their DMs to get some real in-depth insight into the type of person they are and the interaction you can expect to get.
Beachbody Programs
One of the things that first stood out to me when I joined Beachbody was the number of programs and a wide variety of programs. There are over 1,800 workouts available and over 70 fitness programs.
Each program is unique, and they all vary in workout time and overall length of program time. For example, some programs are four weeks, some are six weeks, and some are even 90 days! You can check out how long precisely each program is before you choose to commit to that program.
Workout times vary anywhere from 10min+, and you can choose a program that fits your time restrictions.
They put out new programs periodically, so it allows you to try something new.
They have programs made for everyone, and you can choose them based on what is most important to you. So, for example, if you want to start slow and dip your toes into working out again, then pick a program where the videos are 20 – 30 minutes.
With that being said, they count stretching and "mobility" programs as workouts, so the total program number is a bit skewed.
Does Beachbody offer programs for beginners or those who haven't worked out in a long time?
Yes.
A few workout series are designed as a prep course before diving deep into the more advanced program.
Example: Start with the MBF and then do MBFA
You can do The Prep and then move on to The Work.
In almost all of the videos, some modifiers will show you easier alternatives to moves that may be difficult for you to do at first.
However, if you are older or someone who isn't the most athletic, I would stick with going to the gym and having an in-person trainer teaching you proper form and technique, or you will hurt yourself.
Is Beachbody suitable for in-shape people?
I am going to say yes and no.
I have been an athlete my whole life and have always had fitness be a part of my daily routine.
With that being said, a few different programs challenged me, but you can only do the same programs repeatedly so many times. If you follow them all, you can go through the challenging ones in under a year, and then you have to repeat them.
Yes, they come out with new programs, but they won't always be challenging to those who already do more intense videos. Some more recent programs won't be the best option for those already in good shape and are a big waste of time.
My advice would be to take the programs and make them challenge in whatever way you can, with heavier weights or resistance bands with weight. You can make it more challenging if you get creative.
Test Groups
Each program goes through a test group before it is released to the public.
The test groups are done by people who are with the coaches in person, so it is a bit of a different ball game than someone starting out new who is doing the program virtually.
When you do the videos, you are doing it with groups that have already gone through the entire program and are trained for all the moves.
Which Beachbody Program Has The Best Results?
The results will directly result from the effort you put into the videos and what weight you use.
What Beach Body Programs Will Help You Burn Fat?
I would check out the options below if you need help with where to start.
80 Day Obsession.
The Work
PiYo.
LIIFT4. For those who don't have the time to work out every day — a requirement of some Beachbody programs — LIIFT4 promises amazing results in just four days a week. …
Focus T25.
MBF or MBFA
What Beachbody Program Should I Start With?
Talk with your doctor, not with the coach you signed up with. They don't have their license nor a degree to help you safely pick out a program.
Coaches will say they can help you go over what program is right for you at the current stage in your life. But that is sort of like asking your waiter what to order instead of going directly to the chef.
Can You Do Beachbody When You're Pregnant?
I am not a medical professional and am not giving out medical advice, but I have seen people do it.
Beachbody On Demand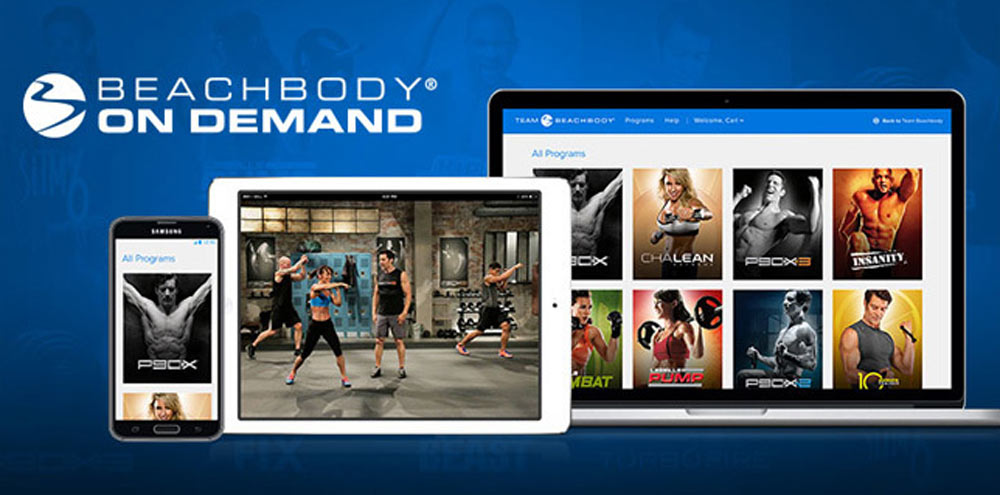 When you sign up for Beachbody, you also get access to Beachbody On Demand. This is a streaming portal (app) that you can access ALL of the programs.
You can put the B.B. on-demand on your Amazon fire stick, stream it through your phone or computer, or even download workouts onto your Ipad! You can't download the programs anywhere else not, not even an iPhone.
Believe it or not, I use my phone the most for work, so it's. It's nice to have a backup at the gym if most of the equipment is being used. It's like an alternative to youtube or Pinterest workouts…however, both of those have free options, just saying.
Since you pay for a year at a time, make sure you want to use it for an entire year, or you will be stuck like me paying for a gym membership while finishing out my Beachbody membership.
Do The Beachbody Products Work?
Much like any other workout supplement, using these can be very beneficial; however, if you have a brand that works or you currently, you can stick with that as well.
I will go over a few Beachbody alternative supplements when I go over their top sold products.
Shakeology
You can choose to get this every month in a subscription, and it'll run you a little bit over $100, or you can purchase it individually, which will run you over $130.
Shakeology is offered in both regular and vegan formulas.
They do unique flavors throughout the year, one of my favorite being their salted caramel.
A protein supplement is a perfect thing to have after your workout to help you recover and will help build lean muscle. I can tell the difference when I use it vs. when I don't.
Much like with any protein powder, you can use the powder to make hundreds of different shake recipes, and you can also use it to make stuff like muffins, protein balls, and so much more! Again, a quick google search or Pinterest search will steer you in the direction of recipes.
Con to Shakeology
I'm not going to lie; Shakeology is expensive A.F. The bag itself gets auto shipped each month, and before I canceled the monthly subscription, I was backed up by about three bags. I didn't use a bag per month, and I don't know who does because I was even sharing it with my fiance.
One bag runs you over $100, which is one of the most expensive on the market.
Coaches preach it because they were preached to buy it themselves.
The funny thing is…when all of the coaches are drinking Shakeology and selling Shakeology, guess who makes more money? Beachbody, not even the coaches pushing it onto their clients.
I was told when I started that you CAN be a coach without drinking Shakeology, but no one has ever been successful without drinking it because you can't sell it if you don't believe in it. My coach I signed up under told me that I need to start buying it because if my audience doesn't see me drinking it, why would they want to. I get why she said that, but I also got that other brands will give people the same benefits as other protein powders.
You are trained to share photos of you drinking the Shakeology and even post fun recipes with it to manipulate people into buying it. But, to be honest, they can make the same protein energy balls with a supplement that is just as clean but half the cost.
If you are looking to save a few bucks, I suggest a few of the following Shakeolgy alternatives.
Energize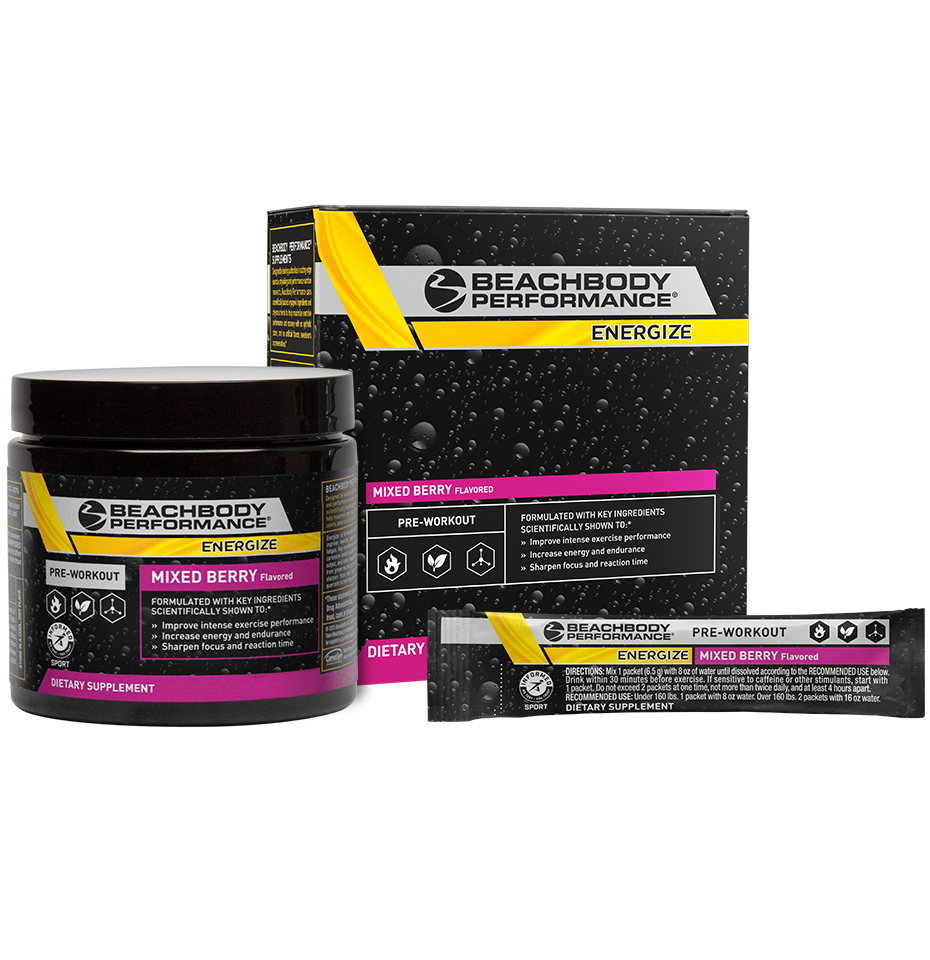 Energize is said to be used before you work out to help sharpen your focus, push harder, and last longer—but beware, you will sweat a bit more! And by a bit more, I mean a ton more. It's a bit embarrassing but might not affect you!
Available in a 40-serving tub or 32 single-serving stick packs, and comes in different flavors.
Other benefits include:
Increase energy and endurance
Improve intense exercise performance
Sharpen focus and reaction time
Increase muscle power output
Delay exercise-induced muscle fatigue
Energizeis like any other pre-workout powder that you can find on Amazon or at the store. Any pre-workout powder will give you the same benefits as above.
Why is Energize better than other energy products?
It's not; it's the same, just labeled differently.
Cons to energize
If you spill the powder, it will stain the surface it falls on, or at least that has been my experience. It has ruined a few of my water bottles by staining them yellow.
It is a bit pricy; a tub will run you $50 + S&H unless you do the subscribe in save, in which case you are looking at around $40.
Energize is a pre-workout supplement, and you can find cheaper ones that give you the same effect.
Energize alternatives:
Other Beachbody Nutrition Products
Energize, and Shakeology is the most used product within the community, but they offer so many more.
Below is a list of the other nutrient supplements Beachbody has to offer:
This info is from their website directly, and in all honestly, you can find cheaper alternatives in stores near you. They push their products and label them differently as part of a marketing tactic, and they have shown to be pretty successful at it.
By no means are any of the products harmful; they are just a bit pricy, and you shouldn't feel obligated like you HAVE to buy them to see results.
How To Become A Beachbody Coach
The most common way one becomes a Beachbody coach is by signing up to coach under their current coach. But, again, not going to sugarcoat it; Beachbody is an MLM program; there is just no other way around it.
Another option is to sign up as a Beachbody coach on your own.
Applicants must meet these requirements:
*Be at least 18 years of age.
*Reside in the U.S., U.S. Territories, Canada, United Kingdom, France, or a country where Beachbody has officially announced it's open for business.
*Have a valid Social Security, Social Insurance Number, or Federal Tax ID number (U.K. Coaches are excluded from this requirement)
*Purchase a Coach Business Kit (except in any location where the kit is not required, such as for U.S. Coaches who reside in North Dakota).
*Submit a correctly completed and executed online Coach Application and Agreement to Beachbody.

Enrolling Coaches are required to provide their credit card information to sign up; however, some Coaches may be eligible for an exception to future business service fees, such as in the case with those U.S. Coaches applying for the military waiver, non-profit organizations enrolling as a U.S. Coach and U.S. Coaches who are residents of North Dakota.


If you choose to go this route, you will continue to make income based on the coaches you get to sign up under you and the girls they get to sign up under them.
You can also commission the girls you get to do the programs (who don't wish to coach) and a percentage off of all the supplements they buy, hence why supplements and products are pushed at you from the start.
When I first signed up to the coach, I would have done this vs. signing up under someone else and making them more money. You want to be at the top of the pyramid calling the shots, not in the middle or bottom, always working for someone else.
Something important to also note is if you ever decide to leave the squad you sign up under and want to coach under another coach or start your stem, your coach who you initially signed up under now retains and gets all of your clients/ signups (that you worked your ass off to get) as their own! This means you are starting over and lose all your rankings within the company.
Can You Make Money As A Beachbody Coach?
Like I told you at the start of this article, I will be transparent with you—only a small. Percentage of people make money from Beachbody, and in fact, most people end up losing money at the end of the year.
Here are some cold hard statistics surrounding MLMs:
About 99% of people who join multilevel marketing companies lose money
Only one person in every 545 people made money after taking away expenses. 997 people out of 1000 admitted to losing money, meaning only three people in 1000 made a profit
90 – 99% of distributors in multilevel marketing only receive a couple of hundred dollars commission per year.
not many people continue with MLM past the first year. Reasons for this include low commission or considerable expense, which most people don't want to pay.
While many like to tell you they are business owners; they are not at all. A business owner doesn't need to check in with their upline, and business owners have a say in what they are selling and for how much…Beachbody "coaches" do not.
If you can't have a say in simple things like changing the company name, creating the social media strategy, picking branding colors. Or what you get paid, you aren't more than a sales rep.
Business Expenses
One of the main reasons people don't make money with MLM like Beachbody is the cost of running your business.
You might think you can save money by not buying Beachbody products, but you would be wrong. When you try to get Beachbody alternatives, whoever you signed up with will give you the speech about how you have to use the products to get the "best" results, and if you don't use the products you preach, then why would your clients under? You want to use them. This, in theory, makes sense, but they want you and whoever sings up under you to get the products so they and the team (pyramid) can earn team commissions and hold their rankings.
This is important because each person has to sell so many subscriptions and products per month or rankings within the community can be dropped. It's not a business model where once you earn a ranking, it's with you and your team forever. This is the literal backbone business model of MLM.
These are all charges you will be charged per month off the bat, but you can go in and cancel them at any time. I didn't realize all of these were getting charged monthly until like year. In and this company is the king of not wanting to give refunds.
Here's a breakdown of what you will be spending when you sign up to be a Beachbody coach:
Inital signup is $140 (make you sing up with a challange pack to save money or it's more)
Business fee is $15.95 per month
Bag of Shakeology per month is $97.46
Beachbody Nutrition + Membership $14.96 per month
Energize $37.46 per month
Ultimate restart packs range from $200-$350
Something to note is if you do decide to cancel your coach membership, that fee you were getting charged (the $15.95) will change to a "preferred customer" fee for the same amount.
Can You WIn Free Trips As A Beachbody Coach?
NO, and it was the most manipulated factor pushed towards me because the coach I signed up under knew I originally joined the Beachbody community to connect with other women.
If you EARN your spot at the top level, they give you up to $1,200 in room credit, but you still have to pay for airfare, excursions, food expenses, and any additional room cost. And you have to be of a certain high ranking even to qualify, which means you have to sign up five people consecutively for months on end on top of signing up coaches under you.
I signed up as a coach, initially thinking I would get to go on trips with other girls in my group for free, and it would be a good bonding experience, but I was SO wrong. You can't go into ANY type of retreat or girls trip if you don't sell, or I mean sign up, five girls each month consecutively to build your rank in the company on top of signing up coaches under different legs. So if you just wanted to go and pay your way, you can't; you don't even get invited.
My vision of joining a girl gang slowly fizzled, and reality hit. I got duped into thinking I was joining an actual kick-ass girl gang where you got to share common interests of working out and meeting IRL to go on girls trips..but I wasn't able to even partake in such girls trips because I wasn't signing up people per month consecutively and didn't have the rank to qualify to go.
The emphasis is on consecutively here, folks, because you can have signups per month for 15 straight months, and if you miss singing sooner up the next month, then you go back down to zero and lose your ranking.
This also applies if someone you have signed up for doesn't renew or skips on buying products, you lose them towards your monthly/weekly income required, which is needed to keep your rank.
So not only do you have to make sure your current clients stay clients, you have to constantly focus on adding clients and coaches under you per month.
Here's how the rankings work:
Is Beachbody Passive Income?
This one makes me LOL, it is the farthest thing from passive income, and that is all you see MLM people spreading. Have you ever heard the phrase hurt people hurt people?
Here is an example of the BAT you are expected to follow daily. Oh, don't think you can't do it either, your coach who signed you up as a coach can see your BAT activity online, and they don't approve of doing your BAT through the old-school pen and paper. They tell you to do it online to track your activity, which means they can tell when you are or aren't doing it and when you are or aren't logging in. It feels like you are in school or an employee who has to check into a boss. So tell me again, how it's passive?
Who in the heck has time to do all of that? On top of that, you have a Monday company-wide training, group zoom training, live zoom workouts, and unique one-on-one or small group training, just to name a few.
On top of that, you are encouraged to write down conversations you have with people in your inbox and put them into columns in a notebook. These columns are labeled as possible leads, active leads, and good potential leads to be coaches that can earn you money under one of your legs. You put down people's names and usernames with notes of the last conversations you had and are encouraged to go back and keep the discussion going. Always end your talk with questions, so they have to reply back and thus creating (in my opinion) a false sense of friendship.
You are encouraged to keep conversations going in your inbox for at least an hour a day to build "trust" and thus eventually give them the pitch.
You are also encouraged to go through your story views and write down people you notice watching your stories regularly. You are then encouraged to reach out to them with the oh so subtle "So I noticed you've been viewing my stories lately, are you at all interested in what I do"? or "I noticed you like a lot of my posts, ar you also into wellness?"
Coaches Coach To Much Of Your Life
The newest thing with Beachbody coaches is telling people how, when, what, why, and even the wording for their captions in their social post. Talk about the irony of them helping you share YOUR journey. So share your journey as long as it follows what THEY think is right.
They give you a calendar with suggested caption examples and even share types of posts you should do, all stemming from their genius of following other "Instagram coaches" and regurgitating advice.
They preach sharing your journey in your way but then nudge you to follow them and post exactly what they choose to share. When you don't D.O., AS THEY SAY, they fixate on that being the reason you aren't selling when there can be so many factors.
When they don't understand the algorithm, it's funny to watch them preach it to their downline. And this fact might only irritate me more since I am in the world of the web and make money off of SEO, affiliate marketing, and advertising.
Do Beachbody Coach Buy Followers?
I can't speak for everyone, but I do know the majority of them do.
An excellent way to look is to peek at their interactions. For example, if they have over 33K but are only getting a few hundred likes, odds are at least half of their following is bought.
So why do people buy followers?
Well, for one, it looks authoritative. Second, it works as a recruiting tactic to make you think that you will gain and grow in followers just like they did by joining their team.
It also works as a tactic to make people think they are successful. Indeed if someone has that many followers, they must be killing the coaching game and are probably rolling in money. Wrong. Followers on Instagram don't always equate to sales or a high social engagement.
Additionally, it works as a way to sell their wellness success. Having followers must mean they are doing something right because you would assume all those followers like to watch the journey of their wellness, and they to must be clients who are living their best healthy life.
Beachbody and Personal Development
This is one area I do give them credit for. Part of the program is to spend ten minutes a day reading, listening, or practicing any type of personal development.
However, I don't think you need to be active in the workout community to benefit from personal development, and coaches use it as a tactic to attract those who struggle with personal development themselves. This is where it gets icky to me.
Are you sharing your journey to connect and truly help others? Or are you sharing your journey to attract people and pray off of them? There's a fine line between the two, and not all humans share for the pure sake of being open.
Some share because they are taught to be approachable to people and attract others in the same boat. This starts open communication, which leads to..what does the BAT say…open communication that leads to an invitation to join a challenge group.
And I am not all cynical, to be precise. I have met some super sweet humans who have been Beachbody coaches, but almost all of them have at one point in time reached out with a "want to join my fun girl group," which makes me think my negative thoughts are valid. But I also get it being an entrepreneur myself, a girl's gotta hustle.
Beachbody Hybrid Groups
If you find yourself stuck in a situation where you aren't a fan of your coach or the community you signed into, have no fear.
There are tons of hybrid groups you can search out; the easiest to find is on Facebook.
These groups are misfits who do programs in their own way and follow their own path.
It is an excellent resource for those who beat to their own drum but still want people to bounce ideas off of, and it is a great resource to get advice from.
These groups are great for learning about new programs and which ones can be intertwined, hence the name hybrid group.
Alternative Beachbody Product Avice
You will also find cheaper alternatives to products and supplements on these pages. Most coaches will hate these pages because not buying Beachbody products is going to affect their commissions directly.
Beachbody products aren't going to be everyone's cup of tea though, due to it being a bit pricey or even just the taste might not be the best.
These groups make it very helpful.
Cardio + Beachbody Program Info
One of the things I love about these groups is that women in here do some workout that isn't part of the Beachbody programs, such as cycling, running, pilates, or even skiing.
Girls will post their schedule of programs with their cardio or other workout studios, and it can help those who don't just go by the programs exclusively.
Why Do People Quit Beachbody?
Each person has their own reason for quitting things, but I can take a good guess as to why most people decide to walk away.
Injuries
This might be my biggest issue with MLM like Beachbody. As I said before they are NOT certified in any sort of physical fitness or personal training. Yes, you might find one or two who are, but for the most part, they aren't.
The people who have degrees or licenses in that field are the ones working in actual gyms.
I'll be blunt about it, they have no right to suggest programs that are best for your body when they don't understand to the best extent of how the body works.
On top of this, you are doing the workouts on your own so you don't have a trainer there to correct you when you have bad form which is the number one reason injuries happen. The trainers in the videos do a very good job at explaining what your form should be, but hearing about good form and practicing good form with someone there to correct you are two very different things.
Results
It is no doubt people who first start the programs are going to see results since they are probably coming to form a season of life with little to no movement.
The change will happen off the bat because you move your body more and focus on what you eat, thus creating a healthier lifestyle.
After a while though the programs will only take you so far, and your body will start to stagnate. Yes, you can repeat the programs, but you will mentally lose interest since you have already done them so many times. The excitement for working out will start to feel like a chore.
Repeating programs with the same equipment means your body will build up a tolerance, ill start to plateau.
Coaches Aren't Honest.
What do I mean by this? I mean that coaches don't just see results from Beachbody programs exclusively as they preach. Instead, they typically pair the programs with lots of other movement that come in the form of extra cardio or classes at a studio near them. I find this misleading and harmful because most aren't very open about the "extra" movement they are getting in the day.
Most coaches live a very active lifestyle and are the ones who tend to walk to most places, use the stairs instead of the elevators, and choose to stay in on the weekends so they can wake up and work out vs going out, drinking extra calories and eating crappy food.
Be aware of this, and if you want results like them, be ready to do more than just a 30 min workout. Be prepared to change your whole lifestyle and be overall more active.
I wish more coaches would share their extra movement because I think more emphasis should be put on an overall more healthy lifestyle change vs. just promoting videos.
You Aren't Working With Professionals.
Besides what we went over about them not being the best to suggest workouts, they also aren't doctors or nutritionists and shouldn't tell you what type of meal plan to follow.
There are so many different variants on the meal plan you should follow and the number of calories you need. You should seek professional advice from someone who can go over your meal plan in-depth with you and explain scientifically why it will work best for you. Here's a question to ask yourself. Would you ask your friend or coworker what the best meal plan is for you to follow? You are saying no out loud right now. Then why would you listen to a Beachbody coach?
Someone suggesting a cute new boot or a fun lip gloss is one thing, but listening to people on the best workout plan or meal plan for you to follow is rather crazy when you sit back to think about it.
FTC Sends Warning Letters to Multi-Level Marketers
The Federal Trade Commission is putting more than 1,100 businesses that pitch money-making ventures on notice that if they deceive or mislead consumers about potential earnings, the FTC won't hesitate to use its authority to target them with large civil penalties.
As the pandemic has left many people in dire financial straits, money-making pitches have proliferated and gained special attention. From multi-level marketing companies offering the dream of owning a business, to investment "coaches" with promises of secrets on how to beat the odds, to ubiquitous "gigs" that pitch a steady second income, Americans are bombarded by offers that often prove to be less than advertised.
As a result, the FTC is deploying its Penalty Offense Authority to remind businesses of the law and deter them from breaking it. By sending a Notice of Penalty Offenses to more than 1,100 companies, the agency is placing them on notice they could incur significant civil penalties—up to $43,792 per violation—if they or their representatives make claims about money-making opportunities that run counter to prior FTC administrative cases.
"Preying on consumers and workers with bogus promises of big earnings should never be profitable," said Samuel Levine, Director of the FTC's Bureau of Consumer Protection. "Today's announcement helps ensure that companies that cheat struggling Americans will pay a heavy price."