I have been in your shoes, searching the internet for all things Beachbody and first-hand testimonials. Does Beachbody work? Can you lose weight with Beachbody? What does a Beachbody Coach do for you? Is joining Beachbody worth it?
Take a breath and relax. In this article, we are going to go over all the answers to your questions and so much more. A bonus here is I was a member for a year before I decided to coach and I can answer all the questions you have running around in your head right now.
Beachbody Review
Before diving into Beachbody I'm going to share my journey with you.
I've always been a total gym person, and if you had told me years ago that one day I would cancel my gym membership to workout from home, I wouldn't have laughed in your face.
If you then would have told me that I would not only belong to Beachbody but would also end up being a coach, I would have really laughed in your face.
The whole reason why I turned into a coach is that the program works that well and it literally changed my life.
Love The Community
You see, when you sign up for Beachbody, you aren't just signing up for access to workout programs; you are joining a fitness community.
The community is why the workouts work so well. You have a whole team behind you there to pump you up on days you don't feel like working out, and you make a real honest connection with people.
Some days things just aren't going your way, and the last thing you want to do is a workout, when in fact, that is the exact thing you should do. The community is there to listen to your bad days and motivate you to press play and get it done.
When you sign up with a coach like myself, you are getting someone who truly cares about you and your fitness journey.
Coaches such as myself are here to be your hype girl and we are here to help you work out your mind, not just your body.
Improved Mental State
Another big thing you get when you choose Beachbody is a total improvement mentally. The community focuses on manifestation, reflection, and the practice of gratitude.
After doing a few programs, I saw the physical change with body, but what surprised me most was how much my mental state improved.
I was overall a happier person who enjoyed life so much more. I stopped overthinking so much and my overall anxiety levels went down.
I started practicing gratitude and became super appreciative of everything in my life, and found good things in each day.
The personal development books I started reading turned me into a person who started becoming more organized with aspects of my life. I found myself following certain dreams I had been putting off for years, and I noticed procrastination was no longer an issue for me.
All of these habits propelled me into keeping a calendar, and I started excelling at all my projects. In a way I was rewiring myself to become the best version I could be, which grows daily.
I love that coaching gives me the ability to help people be the best versions of themselves that they can be. I coach because I see how it can better everyone's life and I believe in the programs and the overall community.
When you sign up for Beachbody you are signing up to change your life for the better.
Let's connect! I would love to go over the process of how you can join my team and I can better help you choose your first program! Shoot me an email at [email protected] or sign up here!
Love The Programs
I am honestly obsessed with the programs. They not only 100% burn fat, but they make you so much stronger. For the first time in my life, I was able to get real abs, not the fake ones you get when you have to walk around and suck in.
I love that you have so many programs to choose from that you never get bored! You could literally do a new program every month and still not have gone through all of the available programs they have to offer.
Switching up programs keeps me entertained and shows me the best resutls. When I went to the gym, I would do the same lifts with the same cardio routine, and I would plateau and start to gain weight.
With the variety of workouts, your body is constantly being challenged, which is best for building muscle, burning fat, and toning your body.
Unlike trainers at the gym, when you pick new programs, you get to experience new coaches. Eventually, you will find your favorite and you can choose to do all the programs they teach or circle back to do a program again.
Does Beachbody Work?
Simple answer: YES!
Beachbody has many programs that experts specifically designed to help you lose weight, burn fat, and increase your overall health.
The community of BB focuses on all-around health and wellness both mentally and physically, which is a key factor of why the programs all work. Your mentality plays such a big role in your overall wellness and is often ther reason why people can't commit, stick to or see results from workout programs. We will dive more into this later.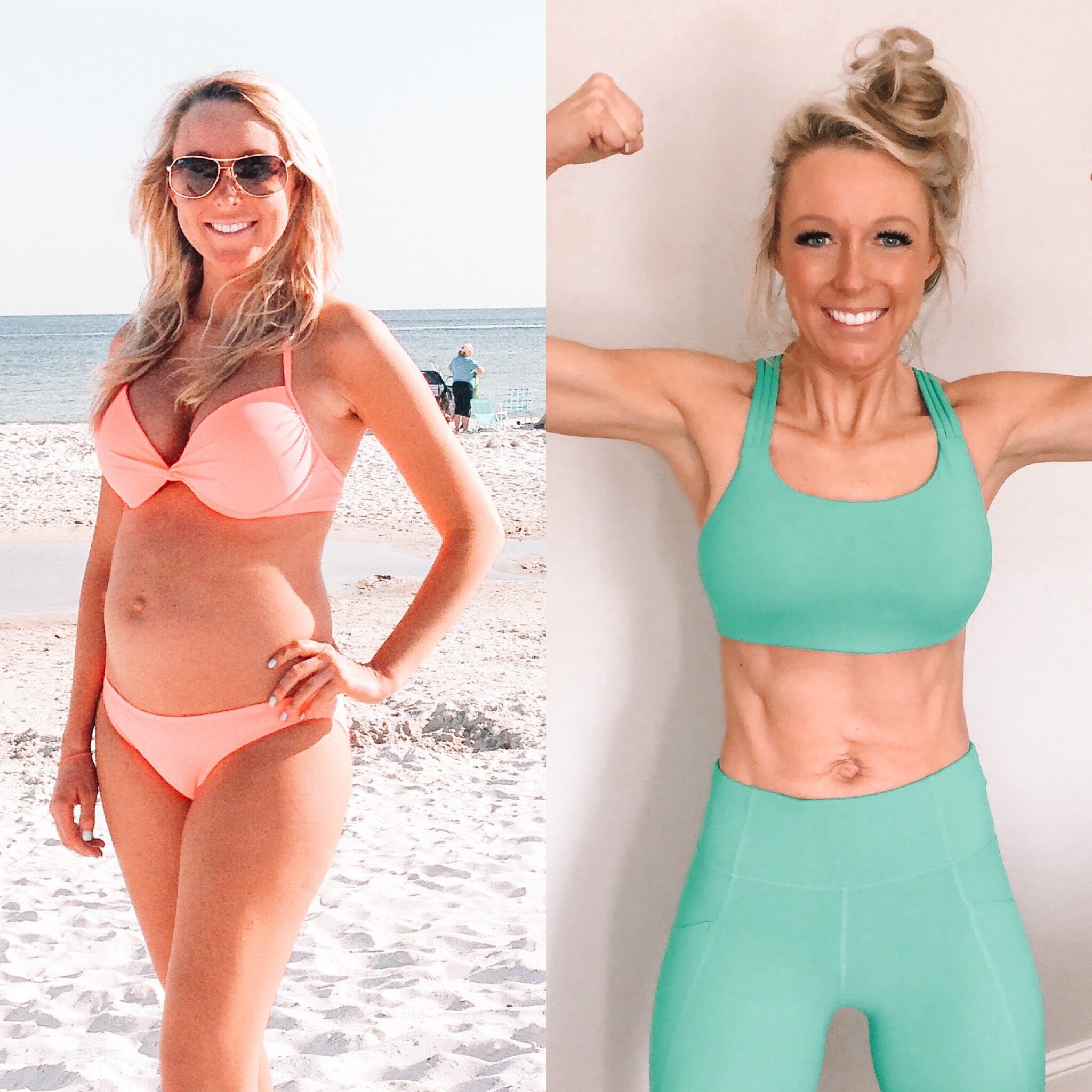 Beachbody offers clinically proven Nutritionals that are developed by top scientists and fitness and nutrition experts, so they aren't just made up by any average joe.
If you still have any doubts go check out their Instagram or search the hashtag Beachbody transformation.
The before and after photos don't lie, and the images of people's transformation are shocking. You can go down a rabbit hole of looking at them, and that in itself should be enough to make you want to join and show you proof it works!
Beachbody Programs
One of the things that firsts stood out to me when I joined Beachbody was the number of programs and overall variety of programs. In fact, there is over 1,800 workouts available and over 70 fitness programs.
Each program is unique and they all vary in workout time and overall length of program time. Some programs are 4 weeks, some are 6 weeks, and some are even 90 days! You can check out how long exactly each program is before you choose to commit to that program.
Workout times vary anywhere from 10min+ and you can choose a program that fits into your time need restrictions and fit into YOUR life.
They are continuously putting out new programs and with so many options available, you can do a new workout series all year without ever repeating one.
They have programs literally made for everyone, and you can choose them based on what is most important to you. If you want to start slow and need to dip your toes into working out agian, then pick a program where the videos are 20 – 30 minutes.
Does Beachbody offer programs for beginners or those who haven't worked out in a long time?
Yes!!
A few workout series are designed as a prep course before you dive deep into the more advanced program.
Example: Start with the MBF and then do MBFA
You can do The Prep and then move onto The Work.
In almost all of the videos, there are modifiers that show you easier alternatives to moves that may be difficult for you to do at first.
Test Groups
Each program goes through a test group before it is released to the public.
The test groups are 100% legit and they include people of every athletic caliber, including beginners. This ensures you that no matter where you are in your fitness journey, you will be able to get through and benefit from each program.
Which Beachbody Program Has The Best Results?
All of them. I know that sounds sooooo cliche, but they all honestly give you results. Each program is different, so some might show you more results in terms of getting you more toned, some will show you more results in terms of gaining muscle, and all will give you results of losing weight if you pair it with the proper nutrition.
The results will be a direct result from the effort you put into the videos and what weight you use.
What Beach Body Programs WIll Help You Burn Fat?
All the programs will help you burn fat, but if you need help in the direction of where to start, I would check out the options below.
80 Day Obsession.
The Work
PiYo.
LIIFT4. For those who don't have the time to work out every day — a requirement of some Beachbody programs — LIIFT4 promises amazing results in just four days a week. …
Focus T25.
MBF or MBFA
What Beachbody Program Should I Start With?
Talking to a coach, like myself, will be the best bet in picking out a progrma that is right for you.
Coaches help you go over what program is right for you at the current stage in your life. Since coaches like myself have done almost all the programs. and have trained many other athletes it is easy to guide you in the right direction.
Can You Do Beachbody When Your're Pregnant?
I am not a medical professional and am not giving out medical advice, but I have had members of my team do the programs while pregnant.
Beachbody On Demand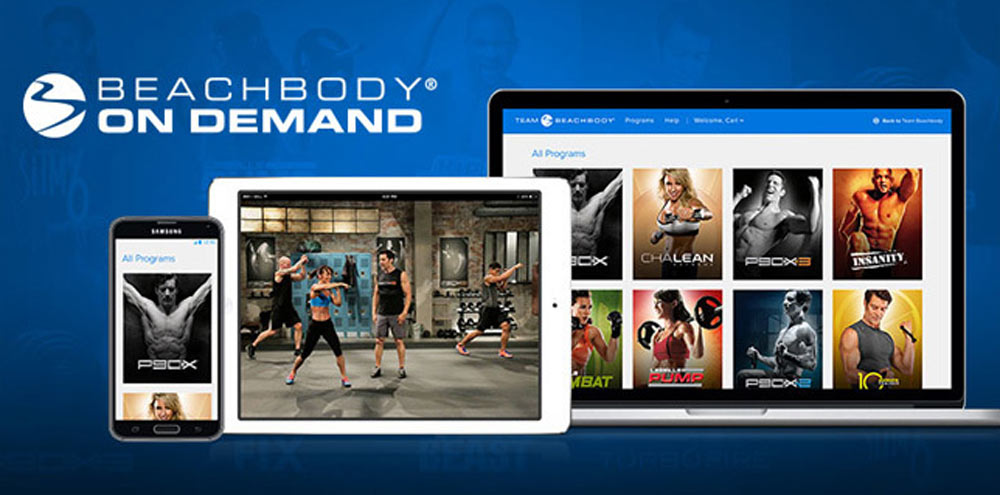 When you sign up for Beachbody, you also get access to Beachbody On Demand. This is a streaming portal (app) that you can access ALL of the programs.
You can put the BB on-demand on your Amazon fire stick, stream it through your phone, your computer or even download workouts onto your tablet!
Having this on-demand feature is amazing and makes it so you can do the workouts from anywhere at any time.
Believe it or not, I actually use my phone the most for the workouts. Because I work from home, doing the exercises in my living room isn't my first choice. Going down to my gym allows me the ability to feel like I at least left my apartment once for the day. It mimics the effect of leaving and going to the gym but I don't have to actually waste time walking a few blocks to get there.
If there are many people in my building's gym, I will sometiems do the workouts in my living room.
That's what's so awesome about the on-demand feature. You can do it anywhere, at any time. Belonging to BB gives me the access and ability to keep up with my workouts when I'm traveling for vacation or work.
Being able to play the videos at any time makes working out fit into MY schedule, and I don't have to fit my schedule into a workout time or plan my day around making it to the workout class.
Do The Beachbody Products Work?
Beachbody products 100% work. They have a few different products and using these products will help you achieve the best results from the videos.
There's no point in putting all that work into your workouts if you're not going to follow it up with the proper nutrition.
Shakeology
Shakeology is offerd in both normal and vegan formulas.
They also do speical flavors throughout the year, one of my favorite being their salted caramel.
On top of 16–17 g of high-quality protein, Shakeology® also contains so much nutrition your body craves—digestive enzymes, prebiotics, probiotics, adaptogens, fiber, antioxidants, vitamins, and minerals, all crucial to being healthy and feeling great.
Not all shakes are created equal. In fact, not every company cares as much as we do about quality. So why are we so dedicated to finding premium ingredients and rigorous quality testing? Because BB believes this level of commitment sets Shakeology apart and makes a difference in your health and wellness.
If you struggle with low energy, digestive issues, or your weight, you might not know how good it is to feel great. You might not realize just how much better life can be when your body is functioning at its best.
Why is Shakeology so good for you? Take a peek below and find out for yourself!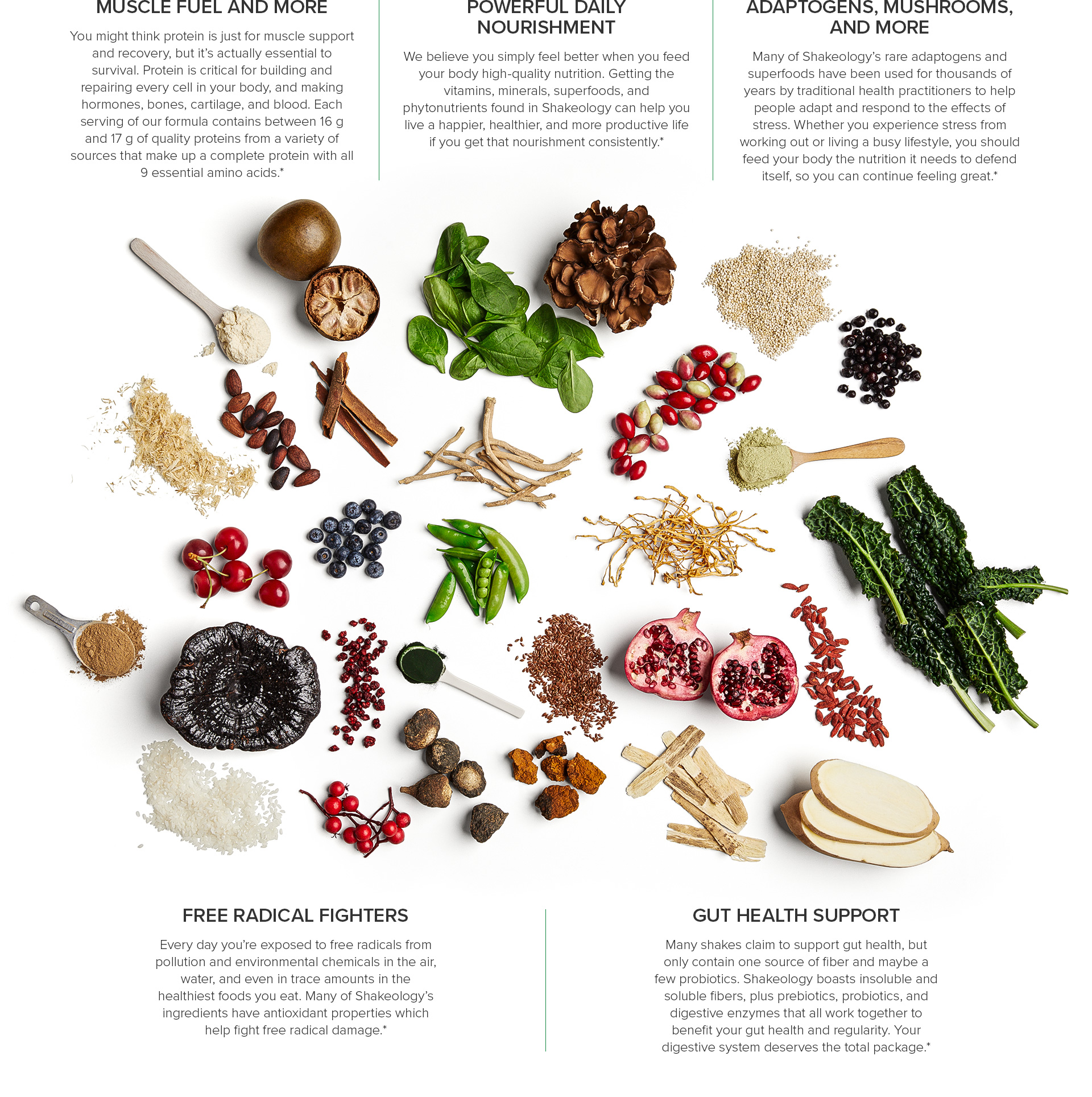 Shakeology is the perfect thing to have after your workout to help you recover and get you ready to press play the next day!
You can use the powder to make hundreds of different shake recipes and you can also use it to make stuff like muffins, protein balls and so much more! A quick google search or Pinterest search will steer you in the direction of recipes.
Energize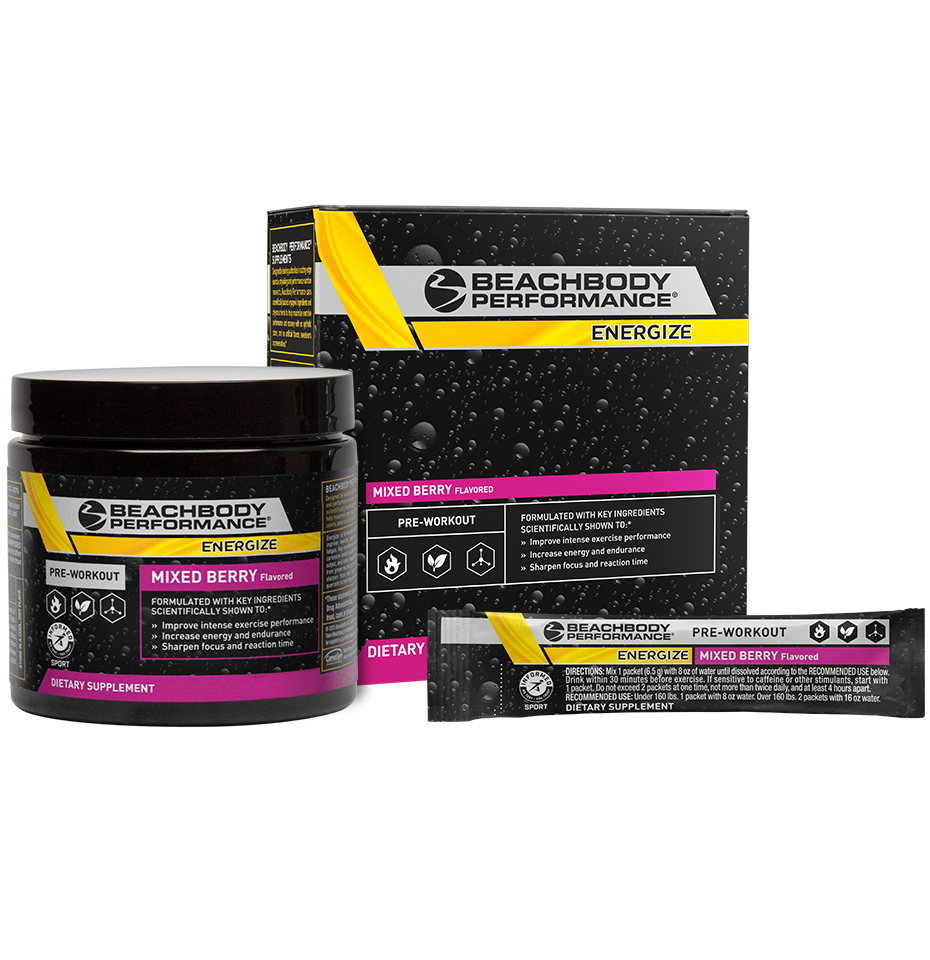 Blast through your toughest workouts with a surge of energy!
Take Energize before you work out to help sharpen your focus, push harder, and last longer—because every ounce of extra energy can mean better results.* Now in Mixed Berry flavor!
Available in a 40-serving tub or 32 single-serving stick packs, and comes in different flavors!
Energize is formulated with key ingredients that are scientifically shown to help give you energy. Take it before workouts so its key ingredients can help:*
Increase energy and endurance
Improve intense exercise performance
Sharpen focus and reaction time
Increase muscle power output
Delay exercise-induced muscle fatigue
Energize is often reffered to as hype juice and it is amazing to use before or during your workout! It gives you a little bit of a energy lift that can be easier on your tummy right before doing a workout than reaching for coffee.
Why is Energize better than other energy products?*
You get increased energy.
It's a powerful combination of ergogenic (performance-enhancing) ingredients and phytonutrients that are scientifically shown to help improve exercise performance, sharpen focus and delay exercise-induced muscle fatigue.
It contains functional ingredients that have been scientifically shown to work.
No synthetic colors, and no artificial flavors, sweeteners or preservatives.
Other Products
Energize and shakeology are by far the most used product within the community, but they do offer so many more.
Below is a list of the other nutriental suppliments Beachbody has to offer:
You are going to get the best results from the programs when you use the vitamins and nutrient supplements that they make: they are meant to go hand in hand with one another.
Coach Tip and Trick: when you first sign up for Beachbody with a coach (preferably with me wink wink) it is best to sign up as a coach yourself. This doesn't not mean you have to coach or even have to ever think about coaching but you do get that coach discount, which saves you big time on anything you purchase from them.
I did this my first year before I actually took coaching seriously and I was pumped at the savings I was able to have throughout the year!
What Are The Beachbody Nutrition Programs?