I have been in your shoes, searching the internet for all things Beachbody and first-hand testimonials. Does Beachbody work? Can you lose weight with Beachbody? What does a Beachbody Coach do for you? Is joining Beachbody worth it?
Take a breath and relax. In this article, we will go over all the answers to your questions and so much more. I can answer all the questions you have running around in your head right now.
I won't pretend it is for everyone, and I will go over a few cons of the program because at the end of the day, nothing is perfect or a one-size-fits-all…even in a world where it claims to be.
Beachbody Review
Offer Women A Community
Your coach will usually put you into some Facebook group or group right on the Beachbody app when you join. This helps create a sense of community and is great for accountability.
It is nice to talk to other girls doing the program, and you can bounce motivation or suggestions back and forth.
It can be a bit much at times since most coaches will try to post interactive stuff every day, but this will depend on your personality. if you find this a positive or negative.
Some people really like that, and others choose to respond once or twice a week; it's up to you!
Beachbody Programs
One of the things that firsts stood out to me when I joined Beachbody was the number of programs and overall variety of programs. In fact, there are over 1,800 workouts available and over 70 fitness programs.
Each program is unique, and they all vary in workout time and overall length of program time. For example, some programs are 4 weeks, some are 6 weeks, and some are even 90 days! You can check out how long exactly each program is before you choose to commit to that program.
Workout times vary anywhere from 10min+, and you can choose a program that fits your time restrictions.
They put out new programs periodically, so it allows you to try something new.
They have programs made for everyone, and you can choose them based on what is most important to you. So, for example, if you want to start slow and dip your toes into working out again, then pick a program where the videos are 20 – 30 minutes.
Does Beachbody offer programs for beginners or those who haven't worked out in a long time?
Yes!!
A few workout series are designed as a prep course before diving deep into the more advanced program.
Example: Start with the MBF and then do MBFA
You can do The Prep and then move on to The Work.
In almost all of the videos, some modifiers show you easier alternatives to moves that may be difficult for you to do at first.
Is Beachbody good for in-shape people?
I am going to say yes and no.
I have been an athlete my whole life and have always had fitness be a part of my daily routine.
With that being said, a few different programs challenge me, but you can only do the same programs repeatedly so many times. If you follow them all, you can go through the challenging ones in about a year, and then you have to repeat them.
Yes, they come out with new programs, but they won't always be challenging to those who do more intense videos. Some of the newer programs won't be the best option for those already in good shape.
My advice would be to take the programs and make them challenge in whatever way you can, with heavier weights or resistance bands with weight. You can make it harder if you get creative.
Test Groups
Each program goes through a test group before it is released to the public.
The test groups are 100% legit, and they include people of every athletic caliber, including beginners. This ensures you that no matter where you are in your fitness journey, you will get through and benefit from each program.
Which Beachbody Program Has The Best Results?
The results will directly result from the effort you put into the videos and what weight you use.
What Beach Body Programs Will Help You Burn Fat?
All the programs will help you burn fat, but I will check out the options below if you need help with where to start.
80 Day Obsession.
The Work
PiYo.
LIIFT4. For those who don't have the time to work out every day — a requirement of some Beachbody programs — LIIFT4 promises amazing results in just four days a week. …
Focus T25.
MBF or MBFA
What Beachbody Program Should I Start With?
Talking to a coach like myself will be the best bet in picking out the right program for you.
Coaches help you go over what program is right for you at the current stage in your life. Since coaches like myself have done almost all the programs. And have trained many other athletes, it is easy to guide you in the right direction.
Can You Do Beachbody When You're Pregnant?
I am not a medical professional and am not giving out medical advice, but I have had my team members do the pregnant programs.
Beachbody On Demand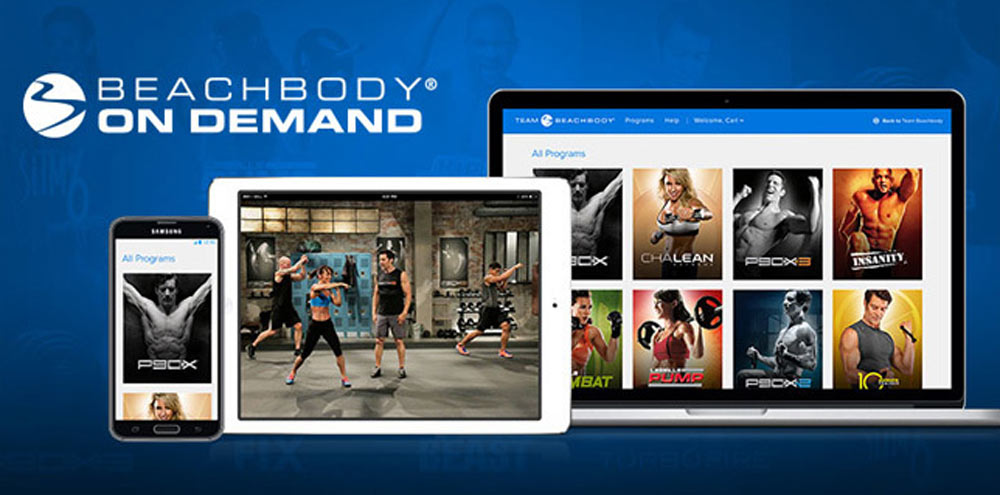 When you sign up for Beachbody, you also get access to Beachbody On Demand. This is a streaming portal (app) that you can access ALL of the programs.
You can put the BB on-demand on your Amazon fire stick, stream it through your phone or computer, or even download workouts onto your tablet!
Having this on-demand feature is amazing and makes it so you can do the workouts from anywhere at any time.
Believe it or not, I actually use my phone the most for the workouts. Because I work from home, doing the exercises in my living room isn't my first choice. Going down to my gym allows me the ability to feel like I at least left my apartment once for the day. It mimics the effect of leaving and going to the gym, but I don't actually have to waste time walking a few blocks to get there.
If there are many people in my building's gym, I will sometimes do the workouts in my living room.
That's what's so awesome about the on-demand feature. You can do it anywhere, at any time. Belonging to BB gives me the access and ability to keep up with my workouts when traveling for vacation or work.
Since you pay for a year at a time, you could also sign up to do Beachbody and still go to the gym to do the workouts there.
Do The Beachbody Products Work?
They do work! Much like any other workout supplement, using these can be very beneficial; however, if you have a brand that works or you currently, you can stick with that as well.
I will go over a few Beachbody alternative supplements when I go over their top sold products.
Shakeology
You can choose to get this every month in a subscription, and it'll run you a little bit over $100, or you can purchase it individually, which will run you over $130.
Shakeology is offered in both normal and vegan formulas.
On top of 16–17 g of high-quality protein, Shakeology® also contains so much nutrition your body craves—digestive enzymes, prebiotics, probiotics, adaptogens, fiber, antioxidants, vitamins, and minerals, all crucial to being healthy and feeling great.
They also do special flavors throughout the year, one of my favorite being their salted caramel.
If you struggle with low energy, digestive issues, or weight, you might not know how good it is to feel great. Likewise, you might not realize just how much better life can be when your body is functioning at its best.
Why is Shakeology so good for you? Take a peek below and find out for yourself!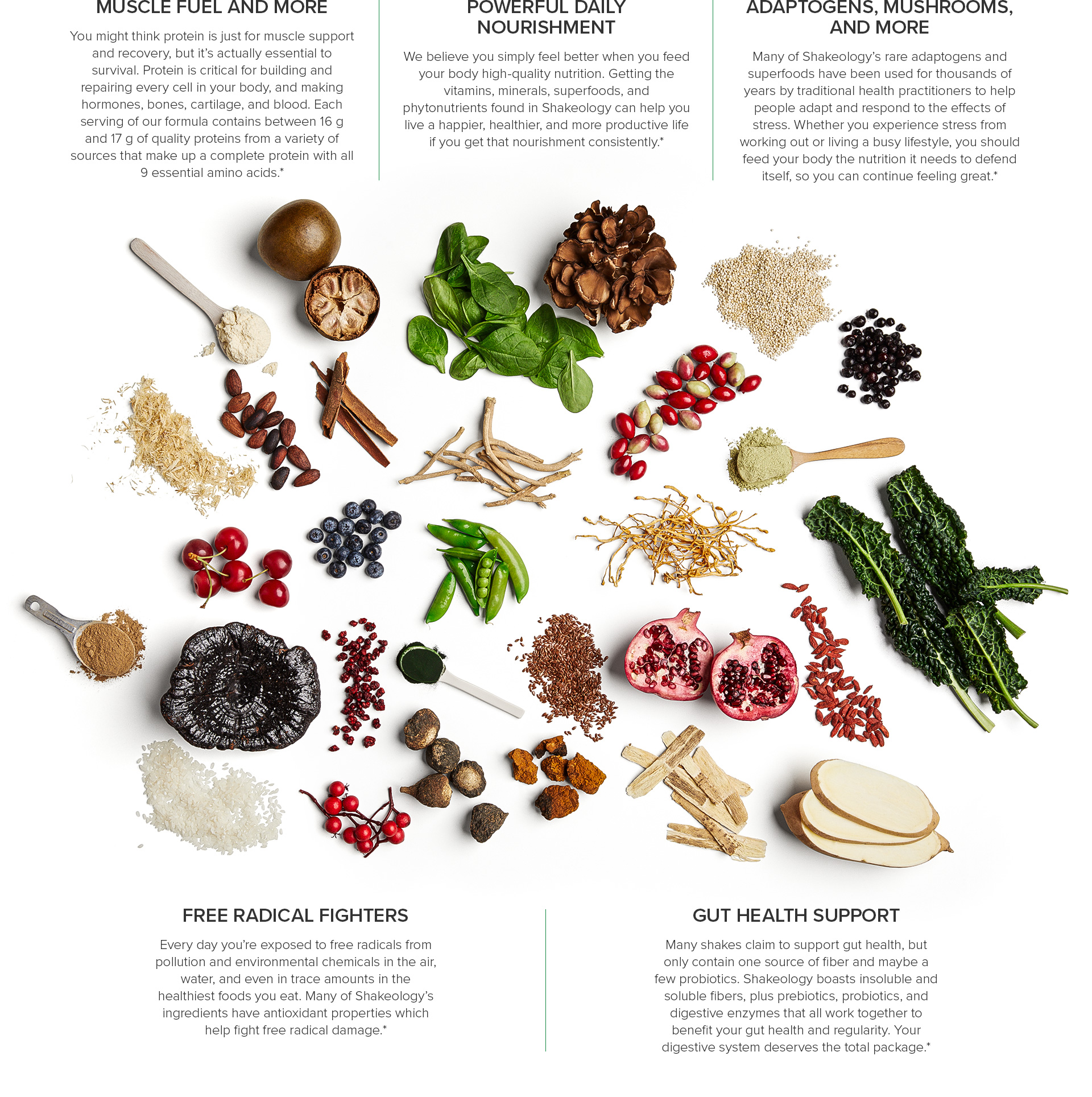 A protein supplement is a perfect thing to have after your workout to help you recover and will help build lean muscle. I can tell the difference when I use it vs. when I don't.
Much like with any protein powder, you can use the powder to make hundreds of different shake recipes, and you can also use it to make stuff like muffins, protein balls, and so much more! Again, a quick google search or Pinterest search will steer you in the direction of recipes.
Con to Shakeology
I'm not gonna lie; Shakeology is expensive AF. The bag itself gets auto shipped each month, and before I canceled the monthly subscription, I was backed up by about three bags. I didn't use a bag per month, and I don't know who does because I was even sharing it with my fiance.
If you are looking to save a few bucks, I suggest a few of the following Shakeolgy alternatives.
Energize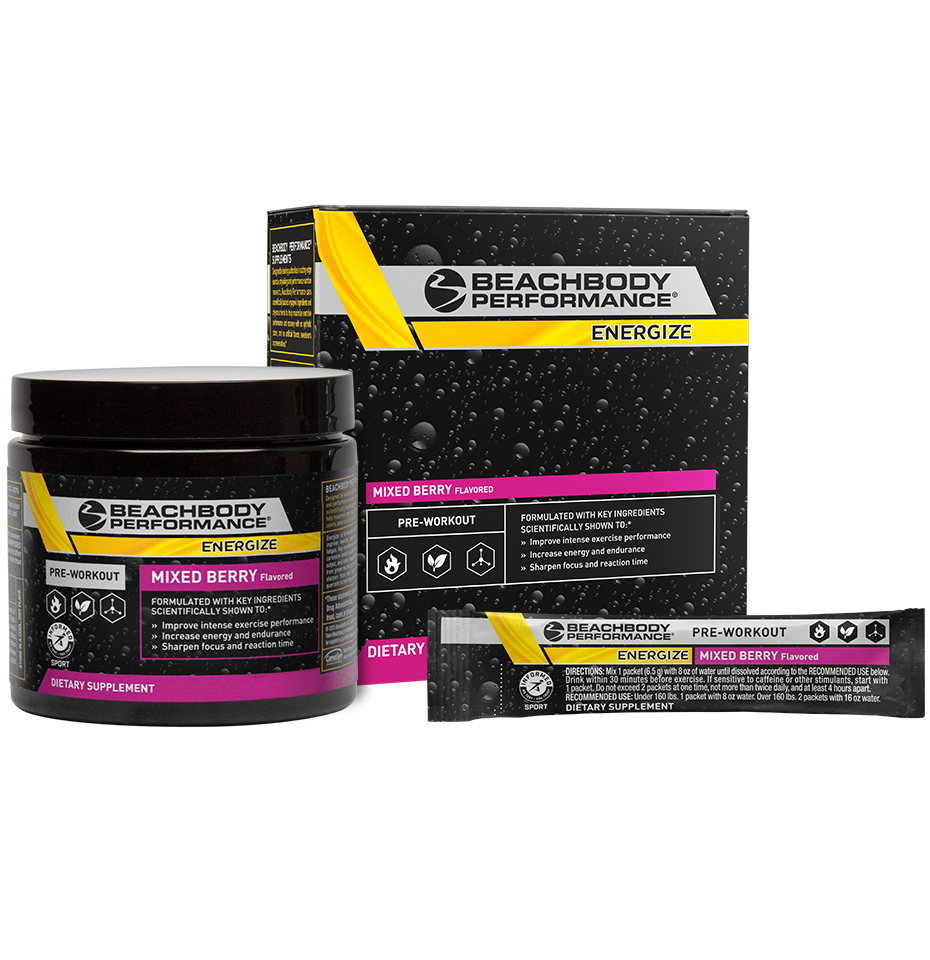 Blast through your toughest workouts with a surge of energy!
Take Energize before you work out to help sharpen your focus, push harder, and last longer—but beware you will sweat a bit more!
Available in a 40-serving tub or 32 single-serving stick packs, and comes in different flavors.
Other benefits include:
Increase energy and endurance
Improve intense exercise performance
Sharpen focus and reaction time
Increase muscle power output
Delay exercise-induced muscle fatigue
Energize is often referred to as hype juice, and it is amazing to use before or during your workout! It gives you a little bit of an energy lift that can be easier on your tummy right before doing a workout than reaching for the coffee.
Just be warned, if you drop some of it, it can be a mess to clean up, and it has stained a few of my water bottles.
Why is Energize better than other energy products?
You get increased energy.
It's a powerful combination of ergogenic (performance-enhancing) ingredients and phytonutrients can help improve exercise performance, sharpen focus and delay exercise-induced muscle fatigue.
No synthetic colors, and no artificial flavors, sweeteners or preservatives.
Cons to energize
If you spill the powder, it will stain the surface it falls on, or at least that has been my experience. It has ruined a few of my water bottles by staining them yellow.
It is a bit pricy; a tub will run you $50 + S&H unless you do the subscribe in save, in which case you are looking at around $40.
Energize is basically a pre-workout supplement, and you can find cheaper ones that give you the same effect.
Energize alternatives:
Other Beachbody Nutrition Products
Energize, and Shakeology is the most used product within the community, but they offer so many more.
Below is a list of the other nutrient supplements Beachbody has to offer:
How To Become A Beachbody Coach
The most common way one becomes a Beachbody coach is by signing up to coach under their current coach.
Another option is to sign up as a Beachbody coach on your own.
Applicants must meet these requirements:
*Be at least 18 years of age.
*Reside in the U.S., U.S. Territories, Canada, United Kingdom, France, or a country where Beachbody has officially announced it's open for business.
*Have a valid Social Security, Social Insurance Number, or Federal Tax ID number (UK Coaches are excluded from this requirement)
*Purchase a Coach Business Kit (except in any location where the kit purchase is not required, such as for U.S. Coaches who reside in North Dakota).
*Submit a properly completed and executed online Coach Application and Agreement to Beachbody.

Enrolling Coaches are required to provide their credit card information to sign up; however, some Coaches may be eligible for an exception to future business service fees, such as in the case with those U.S. Coaches applying for the military waiver, non-profit organizations enrolling as a U.S. Coach and U.S. Coaches who are residents of North Dakota.
If you choose to go this route, you will continue to make income based on the coaches you get to sign up under you and the girls they get to sign up under them.
You can also commission the girls you get to do the programs (who don't wish to coach) and a percentage off of all the supplements they buy, hence why supplements and products are pushed at you from the start.
Looking back when I first signed up to the coach, I would have done this vs. signing up under someone else and making them more money. You want to be at the top of the pyramid calling the shots, not in the middle or bottom, always working for someone else.
Accountability
If you are looking for a coach to hold you accountable, make sure you vet them first.
Take a look at their social media (typically Instagram) and see if they might have a website. This will give you insight into their personality, how they run their programs and if you think you will mesh with them.
It is common in this community to sign up under a coach, thinking it will help you with your wellness goals, only to find out they aren't a good fit with your own personality, and you have to wait until your contract due date is up to switch to another one. You can't end your yearly contract early, and therefore you are stuck.
Finding the right coach off the bat will be the most beneficial to you and your fitness journey. Each coach runs their program differently and will have different types of resources for you.
Beachbody Hybrid Groups
If you find yourself stuck in a situation where you aren't a fan of your coach or the community you signed into, have no fear.
There are tons of hybrid groups you can search out; the easiest to find is on Facebook.
These groups are misfits who do programs in their own way and follow their own path.
It is a nice resource for those who beat to their own drum but still want people to bounce ideas off of, and it is a great resource to get advice from.
These groups are great for learning about new programs and which ones can be intertwined with each other; hence the name hybrid group.
Alternative Beachbody Product Avice
You will also find cheaper alternatives to products and supplements on these pages. Most coaches will hate these pages because not buying Beachbody products is going to affect their commissions directly.
Beachbody products aren't going to be everyone's cup of tea though due to it being a bit pricey or even just the taste might not be the best.
These groups make it very helpful
Cardio + Beachbody Program Info
One of the things I love about these groups is that women in here do some sort of workout that isn't part of the Beachbody programs such as cycling, running, pilates, or even skiing.
Girls will post their schedule of programs with their cardio or other workout studios and it can help those who don't just go by the programs exclusively.