Finding the perfect nail salon can be a bit tricky with so many options out there. But, don't worry; I am here to help you find your new go-to Milwaukee nail salon.
Not only have I been to all of them, but I have my cosmetology license ad use to work at one, and yes, that will be my number one suggested place.
Since I worked as a nail tech, I can spot out the proper techniques and sanitation practices. I can tell when nail techs are doing the appropriate steps and when they are being lazy and skipping some.
Living right downtown, I have taken some time to try out almost all of the nail salons, and below are my top picks!
1. Nail Bar Milwaukee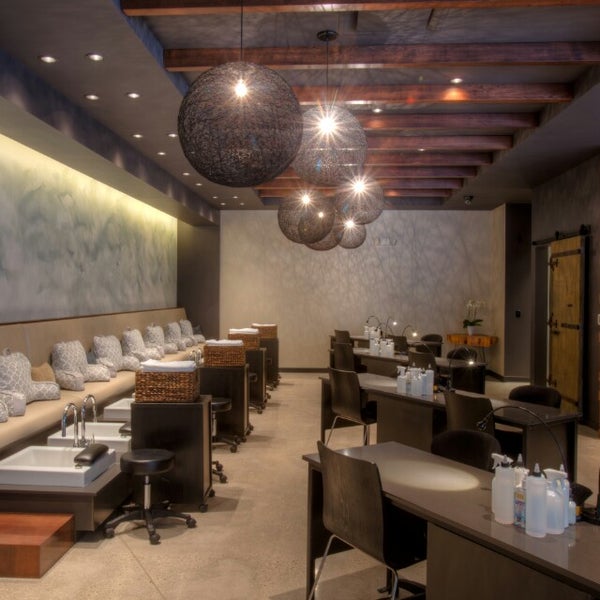 Nail Bar Milwaukee is hands down my absolute favorite nail place in the Milwaukee area.
Top Sanitation Practices
Since I used to work here, I can say without a doubt that the sanitation practices offered here are far superior to the rest!
They use a medical-grade machine that all nail techs use to disinfect their tools. Doing this is not only sanitary, but it will help prevent the spread of disease and germs, which can give you peace of mind.
Large Variety Of Nail Brands
They carry a wide variety of nail brands, including OPI, which is my favorite.
When a bottle gets old or gunky, they don't just keep it up on the shelves; they will replace it with a new bottle.
Here is a look at a list of their services:
They offer both nail and body services here! They also provide an excellent price for dip and tips, which isn't seen at a few other salons around the area.
Gorgeous Atmosphere
The atmosphere here is very modern contemporary meets chic. It is the perfect place to come alone to treat yourself a day or gather with a big group.
They accommodate any parties from birthdays to the bachelorette, bridal parties, and everything else in between.
Per their website policies:
For groups of five or more, we require you to fill out our Event Agreement Form to ensure that each member of your group is accommodated accordingly. Once completed, please email your form to [email protected], and our events team will follow up shortly after.
Please note, we are unable to guarantee proper event accommodations for groups of 5+ guests when appointments are booked separately rather than as a grouped event as stated.
On top of the amazing atmosphere, Nail Bar crushes it with their marketing on social media. I constantly see them popping up on my Instagram feed and find myself tempted to go in for another service. Some of the best marketing in the Milwaukee area, that's for sure.
Seating
Instead of massage chairs, they have long benches that are super comfortable and, in my opinion, a bit comfier than your standard salon chair. The massage chairs are nice at first, but they do wear down over time from so many uses.
Parking
Since the salon is on the east side of Milwaukee, there is always plenty of street parking. You can find street parking literally in front of the front door or any side streets or use the garage directly attached to the same building.
Booking
You can book online or call the salon directly!
If you have a preferred technician, please select their name after choosing your service(s).

All Artificial-Gel nail and Classic Lash Extension appointments require a deposit, which must be done by phone (and can't be booked online). The deposit amount is the price of the Artificial-Gel service by itself or $55 for Classic Lash Extension Fills + Sets— found on our menu of services here. Day of cancellations (rather than reschedules) forfeit their entire deposit.
Salon Info
Phone: (414) 973-2910
Address: 2580 N. Downer Avenue, Milwaukee, WI 53211
Hours: MON-FRI: 9:30 am – 7:30 pm
SAT: 9 am – 6 pm
SUN: 11 am – 5 pm
Email: [email protected]
2. Gloss Nail Spa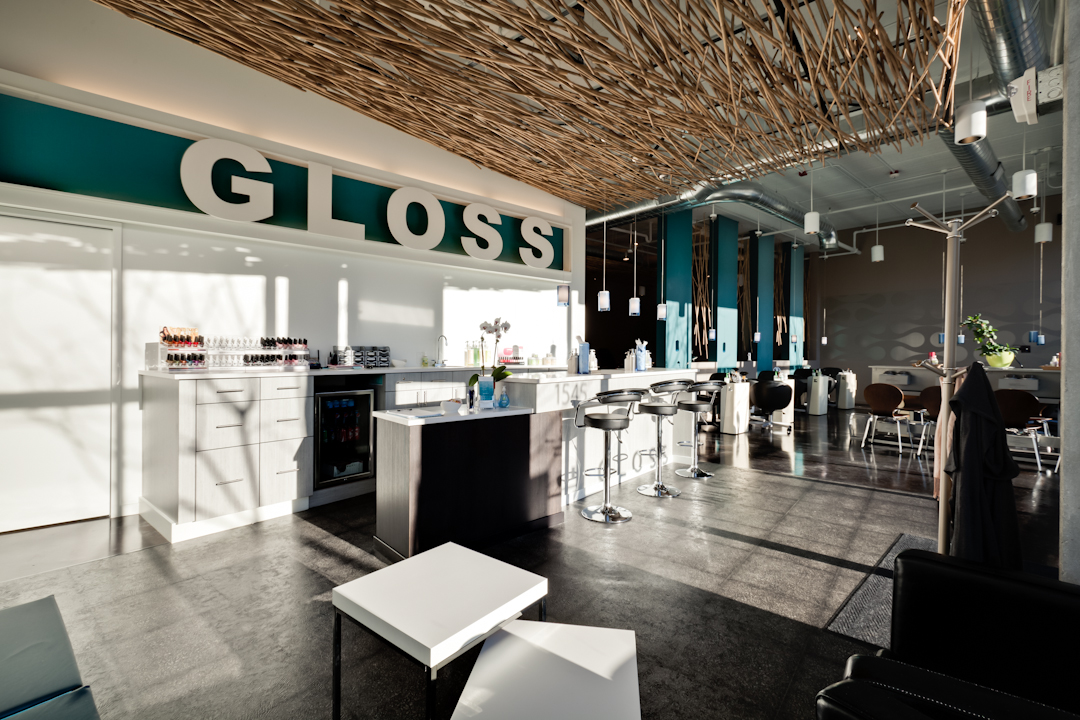 This nail salon is located right in the heart of downtown Milwaukee off of Water St.
If you are from out of town and are staying downtown, odds are this will be the closest nail salon to you.
The inside is gorgeous, and it makes for an excellent location for big groups or parties.
Awesome Location
Since this is located in the heart of downtown Milwaukee, there are plenty of places to grab a coffee, drinks, or food beforehand and then walk down the street to your nail appointment.
There is plenty of street parking around this location, and if you take a peek at the side streets off of Water st, you are sure to find a close spot to park. Another good option would be a super cheap uber.
Products
Gloss always has the most up-to-date colors, and they use OPI, which is my favorite nail brand. But, unfortunately, not all places carry it, and the ones that do usually don't keep up on its quality and let them age.
Payment
Heads up, they only take cash, or Venmo so doesn't try to use your cards. This is common with most nail salons, so keep this in mind before you come.
Services
BRIDAL/GROUP PARTIES
PARTIES MUST BE BOOKED IN ADVANCE BY PHONE CALL OR VISITING OUR SALON. PARTIES CANNOT BE BOOKED ONLINE.
GIFT CERTIFICATE POLICY
WE ARE NOT RESPONSIBLE FOR LOST OR STOLEN GIFT CERTIFICATES. WE WILL HONOR THE FACE VALUE OF ALL GIFT CERTIFICATES UP TO 1 YEAR AFTER THE EXPIRATION DATE.
ONLINE BOOKING DISCLAIMER
ONLINE APPOINTMENTS MUST BE BOOKED 12
HOURS IN ADVANCE. ALL ONLINE BOOKING
IT WILL BE CONFIRMED VIA PHONE CALL.
WE WILL NOT HONOR UNCONFIRMED APPOINTMENTS.

LATE CANCELLATION POLICY – 50% FEE TO CANCEL WITHIN 24 HOURS.
NO SHOW POLICY – 100% NO SHOW FEE.
PARTNER WEBSITE
SALON BLANC – A HAIR SALON JUST NEXT DOOR FROM
THE NAIL SPA!
Salon Info
Address: 545 N. WATER STREET, MILWAUKEE, WISCONSIN 53202
Phone: 414-273-1741
Hours:
MONDAY – FRIDAY: 9:30 AM – 7:30 PM
SATURDAY: 9:00 am – 6:00 pm
SUNDAY: 11:00 AM – 4:00 PM*
3. Neroli Salon and Spa
Neroli is a chain, but this location in the third ward is a prime spot. It is located right by the Milwaukee public market, tons of restaurants, and the hop.
Since this place is a salon and spa, you can book an appointment for other services such as massages, makeup, hair, lashes, brows, and more.
Parking
You can find multiple options as far as parking goes.
-Parking Lot behind the building
-Parking Lot across St. Paul under the freeway
-Third Ward Parking Structure (corner of Milwaukee and Chicago Streets).
Street parking is also available, and even on weekends, you can always find a spot. You can pay for the street parking with coins or download an app and pay via your phone.
Services
This location is by appointment only, so keep that in mind if you are looking for a place that takes walk-ins.
They offer a few different spa types of manicures, including chakra balancing and a stress-fix manicure.
You can add on a reflexology massage for only $30, and it can be done to your hands or feet.
You will find all your classic types of manicures, pedicures, and nail enhancements.
NEROLI SALON & SPA
327 E St Paul AveMilwaukee, WI 53202
4. Sevva
Sevva is located in the historic third ward and is located right next to the river.
There is always parking around this location, but they suggest you plan for some extra time for parking. There is available meter parking, surface and structure parking for your convenience.
They have classic massage chairs, and there are quite a few so that you can come with a giant party.
Services
They do manicures, pedicures, and artificial nails.
They also offer kids' prices that range from $15 – $35.
If you are looking for a nail place that also offers other services like haircuts, this will be the place you want to come to.
Cancelation policy
They request that you please call us at 414.291.8888 to cancel any appointments. Sevva requires a minimum of 24 hours for cancellations of any services and 14 days for group events/services.
Payment
This place takes all credit cards and even apple pay. Tons of nail places in the city are switching to cash only and only accept tips via cash. So it's nice to have a place like this where you can pay with a card.
LOCATION
HISTORIC THIRD WARD
229 N Water Street Milwaukee WI, 53202
PHONE #
414.291.8888
EMAIL
HOURS
Sunday – CLOSED
Monday – CLOSED
Tuesday – 10 am to 8 pm
Wednesday – 10 am to 8 pm
Thursday – 10 am to 8 pm
Friday – 10am to 8pm
Saturday – 10am to 6pm
5. Knick Salon & Spa
Knick Salon and Spa, Milwaukee's premier vegan, organic salon and spa, offers various services at affordable rates. Hair services, spa treatments, facials, manicures, and pedicures are just a touch of what this unique local establishment has to offer.
With years of experience, our specialists go above and beyond to make sure guests leave feeling relaxed, healthy, and beautiful. Looking to celebrate a girl's night out or a bachelorette party? How about a day of relaxation? From small to large, whatever the occasion may be, Knick Salon and Spa have you covered.
Services
Unlike the other options I have listed, this is one of the places that doesn't offer acrylic or any other type of nail enhancement.
They offer shellac and no-chip polish, which will help your nails grow out over a few appointments. After a few months of no-chip, it will look like you have artificial nails, and it will save you money in the long run.
Specials
They offer seasonal specials for the seasons, and they typically provide a massage, facial, and either a pedicure or manicure.
The specials come with products to match the season, and you can add special requests to the packages. Just make sure you let them know at the time you book so they can book it properly. For instance, you might want to add on the no-chip polish to the service or some waxing.
Salon and Spa Info
CONTACT
1028 East Juneau Ave, Milwaukee, WI 53202
(414) 312-7947
[email protected]