You might not be familiar with the name Uncommon James, but I'm sure you are familiar with Kristin Cavallari. She first hit the scene in 2014 with what most people consider the first reality TV show, "Laguna Beach," and then started in the spinoff "The Hills." Shortly after, she launched a 6-year shoe collaboration with Chinese Laundry. As if that wasn't impressive enough, she hosts red-carpet events on E! and is married to the former NFL quarterback, Jay Cutler.
IMAGE
PRODUCT
DETAILS
Double Vision Ear Climber


 14k Gold-Plated Brass; Cubic Zirconia

Best Seller

Atocha Necklace | Small


 14k Gold-Plated Brass
inspired by sunken treasures from the famous shipwreck of 1622

Uniform Bracelet


14k Gold-Plated Brass; Cubic Zirconia

Ball and Chain Earrings


These dangle earrings connect in the back to create a unique wrap around look. 

New and Noteworthy

Golden Sword Necklace


This edgy pendant necklace is crafted from a gold chain, a sword pendant, and some cubic zirconia stones for added shine.

Rose Huggies


. Crafted with a pavé huggie, rose dangle, and a cubic zirconia stone in the center, 
For my readers: Use my referral code to get $10 off and gain 200 UJ Babe Buck Points
In 2017 Kristin decided to take her love for fashion to the next level and started her own company, Uncommon James – a jewelry line for women on the go. It was her first official entrepreneurial venture that she ran out of their home with Jay's help.
They did everything from designing, manufacturing, and packaging. However, with the success of her line came the realization she needed more help, so she hired a few employees and decided to make yet another return to the TV screen.
Kristin decided to document her journey on E! with a show called "Very Cavallari." The show took her business to another level, and it was an instant success. She began to hire a few more employees to help run the business, and she moved her company to the world of brick and motor, starting her first official store in Nashville.
It is the start of this show that begins the start of my love for Uncommon James jewelry.
Build Your Own Stack
This feature is new this year, and it is fantastic!
You can pick three different items between necklaces, earrings, and bracelets. Mix and match gold with silver, or you can stick to one metal!
This option gives you 20% off and can save you some significant cash!
Introduction To Uncommon James
Before I saw the show, I was unaware of the jewelry line made by Kristin, and after just one season, I was hooked. How could I not be? I grew up watching Kristin on TV, and I admired her! She was the badass chick who spoke her mind and didn't take shit from anyone.
Seeing her all grown up running a business of her own was inspiring. After watching just one episode, I was taken aback by how she was still the same person but different simultaneously.
She was grown up and somehow got even more beautiful, had a more mature style, and had this beautiful jewelry I couldn't take my eyes off! When I found out I could purchase THE EXACT SAME jewelry she was wearing throughout the episode, well, that just damn near stopped my heart.
---
Update 20223
When a company and its products step up their game and grow, I HAVE to update my review.
This company has come a long way since its home-based origins and has grown so much in the last few years that she now stores her inventory in a giant warehouse (this can be seen in her latest season of Very Cavallari).
There have been many positive additions to the customer experience, which I think will help grow the empire known as Uncommon James!
UJ Rewards
Let's start with my new favorite feature, Boss Bucks!
Use my referral code to get $10 off your first purchase and earn 200 points if you spend over $10!
Or Copy and paste this into a promo code spot at checkout:
You can now get points for dollars spent on jewelry, and these points count toward gift cards. So the more you spend, the more points you get, and you get money off in return.
You'll earn a point for every dollar you spend at Uncommon James. You can use those points to redeem "Boss Bucks" which can be used on future purchases online at UncommonJames.com and in our stores.
The cost for shipping does not go towards points, which is super understandable!
Besides just purchasing items, you will get points for referring a friend as a new customer and signing up for our Uncommon James newsletter.
You can redeem Boss Bucks both online and in-store. In addition, they may offer bonus point events from time to time for those in specific tiers. Only points earned from purchases will be used for climbing tiers.
Boss bucks work in 3 tiers: Copper ($1-$400), Silver ($401-$1000), and Gold ($1001 and up). In addition, there will be different exclusive rewards for each tier.
How do I climb tiers?
Purchases made at Uncommon James are what advance you to the next tier; the more you buy, the more you'll climb! This means any points outside your purchases, such as your birthday gift from us, won't count toward your tier total.
100 points = $5 reward; 200 points = $10 reward; 300 points = $15 reward; 500 points = $25 reward; 1000 points = $50 reward; 1500 points = $75 reward; 2000 points = $100 reward; It is to be noted maximum redemption is $100.
One of the things I love about this rewards program is that you don't have to use all your boss bucks at once! For instance, I wanted to keep some of my boss bucks, so I used it to get $10 off and saved the rest for a future purchase.
Mystery Box
This one is a real treat, and I look forward to it every month. Unfortunately, they are only doing mystery boxes once a month now until September, so I suggest taking advantage while you still can.
It is literally a mystery item, and that is what makes it fun! When you purchase it online, it won't tell you what it is; they show you the box it will come in.
They offer two mystery boxes, one silver item, and the other gold, and both are only $25, so you can get two items for around $50! This is literally such a steal, and I love waiting for them to come in the mail.
Each month is different, and each color is its own special piece, so you aren't just getting the same item in two different colors!
These can be great gifts or great purchases if you haven't purchased the jewelry and want to test the waters.
Since it is a mystery item, you should be aware that you may still get earrings if you don't have your ears pierced, so keep that in mind. I never even thought of this being an issue, but I saw a complaint on a reviewer who got the silver and gold mystery box items, but she couldn't use them since they were both earrings.
In this case, I would suggest if you get something you aren't a fan of, save it and gift it to someone!
These silver sharpshooter earrings in the photo above were part of the mystery items! I have them in gold and love that I have them in silver now as well!
Improved Quality
The box they send you the items is no longer just a brown standard box but a sturdy, sleek, and easy-close magnetic box.
This is awesome for shipping and works as a tremendous storing option, so you don't lose any pieces.
In addition, the sleek white boxes look great on a vanity or shelves throughout your home.
If you don't want to keep a ton of boxes around, I suggest keeping the velvet bags they come in because those work great for traveling with your jewelry.
You should always keep your jewelry organized in its own separate bag, or it can tangle and get ruined.
How much does Uncommon James Jewelry Cost?
The jewelry is super affordable and starts at just $20!
They also sell a Vermeil line.
Ver-what? Repeat after us: ver-may (simple, right?) Now that you've got the pronunciation down let's talk details. Our jewelry is always created with high-quality materials, but our Vermeil pieces take it to the next level with 18k gold, that's 2.5 microns thick, layered over sterling silver and real, slightly included round-cut diamonds. This exclusive line, designed by Kristin Cavallari, brings a little luxury to your everyday.
These pieces start at $70, which is priced super great for the quality of jewelry.
Her jewelry can be viewed by different collections, including:
Featured Collections

Vermeil
Best Sellers
Signature Sets
Fall '22
No Piercing Needed
Kristin's Monthly Style Edit

Trending Collections

Pearl Capsule
Personalization Collection
Zodiac Collection
Back to the Beach
Cross Capsule
Hearts Collection
Final Thoughts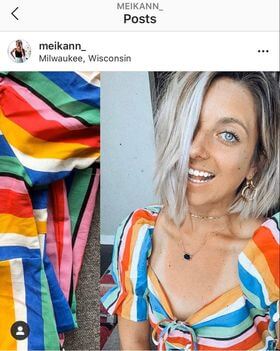 You can't go wrong with anything you purchase from here!
Every piece will be in style, and on-trend, elevating your outfit to the next level.
With all the variety you can get, you will find a perfect matching set of earrings, necklaces, rings, and bracelets.
What is the difference between gold and gold-plated brass?
If these pieces were made from true gold or a goldfield product, they would hold their integrity over time, never fade or tarnish and last a lot longer overall. However, because these pieces are gold-plated brass, the gold coat over the brass can tarnish over time. This is because the brass will migrate into the gold-plated layer due to it having zero barrier plate.
I've only had a few pieces fade, and they are ones I have worn while working out, sleeping, or on hot vacations.
To keep your pieces in great shape and to have them last you for years, make sure you never sleep in them, work out with them, or wear them in the pool or ocean.
It is also best to avoid spraying your perfume on them and when traveling, keep them in the soft bags they come in.
---

Uncommon James Pros
The thing I love so much about her jewelry is how simple and minimalist each piece is. They can all be worn together in a layered look or worn as a single stand-out jewelry piece. I love that I can match my earrings to my necklaces and vice versa. While each piece is expensive, having them match means you can wear the pieces for multiple occasions.
Another prominent thing that stands out to me with this line is the available sizes. You can have bigger, more stand-out pieces or smaller dainty ones. Once again, this aids in the mix-and-match options of wearing them and can be fun to play with.
When you get one piece and a new line is rolled out, she keeps each new style similar enough to wear them all still together, so it helps you get more for your money. Each piece really is timeless, and I don't see these pieces ever going out of style. Having different pieces in each line resemble each other also means you can buy one piece and not have to worry about having it be out of style by the time the 4th or 5th line is rolled out.
Each piece is typically available in gold, silver, or rose gold which means they can be worn during any time of year, and you can get more use out of them. In addition, these metals NEVER go out of style, and you don't have to worry about if you are "too old" to wear her pieces or not. They work for any age.
Each piece can blend into any women's style because they play off the worn clothes. The jewelry can match into any type of style, including:
Minimalist
Girly
Punk-rock
Alternative
Casual
Flirty