You might not be familiar with the name Uncommon James, but I'm sure you are familiar with Kristin Cavallari. She first hit the scene in 2014 with what most people consider the first reality TV show, "Laguna Beach," and then started in the spinoff "The Hills." Shortly after, she launched a 6-year shoe collaboration with Chinese Laundry. As if that wasn't impressive enough, she hosts red carpet events on E! and is married to the former NFL quarterback, Jay Cutler.
For my readers: Use my referral code to get $10 off and gain 200 UJ Babe Buck Points
In 2017 Kristin decided to take her love for fashion to the next level and started her own company called Uncommon James – a jewelry line for women-on-the-go. It was her first official entrepreneur venture that she ran out of their home with Jay's help.
They did everything from designing, manufacturing, and packaging. However, with the success of her line came the realization she needed more help, so she hired a few employees and decided to make yet another return to the TV screen.
Kristin decided to document her journey on E! with a show called "Very Cavallari." The show took her business to another level, and it was an instant success. She began to hire a few more employees to help run the business, and she moved her company to the world of brick and motor, starting her first official store in Nashville.
It is the start of this show that begins the start of my love for Uncommon James jewelry.
My Favorite Uncommon James Items
IMAGE
PRODUCT
DETAILS

KC's Favorite

Three's Company Necklace


Three chain necklaces in one — this is the kind of company we want to be around 24/7.

New

Downtown Earrings

 These are a little ethereal and a lot of fun—in 14k gold plating.
Super trendy at the moment

Current Best Seller

Bead and Chain Necklace


Ever wondered what happens when you mix some fun colored beads with a gold chain? You get our Bead and Chain Necklace.

New Arrival

Middle Ground Ring


Our Middle Ground Ring includes small stones on each side with one large circular stone in the center, making it perfect for stacking.

KC's Favorite

Rocker Girl Earrings

Our Middle Ground Ring includes small stones on each side with one large circular stone in the center, making it the perfect for stacking.

Best BUDGET PICK

Around Town Ring

A classic gold ring you'll want to wear everywhere you go. Featuring a crossover design front and center.

On Sale Now

Midnight Necklace


This thin circle chain necklace with small black gemstones is the new everyday piece your collection needs.

2 for 1

Nomada Earrings


It can be worn to the office, brunch, and the beach

.

The large hoop can be removed to wear the small one alone.

Most Seen On Instagram

Shiner Necklace


The Shiner Necklace features a gold chain and a pavé plated rectangle that will have you shining.
Build Your Own Stack
This feature is new this year, and it is fantastic!
You can pick three different items between necklaces, earrings, and bracelets. Mix and match gold with silver, or you can stick to one metal!
This option gives you 20% off and can save you some significant cash!
Introduction To Uncommon James
Before I saw the show, I was unaware of the jewelry line made by Kristin, and after just one season, I was hooked. How could I not be? I grew up watching Kristin on TV, and I admired her! She was the badass chick who spoke her mind and didn't take shit from anyone.
Seeing her all grown up running a business of her own was inspiring. After watching just one episode, I was taken aback by how she was still the same person but different at the same time. She was grown up and somehow got even more beautiful, had a more mature style, and had this beautiful jewelry I couldn't take my eyes off! When I found out I could purchase THE EXACT SAME jewelry she was wearing throughout the episode, well, that just damn near stopped my heart.
---
Update 2022
When a company and its products step up their game and grow, I HAVE to update my review.
This company has come a long way since its home-based origins and has grown so much in the last few years that she now stores her inventory in a giant warehouse (this can be seen in her latest season of Very Cavallari).
There have been many positive additions to the customer experience, which I think will help grow the empire known as Uncommon James!
While some of my original thoughts on the jewelry remain the same (read the original review below), a few new perks keep me returning for more!
UJ Rewards
Let's start with my new favorite feature, Boss Bucks!
Use my referral code to get $10 off your first purchase and earn 200 points if you spend over $10!
Or Copy and paste this into a promo code spot at checkout:
You can now get points for dollars spent on jewelry, and these points count towards gift cards. So the more you spend, the more points you get, and you get money off in return.
You'll earn a point for every dollar you spend at Uncommon James. You can use those points to redeem "Boss Bucks" that can be used on future purchases online at UncommonJames.com and in our stores.
The cost for shipping does not go towards points, which is super understandable!
Besides just purchasing items, you will get points for referring a friend as a new customer and signing up for our Uncommon James newsletter.
You can redeem Boss Bucks both online and in-store. In addition, they may offer bonus point events from time to time for those in specific tiers. Only points earned from purchases will be used for climbing tiers.
Boss bucks work in 3 tiers: Copper ($1-$400), Silver ($401-$1000), and Gold ($1001 and up). In addition, there will be different exclusive rewards for each tier.
How do I climb tiers?
Purchases made at Uncommon James are what advance you to the next tier; the more you buy, the more you'll climb! This means any points outside your purchases, such as your birthday gift from us, won't count toward your tier total.
100 points = $5 reward; 200 points = $10 reward; 300 points = $15 reward; 500 points = $25 reward; 1000 points = $50 reward; 1500 points = $75 reward; 2000 points = $100 reward; It is to be noted maximum redemption is $100.
One of the things I love about this rewards program is that you don't have to use all your boss bucks at once! For instance, I wanted to keep some of my boss bucks, so I used it to get $10 off and saved the rest for a future purchase.
Mystery Box
This one is a real treat, and I look forward to it every month. Unfortunately, they are only doing mystery boxes once a month now until September, so I suggest taking advantage while you still can.
It is literally a mystery item, and that is what makes it fun! When you purchase it online, it won't tell you what it is; they show you the box it will come in.
They offer two mystery boxes, one silver item, and the other gold, and both are only $25, so you can get two items for around $50! This is literally such a steal, and I love waiting for them to come in the mail.
Each month is different, and each color is its own special piece, so you aren't just getting the same item in two different colors!
These can be great gifts or a great purchase if you haven't purchased the jewelry and want to test the waters.
Since it is a mystery item, you should be aware that you may still get earrings if you don't have your ears pierced, so keep that in mind. I never even thought of this being an issue, but I saw a complaint on a reviewer who got the silver and gold mystery box items, but she couldn't use them since they were both earrings.
In this case, I would suggest if you get something you aren't a fan of, save it and gift it to someone!
These silver sharpshooter earrings in the photo above were part of the mystery items! I have them in gold and love that I have them in silver now as well!
Updated Tracking
As I had voiced before, they had a bit of a struggle with tracking and shipping. So, if you are interested in this info, as I said, read below!
During COVID, things took a bit longer like everyone else but outside of that, tracking info has improved greatly. They send you the correct tracking when it gets sent out, and you can follow this info all the way until it gets to your door!
Improved Quailty
Quality is something they need a bit of work on still, but overall it has also improved.
The box they send you the items is no longer just a brown standard box but a sturdy, sleek, and easy close magnetic box. This is awesome for shipping and works as a tremendous storing option, so you don't lose any pieces. In addition, the sleek white boxes look great on a vanity or shelves throughout your home.
Out of my last couple of orders, only a few items were damaged, and I think it might have something to do with the way they package it. I feel like they tried to jam too many pieces into one box.
I sent them an email about the broken pieces, and they sent me out replacement ones right away! However, I feel like the broken jewelry issue could be fixed if there was a second jewelry checker to make sure all the clasps, earrings, and everything else open, close, and are put on properly.
But like I said, the boxes and the packaging itself have really improved since the first order! So I 100% recommend buying from them because they 100% help you fix it even if there is an issue, giving you a 100% satisfaction guarantee.
My Uncommon James Jewelry Saga
My heart almost stopped again when I saw the prices of her jewelry. Don't get me wrong; I am an online shopping junkie. My shopping habits border shopaholic status, but I typically try to find the best bang for my buck. I'd rather purchase a bunch of reasonably priced items than purchase one mega pricy item. I like options, and I'm indecisive, so it kind of goes hand-in-hand.
How much does uncommon jewelry cost?
Everyone has their own definition of cheap and expensive; I get it, so take my review for what it's worth.
Their website draws you in by advertising jewelry ranging from $38-$78, and that is a little misleading. Sure, if you check out their sale page, they might go down in price, but their regular prices do not go down in the lower levels, except for one ring with a ring width of 2mm and a ring-opening: 5mm for $34. And star earrings that are 0.5 cm for $38. I feel like they recently started putting more items on sale vs. when I first purchased them, but I will later get back to this point.
While I wasn't thrilled about the prices, I sort of was already on the website, hooked and browsing, to…you know how that goes, ladies…there was no turning back.
Prices Points For Non-Sale Items:
Earrings: $38-$75
Bracelets: $46- $54
Necklaces: $42-$74
---
My First Order
My first order with them was a hefty one, not gonna lie. Call it a turning 30 crisis and feeling like I need more adult jewelry, or chalk it up to the show hooking me onto the jewelry by having Kristin advertise it. Either way, I filled that basket up like there was no tomorrow!
As you can see, I got about 5 items for $302. This is THE MOST money I have ever spent on jewelry, so I was anticipating big things.
I was stoked for my order to arrive, and then the problems started to happen. While this is no life or death situation, it was a bit annoying when you're spending so much money on jewelry.
My original order confirmation was sent out on 3/12; I got a second tracking number on 3/16. Additionally, on 3/16, I got a text saying it was out for delivery and a second text saying it was delivered. A few days later, I got my package, so all was fine in the world of Megan.
Each separate item was placed in velvet bags, and that's about it. There was a card saying thanks and a hashtag to use when posting on social media. I was a little surprised at the packaging, to be honest. I thought each item could have been packaged better and not just thrown in a little velvet bag. There were no peanuts, foam, or anything else, keeping them secure in the bag in which they were sent in. I thought each little big would be separated a bit more.
Upon opening the items, I was surprised by the quality of them. They were VERY lightweight, and upon further inspection, you can see where clasps are put together and where seams on stuff start and end.
The Rhapsody gold earrings had bent earring backs when I took them out of the package, but I just took my fingers and straightened them out. This made me feel happy but shocked me at the same time because I didn't need pliers to do actually straighten them out.
I was further disappointed about the backs of the earrings that faded after one wear: earrings I get for 1/3 of the price don't even do that. One set of earring clasps broke after a few years, but I wear different backs with them, and it's fine.
The piece to the earrings that goes through the ear in my Shot in the Dark set is concise, and every time I wear them, the back of the earring digs into my ears. I didn't want to be that person and complain, so I did what every mature adult does and left a bad Yelp review. Did this fix my problem? No, and looking back, I should have just reached out to them.
My biggest complaint all around was the price point to the quality of what I got. The pieces just aren't built up to the level of what they are being charged for. This fact, mixed with the lack of packaging, left a bit of a sour taste in my mouth. I knew I most likely couldn't justify purchasing anything else again from Uncommon James until…
My Second Order
My sister-in-law shares my love of Uncommon James with me, and when they had a half-off sale, she immediately texted me! Unfortunately, I was hungover that morning, so I went back on the internet later to see exactly what the hype was about!
The first thing that surprised me was how many pieces were actually up for sale! I was stocked to see the half-off prices, and I started filing that cart up. Before checking out, I asked what my sister-in-law got because I didn't want to twin with her too much. She did have one necklace in her cart that I had been dying to get for months, so I told her I might twin with her on just that one thing.
When I went to look for it on the website, it wasn't there. So the same necklace she purchased two hours earlier was no longer available on sale? It was available for full price, so they weren't just sold out of it. Seemed a little bit weird and inconsistent. I refreshed my computer numerous times and logged on from multiple computers to ensure mine wasn't glitched out. Not sure what happened there, but I was, and still am, butt-hurt because it's an adorable necklace! I would have gotten it on sale but wasn't going to pay full price for it! My theory on the necklace gate: Perhaps someone messed up by putting that necklace on sale. Someone else caught the mistake, and they had to change it back to the original price from the sale price.
As you can see, I didn't have a hard time still finding stuff to purchase! A thing I noticed right off the bat was the different checkout prices. When you compare the second order to the first, you will notice that I had to pay additional WI taxes the second time around. Another difference was the first order, I had to pay $6.88 in shipping, and I didn't have to pay to ship this time around.
Both orders took place in 2019, one being in March and the second being in June. Another Megan theory: Perhaps her accountant told her to start taxing people per state to help her on her end with taxes? Not sure, just speculation on my end. I'm not an account, so who knows.
I noticed directly after placing my second order how many things I got for such a lower price! My second order contained 8 items for $260! That's more items for less money than my first order! It felt like such a victory; I was buzzing from the steal of jewelry I just got compared to the first time!
In all honesty, I feel like the sale prices are way closer to what she should always be selling the items for. Even these prices may be a few dollars too high, but way more respectable and justifiable. If she sold everything at her half-off sale prices, I feel like more people would be apt to buy them.
My "problem" with this second order was my sister-in-law got her items almost a full week before I did! At the time of the order, each cart purchased would be sent out by that Friday, but mine wasn't sent out till the following week. I wouldn't call it a problem, to be honest. I didn't order these for a special occasion, so I didn't care when I got them. If someone were ordering items for a particular day and expecting them by what the website stated, it would be for them.
The second-order had a Huge UPGRADE in the packaging department. I was thrilled to see that and glad that they decided to make that effort and change. My total order was delivered in a box with tons of tissue paper, and I mean tons and tons of tissue paper. Each item was not only in individual velvet bags but in plastic bags. Earrings were attached to cardboard, and other items were placed with heavy-duty paper inserts. This made each jewelry item had something to sit on and not just hang out in the box by itself.
Right off the bat, four of my items were broken or put together wrong, and this is what really irritated me. This stuff is priced for way too much for that many things to be broken and put together wrong. So I wrote an email to their customer service department, and they responded pretty quickly.
I told them I was upset that I let it go the first time I ordered, but this time I wasn't going to stay with damaged items. I either wanted a refund or replacements sent. They asked me which items were broken and sent me replacements for them with expediated! So at the end of the day, all of my troubles were fixed, and I got proper pieces.
Final Thoughts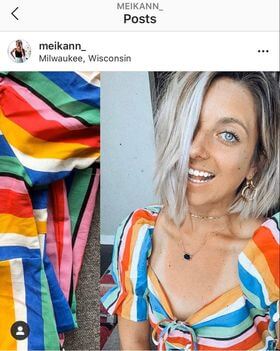 At the end of the day, I think there are still a few kinks Uncommon James needs to work out in just about every department. From their Yelp, you can see a clear online ordering issue that needs to be looked at. I wasn't the only one to experience problems, and almost every online review has multiple issues when you look at their Yelp reviews. If you go into the buying experience and know what problems can occur, it might not be as annoying as expecting the entire process to go 100% smooth.
Obviously, I love the minimalist look of the pieces because I still keep ordering from them even with all the issues I've had. I really suggest waiting for their sales to order items, or you will be paying a pretty penny. Honestly, the jewelry is WAY overpriced and isn't really worth such a big price tag. There is a difference between solid gold and something that is gold-plated brass like these pieces are. Unfortunately, all of these pieces are gold-plated brass and would have been better for the buyer if it was a goldfield product.
What is the difference between gold and gold plated brass?
If these pieces were made from true gold or a goldfield product, they would hold their integrity over time, never fade or tarnish and last a lot longer overall. However, because these pieces are gold-plated brass, the gold coat over the brass will tarnish over time. This is because the brass will migrate into the gold-plated layer due to it having zero barrier plate.
Over time, brass jewelry can turn the skin green and tarnish: I'm interested to see how long these pieces last me. After just one wear, some of the backings to the earrings faded, and it almost appears dirty. I wear different backings from the earrings I already own. I researched this, and it is common for brass-coated jewelry to tarnish in just a few short hours of wear!
A few other cons of gold plated brass includes:
Plating can be scratched or chipped very easily.
Because the gold content value is low, the items should be priced lower, and they won't be something that will last you into the next decade.
You can't wear gold plated items in water – which means it will be bad to wear if you sweat a bunch or plan on being around anything wet.
Items aren't worth much (hence why I keep bringing up the fact they are overpriced) because there are only a few microns of gold in the actual product.
It should be put on AFTER you put on lotion, perfume, or any hair product.
---

Uncommon James Pros
The thing I love so much about her jewelry is how simple and minimalist each piece is. They can all be worn together in a layered look or worn as a single stand-out jewelry piece. I love that I can match my earrings to my necklaces and vice versa. While each piece is expensive, having them match means you can wear the pieces for multiple occasions.
Another prominent thing that stands out to me with this line is the different sizes available. You can have bigger, more stand-out pieces or smaller dainty ones. Once again, this aids in the mix and match options of wearing them and really can be a fun thing to play with.
When you get one piece and a new line is rolled out, she keeps each new style similar enough to wear them all still together, so it helps you get more for your money. Each piece really is timeless, and I don't see these pieces ever going out of style. Having different pieces in each line resemble each other also means you can buy one piece and not have to worry about having it be out of style by the time the 4th or 5th line is rolled out.
Each piece is typically available in gold, silver, or rose gold which means they can be worn during any time of year, and you can get more use out of them. In addition, these metals NEVER go out of style, and you don't have to worry about if you are "too old" to wear her pieces or not. They work for any age.
Each piece can blend into any women's style because they play off the worn clothes. The jewelry can match into any type of style, including:
Minimalist
Girly
Punk-rock
Alternative
Casual
Flirty
Make sure you double-check the dimensions of the pieces because I ordered some of them, expecting them to be bigger than what they actually are in person. However, they have product measurements online, so that issue is totally my fault; I should have double-checked that better.