Hair ties are a love-hate relationship for any girl.
We love to use them, but our hair hates the damage that can be caused by wearing the wrong type.
Staying away from rubber bands and a metal clasp on the hair tie is a start! Preventing breakage and damage to your hair can start by finding ties that don't damage your hair.
Breakage of the hair shaft is a direct result of damage caused by using the wrong type of hair tie and by not rotating the position of your ponytail. In this article, we go over the 4 best hair ties currently available, after extensive testing.
The Best Hair Ties — A Quick Glance
IMAGE
PRODUCT
DETAILS
The Hair Edit
Ruched Satin Scrunchies

Delicate satin finish and understated silhouette
4 beautiful colors
Works on all hair types.

Knotted Ribbon Elastic Hair Ties

 No Crease Knotted Ribbon 
Don't pull and dent your hair like the traditional ponytail holders

Top Trending

Invisiboble Original

OG Traceless Ring
Available In 6 Colors
Strong Hold

Best BUDGET PICK

No Crease Ribbon Bands

Soft and Stretchy Material
Hand Washable
Neutral Colors

Best Scrunchie

100% Mulberry Silk Scrunchies

15 Different Colors in one pack
Hand or Machine Wash in Cold Water
Safe to war overnight
Why should I be concerned with hair ties that cause damage to my hair?
When you use ties that damage your hair it can lead to breakage, split ends and frizz. Anytime you are causing direct damage to the hair shaft it is irreversible.
This can be problematic if you are trying to grow your hair out and is also problematic in maintaining healthy, shiny hair.
Damaged hair = dull, lifeless hair
Damaged hair can also = breakage
If you are having a hard time growing your hair out, it could be directly linked to breakage and damage from hair ties, and not from products or hot tools like so many people often think.
Once the damage is done to the hair shaft, the only real fix is to cut it and start fresh and new.
Let's now dive into some of the best hair ties to prevent breakage.
Invisi Bobble – Best Overall
Invisi Bobble is a traceless hair ring. Unlike typical ties, the material used in these allows your hair to be put back while not being constricted into a small circle. The grooves in the material made from artificial resin allow the hair to flow freely.
The artificial resin is a non-porous material that makes these little guys waterproof.
Invisi Bobble hair ties are great for swimmers or those going on vacation.
Nothing is worse for a vacation beach selfie than having sand get stuck in your band that has been on your wrist all day.
The sand will get transferred to your hair once you do your cute top knot and now you look like you have dandruff in the picture your friends just posted of you on IG.
If you are like me and don't wash your hair every day these are great to hold your hair up in the shower. Typical ties are porous which is why they get wet in the shower even if you aren't washing your hair.
Once the ties are wet it's going to leave the classic band mark on your fresh hair that you weren't planning on doing. With these, you no longer have to worry about that! They're way better than a shower cap in my book.
Features of Invisi Bobble Hair Ties
The price point on these, no matter what brand you go with, is cheap thus allowing you the ability to buy multiples. Multiple invisi bobble can be fabulous to mix n match colors and can add volume to your pony. Be sure to check the width of the product before you buy them.
If you want a more discreet tie then I suggest you go with a smaller hair tie width.
Gym-Approved Damage Free Hair Ties
If you have to shower and your gym only allows one towel per guest, then these are great to throw your hair up in after the shower. You can ring all of your locks out, do a top knot bun and be drip-free.
Use your towel to dry off and walk back to your locker to change and then use the towel to put your hair up! Just another plus to these non-damaging hair accessories.
Other similar hair ties to Invisi Bobble:
Don't miss my roundup of the best hair sectioning clips to help promote hair growth!
Full Circle Elastic Hair Ties
Full circle elastics are made from knitted cotton. Because the material is so soft it does not hurt your hair or get tangled.
The soft material is easier on your hair and reduces the stress your hair has to go through when you want to put it up. They are great for all ages, including babies and infants.
Each of these damage-free ties is made to be one full complete and clean circle, with no extra fabric hanging out. This allows you to use these as a way to pull back your hair as a base for other hairstyles.
Elastic and knitting cotton ties have the largest width selection out of any on the market, while still being discrete. Because of their material they are ouch-free for young girls who seem to get a tangle in their hair every day at school.
Writer's Note: these are the least trending at the moment. Great for your hair, bad for your fashion points.
Have kids? I suggest getting the right colored one for your infant or toddler. You can find these in neon colors that can be helpful with keeping track of them and make sure they don't go in anyone's mouth or crevice where it doesn't belong.
These are great for little girls but little girls don't always understand what is or isn't food.
Features of Full Circle Elastic Hair Tie
A very similar pack to Full Circle is the Wozeah Variety Pack.
Pair these hair ties with this Mason Pearson brush to help spread your hair's natural oils and help stimulate your scalp for hair growth!
Knotted Ribbon Elastic Hair Ties
These are the most popular non-damaging elastics at the moment. Each tie comes in a unique knotted design that looks cute in both your hair and on your wrist.
Ribbon and elastic material are used to make these, thus making them gentle on your hair, while still strong enough to hold it back into place.
Ribbon material allows the band to slide over your hair, instead of bending it back as most ties do nowadays.
Because of their popularity, you can find knotted ties in a large variety of patterns and colors. Great gifts for every occasion and have been popular to give out for your bachelorette or bridal shower!
Wear multiple ties for a bolder look and to add volume! I use these at the gym while I work out.
Because I sweat a lot at the gym my hair often gets wet and wearing normal ties would cause damage if I had a typical band holding my locks back. Half wet hair and half-dry that is held by a tight elastic band are asking for breakage.
You never want to stretch wet hair because wet hair is more fragile than dry hair.
Ribbon ties allow me to have sweaty hair that is bunched back together vs being pulled back.
Features of Knotted Ribbon Elastic Hair Ties
Take a peek at some of my favorite pattern packages:
Are you a DIY type of person? Lucky for you, hair ties are super simple to make. Follow the link here for a step-by-step guide on how to make these ribbon ties.
Another bonus to these is you can wear them on your wrist as an added form of bling.
Old School Scrunchy
Scrunchies are by far the best ties to prevent damage. Each scrunchy is typically made out of velvet, which allows your hair to be worn back without damaging it.
Velvet is a soft, lightweight material that allows the tie to slide right over each hair shaft, thus preventing damage.
Scrunchies make great accessories to any outfit!
Practical + Adorable+ Affordable + On trend = Ultimate Hair Must Have.
Because it can be used as an accessory it's great for those who like to color match everything and for those that want the lazy girl approach to accessorizing their outfit.
Why are scrunchies good for your hair?
Scrunchies slide down your hair instead of rubbing and pulling it out. Think of it as a slide. Do you want to go down a slide made of sandpaper (normal hair ties) or a slide down brand spanking new greased up slide (scrunchies)? We can all agree on this one folks unless you are into that sort of thing.
If you suffer from migraines scrunchies are a good choice for you. Each scrunchy bends and flows with your hair never pulling it from its roots, which is what can cause headaches.
Pulling is also what causes hair loss, thinning and receding hairlines.
Scrunchies Are Not Just For Kids
I am in my late 20s and I wear scrunchies to the gym, brunch, sporting events and on my casual errand days!
What's even better is if you have a daughter in gymnastics you can share scrunchies with her. Every gymnast always has a matching scrunchie for her Leo! I was in gymnastics my whole life, I have a special place in my heart for scrunchies!
Key Features of Scrunchies
Other Scrunchies I Love at the Moment
I just got these metallic scrunchies and I am in love! You can't beat how many you get for the price. Metallic is also a color that works great on any hair color and with anyone's skin complexion.
If you need to switch up your already overwhelming scrunchy collection try going for scrunchies with bows or other fun add-ons to them like glitter or jewels!
Honorable Mentions
Pure Silk 6-Pack Skinny Hair Ties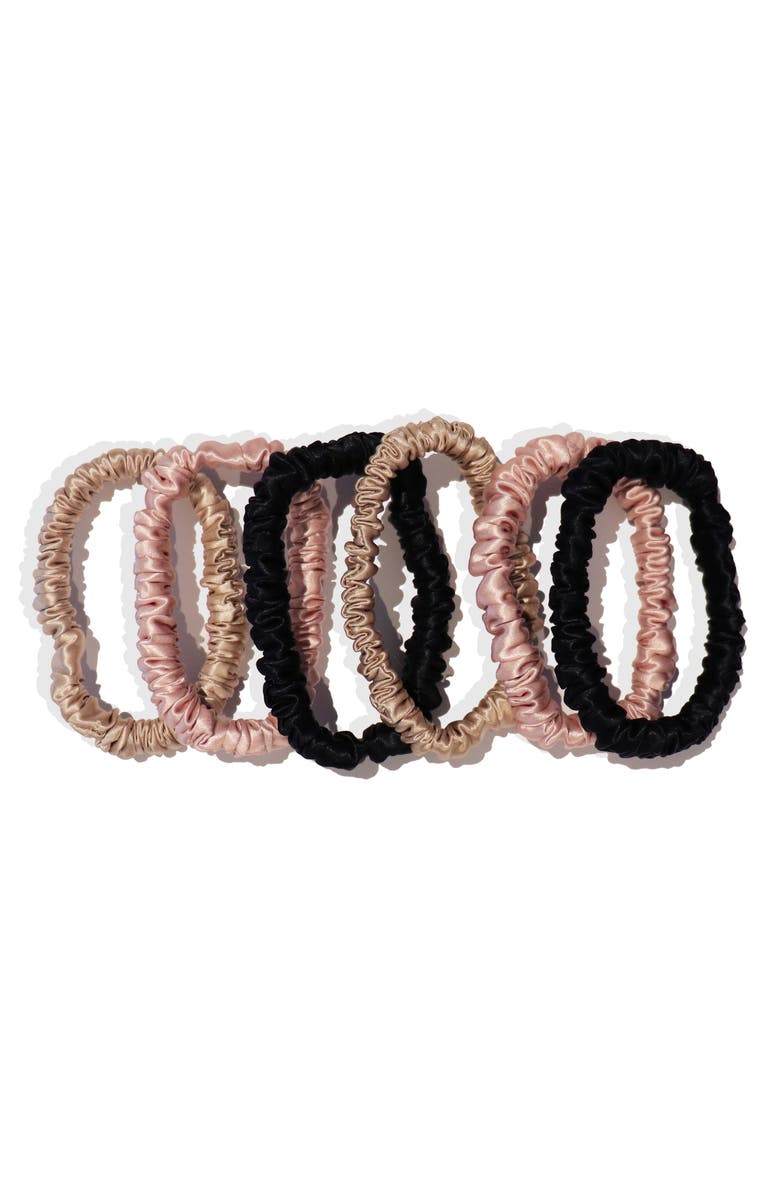 Hairology Elastic Cord Ponies
Set of 6 Statement Pearl Hair Ties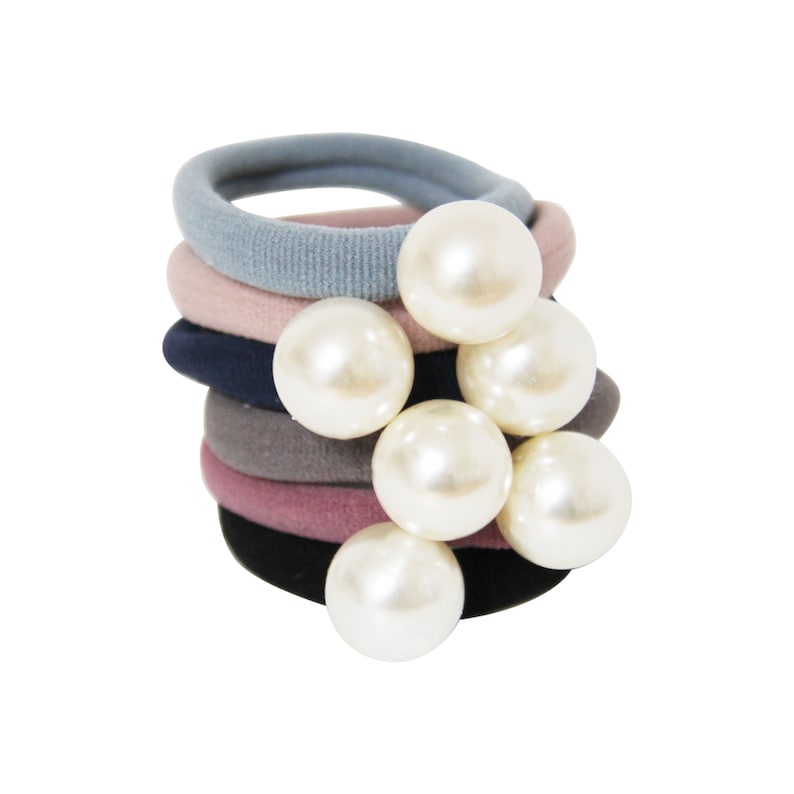 Conclusion
I often keep some form of these in my gym bag for emergency use!
Nothing is worse than getting to the gym and you realize you don't have a tie so you are forced to either work out with your hair down or, gasp, ask the front desk for a rubber band.
Don't be like Linda with the broken hair that hasn't grown in five years. Keep a few of these in your car or gym bag so you never have to wear damaging elastics in your hair.
---
I hope you enjoyed and found the roundup helpful. If so, leave us a comment in the section below!\