When the weather gets cold, nothing is better than snuggling up to your boo and using body heat to get warm. Winter provides a chance for people to get close to one another, putting adult minds into a child-like state, allowing them to absorb the holiday cheer around them.
Milwaukee is one of those versatile cities that adapts and thrives to the seasons that change around it. Unlike other cities that shut down once the cold hits, Milwaukee has found a way to mold itself and provide one-of-a-kind winter activities that bring people out of their warm cubby holes.
A little cold won't stop sconnies from having a good time! Scroll below to take a peek at the 5 best winter dates in Milwaukee, and surprise your boo with one frosty good time.
---
1. Restaurant Domes
Restaurant domes are slowly taking over the city, and I don't think a single person is mad about it.
Some may be the traditional domes, and other options include Yerts and even mini tents.
Not only do you get a nice romantic meal, but you can't beat the experience of a private dome. Unlike outside dining in the summer, a dome is secluded and maybe one of the best Wisconsin's best date nights.
There is something special about being in a dome outside with the one you love tucked away from the world. It is, in a sense, a world away from a world, and it almost feels like you're on vacation.
Since domes aren't offered year-round, it is something very unique to the wintertime.
While there is a wide variety of options to choose from, a few of my favorite are below!
Kegals Inn
DETAILS:
Heated & Insulated
Fits 6-12 people very comfortably
$50 deposit to hold your spot in one of our Yurts!
$250 Minimum purchase for the group.
%20 Service Fee for Yurt Rental
Gratuity not included.
Kegels Inn is the only place in the Milwaukee area that has a classic yet.
What is a yurt?
A yurt, uses classic architectural principles to construct a circular lattice structure with minimal materials that hold up to nearly anything the elements can throw at it. This classic form of nomadic housing can be set up either as a permanent structure or a portable tent.
Kegels is the best place for German food, and they even offer a vegan fish fry!
Cafe Benelux
8 guests for 90 minutes, a keepsake camp mug for each person to take home and enjoy, plus a select beverage package of your choice! That breaks down to just $25 a person when split between 8.
These are the classic clear domes and give you an experience of a city view.
Lakefront Brewery
Much like the other places, each is reserved for  90 minutes.
Pricing info is as follows:
Sunday – Thursday
6-Person Hop House | $30 Fee + $100 Minimum
8-Person Hop House | $50 Fee + $150 Minimum
Friday and Saturday
6-Person Hop House | $50 Fee + $100 Minimum
8-Person Hop House | $75 Fee + $150 Minimum
2. Carriage Ride
One of the best dates I had in the city was a carriage ride. My fiance surprised me with it, and I was literally speechless. We did our carriage ride with Milwaukee Coach & Carriage.
For those animal lovers like myself, the carriage company we went with only brings the horses down into the city for the weekend to do carriage rides, and they don't stay out in the cold somewhere.
The horses are treated super well and are taken care of by people who have owned them for decades.
There are a few different routes the carriage ride goes on, and they all take you throughout the city.
Milwaukee Coach & Carriage is the only downtown Milwaukee horse and carriage company licensed and dedicated to making your special occasion truly unique and memorable.
Current Rates
Half-hour ride with carriage – $70*
Hour ride with carriage – $120*
Hour ride downtown with a wagon – $300*
Hour ride downtown with a wagon – Fridays, Saturdays, and Holiday season – $400*
*Prices above do not include sales tax. Prices are not valid on holidays.
These are the half-hour and hour rides rates only from Pfister, Hyatt, and InterContinental Hotels. Would you please call for quotes for weddings and other special events?
We were able to bring a blanket and snuggled up. It was such a unique way to see the city, and it was amazing to see all the city lights.
3. Outside Ice Skating
Ice skating is a tradition, and it is a fun time at any age.
I love that Milwaukee has an ice skating rink right in the heart of downtown! They have skated for rent and a Starbucks so you can warm your belly before you hit the ice.
Skate Rentals
Sizes range from toddler size 8 to women's size 11 and men's size 14.
| Age | Single Visit |
| --- | --- |
| 18+ | $9 |
| 17 & under | $7 |
| Sharpening | $6 |
There is plenty of parking around the rink, and street parking won't be hard to find.
Since the park is right off of water street, there are plenty of bars and restaurants around the area you can walk to before or after your visit.
4. Indulgence Chocolatiers – Chocolate Pairing Class
My sister actually gifted me this once for Christmas for my fiance and me. She did it with her husband and loved it so much; she knew I had to check it out.
I don't have much of a sweet tooth, but this chocolate is out of this world, and I bought a bunch to take home.
Their class pairing involves their confections with other foods and beverages – using different flavors to complement, balance, or pull out certain notes in their counterparts is a fun and different way to enjoy chocolate.
Classes typically last between and an hour and a half and two hours.
While you are welcome to visit the Walker's Point chocolate pairing bar anytime during regular hours to order off the menu, more formal after-hour classes allow us to focus on pairing certain items that may not be offered on the regular menu.
During the class, they go in-depth on the chocolate itself and why it goes so well with a said drink of choice.
 Guests will have time to enjoy and visit between each pairing, and questions are welcomed throughout the class.
Indulgence owner Julie Waterman usually teaches each class, and they allow guests to focus on certain themes or pairing items that are not typically part of our regular menu.
The classes are switched up regularly with what chocolates they pair and the drinks they use, so you can do this one multiple times and not get bored.
After the class, feels free to buy some chocolates so you can continue the fun at home!
5. Glassnote Candle Bar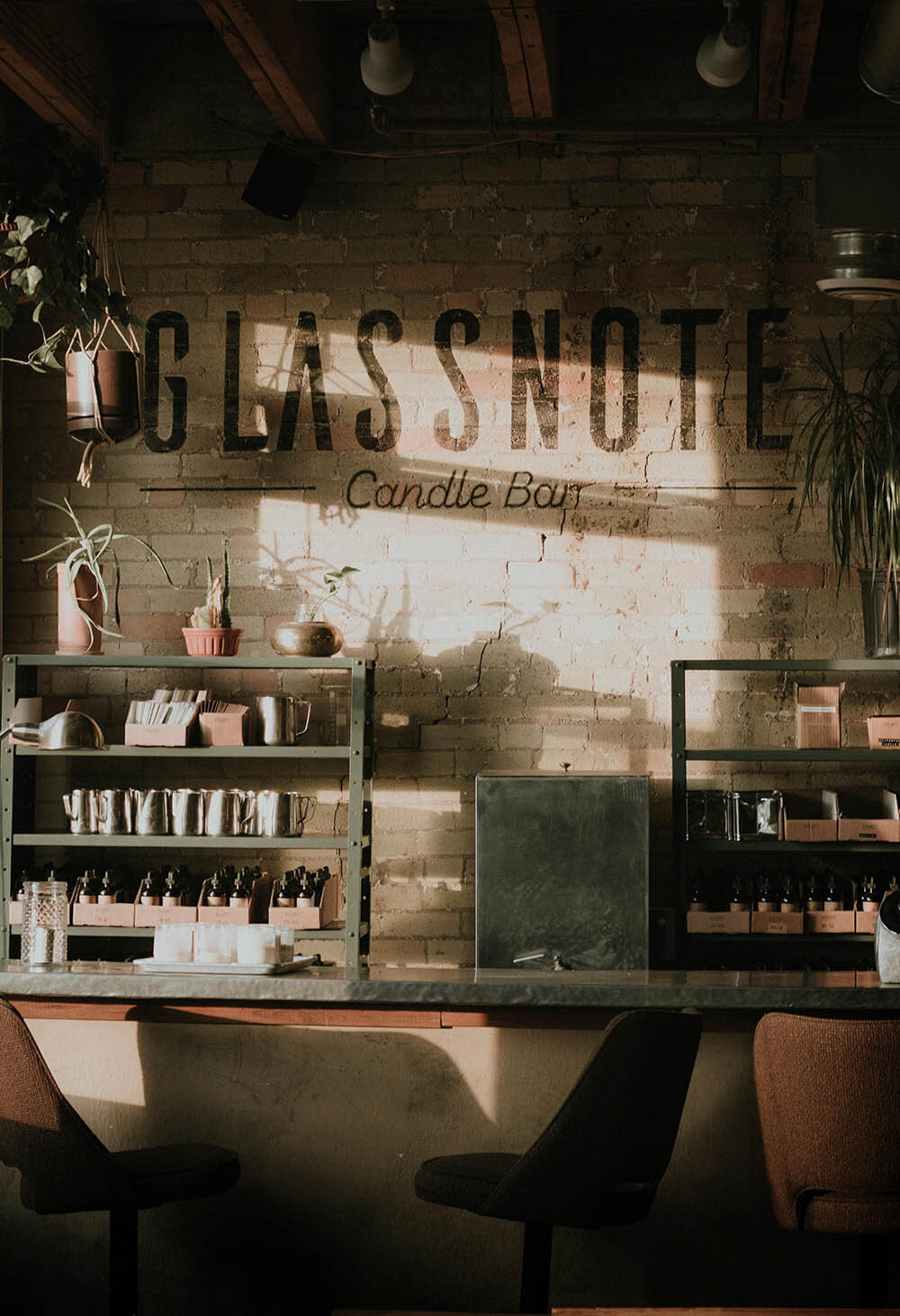 The 16-foot zinc bar top, oriental rugs, cream city brick, Spanish tile, and old grain, original maple flooring lends a sense of comfort, creativity, and vibrance to the space.
This space is meant to bring the community in, to enjoy each other's company, and to have a good time creating a scent unique to you, as well as pouring an all-natural soy wax candle infused with your scent to take home and enjoy, or gift to a loved one. I hope you enjoy the space and the process as much as I do. – Kevin, Founde
How Does the Candle Bar Work?
1. Make a Reservation
2. Show Up
3. Find Scents You Love
4. Explore Your Creativity
Being able to create your own fragrance for a candle means you will get exactly what you want! How cool is that?
What's even better? You get to pour your own candle and name it!
I find this date spot one of the top options, and my personal beliefs are actually backed by scientific research.
The sense of smell is closely linked with memory, probably more so than any other sense, and can evoke particular memories.
In addition to being the sense most closely linked to memory, the smell is also highly emotive.  For example, the perfume industry is built around this connection, with perfumers developing fragrances that seek to convey a vast array of emotions and feelings, from a desire to power, vitality, and relaxation.
On a more personal level, smell is essential when it comes to attraction between two people. For example, kissing is evaluated by some scientists to have developed from sniffing; that first kiss being essentially a primal behavior during which we smell and taste our partner to decide if they are a match.
Having a date night centered around smell is essentially one of the most romantic things you can do!
6. Crossroads Collective
Crossroads collective is referred to as Milwaukee's foodiest food hall.
HOW IT WORKS
Unlike food courts or a public market, Crossroads Collective is a Food Hall offering local, made from scratch options from eight individual vendors, as well as two bars. The stunning design creates a dynamic space that combines culture and culinary artistry with a sense of community.
This place is every couple's dream! With so many cuisine options, you don't have to waste time deciding what one type of food you want because you can choose from a million.
If one feels Italian and the other is feeling sandwiches or BBQ, you can both get what you are craving!
Grab your food grab a drink, and sit wherever there is an open table.
They also offer outdoor seating, and in the winter, they have fireplaces outside with places to sit around them! So go up to the bar and grab your $10 S'more kit, and roast away.