Under-eye bags can affect everyone at some point throughout their life which is both annoying but a bit reassuring. You may wake up with under-eye bags one morning and not see them again for years.
What causes under-eye bags you ask? The not-so-great answer to this question is a long list of reasons. Some of the reasons include the following:
Genetics
Sleep
Allergies
Sinus problems
Alcohol
Aging
Eating salty foods
Not removing Makeup
Too much sun
Products At A Quick Glance
IMAGE
PRODUCT
DETAILS

Top Pick

Dermalogica
Age Smart MultiVitamin Power Firm

Used by dermatologists
Great for Fines Lines and Wrinkles,Loss of Firmness and Elasticity, and Dark Circles
Key ingredients – Vitamin A,E, and C
Cruelty-free,vegan,paraben-free,sulfate-free,phthalate-free,synthetic fragrance-free,and has recyclable packaging

Best Eye Mask

WANDER BEAUTY -Baggage Claim Eye Masks

Great for all skin types
Eye mask brighten, hydrate, and reduce the appearance of dark circles
Gold foil helps retain heat and prevents the serum below from evaporating, allowing the maximum amount of absorption into the skin
Has Hyaluronic acid, Aloe leaf extract and lavender oil 
Allure Best of Beauty award winner.

Top Reviews

Baebody Eye Gel for Under & Around Eyes


Lightweight gel  reduce the appearance of puffiness, dark circles, under eye bags & wrinkles
Hydrates and firms
Contains hyaluronic acid, retinol, argan oil, activated charcoal & tea tree oil
Over 16,600 reviews and counting!

Best Night Eye Cream

Olay Eyes Retinol 24 Night Eye Cream

Overnight eye lift
24/7 hydration
Combination of Vitamin B3 + Olay's most transformative Retinol complex for noticeable results with virtually no irritation
Works with all skin, even sensitive
Notice after 1 use

Best Eye Mask

Soothing Glitter Gel Eye Mask

Helps improve look of tired eyes
Help soothe headaches and mimimize puffiness
Adjustable strap
Can be kept cold in freezer or fridge

Cult Following

StriVectin –
Intensive Eye Concentrate for Wrinkles

96% reported eyes look more awake
93% reported the look of fine lines and wrinkles around the eyes were reduced
93% reported eyes look wider and eyelids look less droopy
Besides a good under-eye product, you may also want to improve your sleeping habits, diet, exercise, and reduce sun exposure in order to prevent and treat under-eye circles for good.
Below is a round-up of the best under-eye bag and circle treatment so you can stop walking around showing how little sleep you may have gotten the night before.
Having my cosmetology license means I have worked with all of these products, but most importantly means I recommended them to all my clients, including my high profile clientele. I recommended them because I have taken classes on them, researched them, and used them first hand myself.
---
1 Dermelogica Under Eye Cream
Best For Long Lasting Results
One of my favorite products I recommended to my clients is any Dermelogica product. It is a bit more pricy but if you want fast and long-lasting results then expect to pay some coin. Products are beauty aids, not magicians.
This Dermelogica under eye cream will work as a sort of two for one. It will first eliminate under eye bag and discoloration, and then it will help firm up that area so you look younger.
Women who aren't a fan of makeup will especially want to use this because having a good under eye area can dramatically make women look years younger.
Most women who wear the natural look via makeup or none, all have one thing in common, and that is a great eye area. Fine lines around the eye area can instantly age any women, therefore eliminating that will eliminate years.
Not having to worry about putting concealer under your eyes every morning can save time and money on the product. Those who wear zero makeup can now walk out the door adding a little bit more youth to their already beautiful face.
This product is so powerful thanks to vitamin A found within it and works as a great antiaging product. It has a nice clean scent without being to perfumy.
---
StriVectin Intensive Eye Concentrate for Wrinkles
Best Eye Concentrate
visibly reduce the look of all types of lines around the eyes, including crow's feet, squint lines and deep-set wrinkles.
One of the most top reviewed eye concentrates on Ulta!
Optical diffusers reflect light to immediately brighten dark shadows and help alleviate visible signs of screen fatigue.
Quick Stats:
96% reported eyes look more awake
93% reported the look of fine lines and wrinkles around the eyes were reduced
93% reported eyes look wider and eyelids look less droopy
Great for all skin types!
---
3 Baebody Eye Gel
Best Under Eye Gel
Baebody is my second favorite bae next to my significant other. I LOVE this eye gel and it truly works wonders.
I wish all products came in a pump thing like this. As you pump the lid down it pushes the product up.
Even if you push the pump all the way down it doesn't give you an excessive amount of product, and I feel like this feature truly has stopped product waste for me.
If you are someone who finds themselves constantly squeezing out more product than you need, and you end up wiping it off on a towel than you NEED this under eye gel product in your life.
It has 4 out of 5 stars on over 15,585 reviews soooo yeah, I'd say people worldwide are a fan of this product.
Besides my love for the pump, there is much love for the results this gives. Use it morning and night to see results in as little as a week.
Oh, and did I mention it has retinol in it? Retinol is the key ingredient that is responsible for rebuilding and producing collagen back into your skin which is literally what makes skin stay young and line/wrinkle-free.
---
Olay Night Eye Cream
Best Drugstore Pick
Olay is considered a drugstore pick, but it is one of the most tried and tested brands around the market.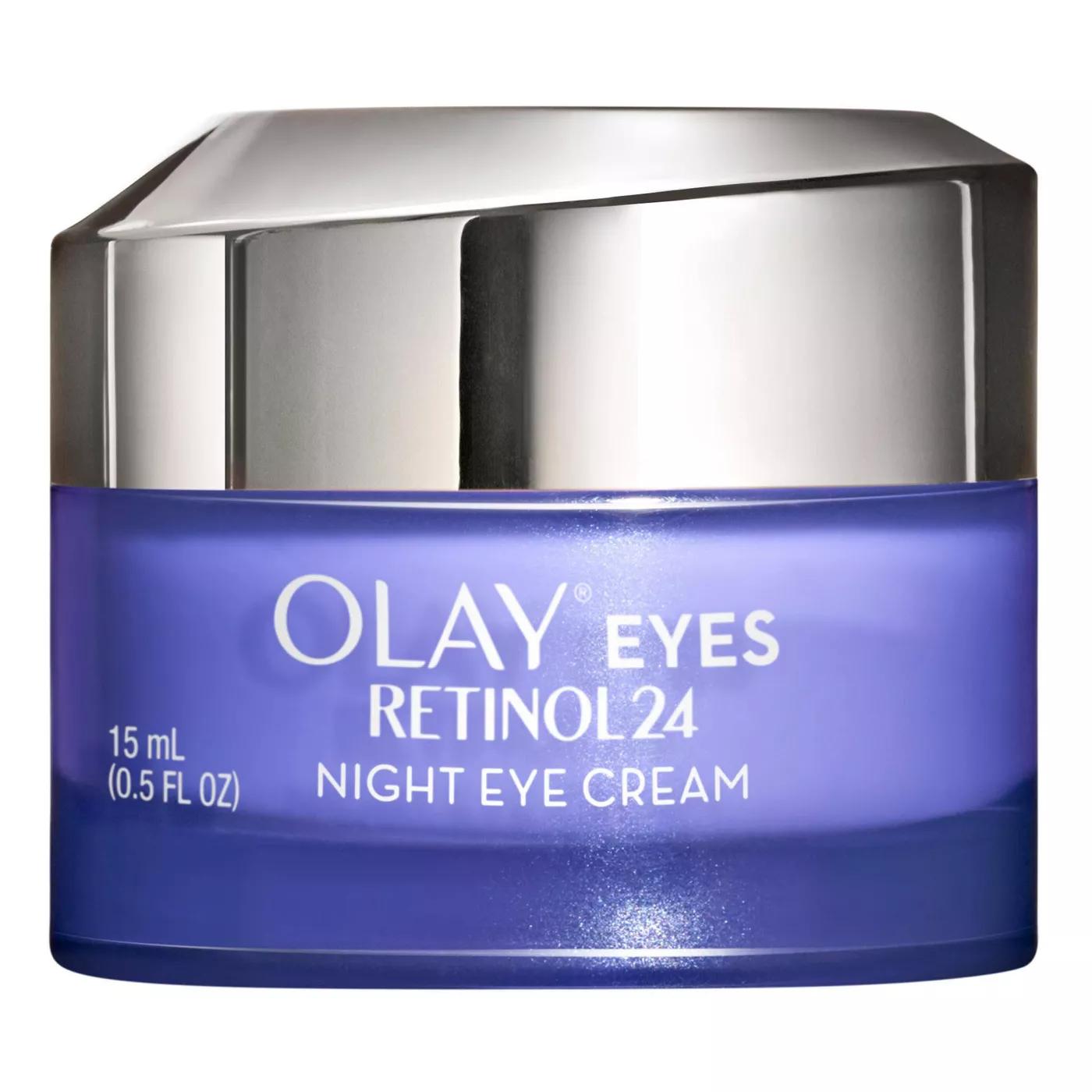 This product may be small but you know what they say, good things come in small packages.
For those who are into fragrance-free beauty products then you are going to be thrilled to know, this is fragrance-free.
A big plus to this one is you don't have to worry about applying it morning and night because one application lasts 24 hours and can be applied at night.
It has a bit of a pink tint to it which is great for those who choose to apply this in the morning because it will help cover up any super heavy circles – that last glass of wine during the 3rd hour of The Bachelor might not have been the best idea.
---
Wander Beauty Baggage Claim Eye Masks
Best Under Eye Mask
While creams are great, under-eye masks are next level. Bonus: they feel great and if used in the morning is a good way to wake you right up.
If you want to get scientific about it these are sort of like an updated version of a cold compress.
The reason why cold compresses help with under-eye issues like swelling and puffiness is that cold reduces inflammation by constricting the blood vessels. Reducing the puffiness will additionally help reduce the appearance of dark circles.
Not gonna lie the first view times I used these they grossed me out. They come in a package that has liquid in it so when you take the eye masks out they sort of look like floppy fish.
After a few applications, I actually looked forward to the cold masks on my face and got used to the liquid packaging.
You are going to want to keep these in the fridge and just take a package out as you need to use it.
These have nano-active gold as the main ingredient which helps:
Vitalizes fiber tissues under the skin
Accelerates overall blood circulation
Anti-inflammatory property
Improves firmness and elasticity
Delay the aging process
The gold foil helps retain heat and prevents the serum below from evaporating, allowing the maximum amount of absorption into the skin.
Middle layer is elastic to prevent the masks from slipping, and the third is a cellulose fiber that condenses and delivers key ingredients efficiently, giving you all the skin-loving benefits you need.
Hyaluronic acid delivers extraordinary hydration to diminish the presence of fine lines and wrinkles. Aloe leaf extract and lavender oil offer a cooling effect while soothing and calming the under-eye area.
---
6 Gel Eye Mask
Easiest To Use
Eye masks take me back to my childhood days. The first time I used one I was at a friend's sleepover and her mom would make us sleep with them on because she said to prevent wrinkles when we are her age we had to start young. I wish I would have listened to that wise old woman who is in her 80s with no wrinkles while I'm over here fighting off fine lines at 30.
This eye mask is simple yet effective. It comes in three different colors and the little gel balls fit comfortably around your eyes.
This is a product that is reusable and washable so you can keep them for years. Pretty sure I've had one of these in my fridge since I left my friend's house that day…maybe not kidding.
Since the beads are made of gel they change form to fit around your specific face shape so you don't have to try to shove your face into a mask that is too big or too small.
A velcro strap makes it easy to adjust to your head shape as well. You can pop this bad boy on your face right before you go to bed or use it in the morning when you are drinking your morning cup of joe.
---
LancômeAdvanced Génifique Yeux Light-Pearl Eye & Lash Concentrate
Honorable Mention – Eye Cream + Lash Serum
This product works as a brightening eye serum that works to improve dark circles, visibly reduce eye bags and visibly fortify eyelashes.
Increases hydration for more luminous, youthful-looking eyes.
Additionally, reduces the appearance of under-eye wrinkles, bags, eye puffiness, improves dark circles, and visibly fortifies eyelashes for increased vitality and density.
I love this product because it comes with an eye wand applicator which is easy to use, more sanitary and saves on product waste.
Helps contour the eyes and shows results in about 6 weeks! That might seem like a long time but the results will leave you speechless.