One of the best things I ever learned is if your makeup looks good in a lighted mirror, it's going to look GREAT to the everyday eye. Using a lighted makeup mirror might be strange at first, but just like anything else you get use to it. After a while, you won't be able to do your makeup without one!
Best Lighted Makeup Mirror
What is a lighted makeup mirror?
Lighted makeup mirrors are outlined by some form of light. Often times the light source is going to be a LED light and it will be in long strips or appear as individual bulbs. Some will be fully outlined and some will be outlined on just two sides. The more complex ones will allow you to adjust the brightness level and LED light color.
Why use a lighted makeup mirror?
Unless you live in a 100% glass house, you're going to want a lighted make up mirror. If you do live in a 100% glass house you better not throw any stones. Natural light is your best friend when it comes to makeup. If you don't have a lot of windows that let in natural light, you often times will overcompensate on your makeup and make things to dark or to light.
In the room, your makeup will look great but as soon as you step outside you often will find the mistakes, like over contouring or not enough blending. Having a lighted makeup mirror allows you to get optimal light for the best possible makeup outcome.
What powers lighted makeup mirrors?
Depending on which brand you buy, lighted makeup mirrors will run on batteries or from a charge. Some will allow you the option to use both.
Why should you listen to me?
I am a licensed cosmetologist and have done makeup on just about every type of clientele. I have done makeup for high profile clientele, entertainers and more weddings than I can count.
This compact lighted mirror will be best friends to people who travel or live their life out of their purse. It can be recharged and has a USB CABLE so you can plug it in and recharge it almost anywhere. Great for those who live in a small apartment with limited bathroom/bedroom space.
You don't get just one magnification with this product but you get three different kinds. 10x magnification can help you put on your eyeliner and the 1x magnification is good for applying things like blush or highlighter.
Keep this compact lighted make-up mirror in your car or at work as a backup. You never know when you need to refresh that face of yours. Last minute date? No problem. Have a pop-up meeting in an hour? No problem. Have a sexy uber driver? Now you have a sexy date with that uber driver.
Other Great Features about this mirror include :
1X /5X /10X magnification
Soft, natural light – helps you see the various parts of your face including problem areas
Light and compact size
You can just fold out one of the mirrors if you don't want to fold out all three.
This travel mirror is lightweight, folding design saves precious space. You can fold and use it as a compact, or raise to use on top of your vanity.
Writers Recommendation: Great for people who just want a simple, on the go product.
I think this is great for people who want to save space on their bathroom counter. Its smaller size makes it ideal for people who want a simple and effective product.
I prefer this one to others because it has four lighted sides that surround the glass vs most that just have two light panels. Having more lights give you twice the brightness compared to those of regular LED products.
Convenient touch button turns the product on and off. The button allows you to keep it in standby mode and adjust the brightness level. Press or hold the button to adjust its brightness.
You will find an auto-standby feature which allows for 30 minutes of continuous use
This product has the functionality to be rotated horizontal and vertical. Two magnification options of 1X & 10X. The main glass is great for viewing a clear reflection of your face, while the 10x magnification helps you refine your makeup and is compact enough to take anywhere
Powered using 4 AA batteries or via the USB charger. Battery power is saved if the it'ss in USB charging mode
Writers Recommendation: I suggest this one as a starter option. Perfect for those testing out a lighted makeup mirror at home before diving into a more expensive one.
Foundation brush – tips, tricks and brush suggestions.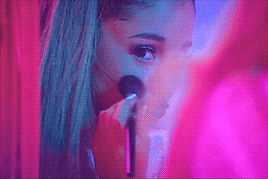 I like to think of this as the mac daddy.
If you're really getting into makeup and are spending some good cash on cosmetics, I suggest you drop some of that cash on a product like this one. Don't let your money go to waste, get a mirror that will let you properly see your face, and by your face, I mean every single with all nooks and cranny.
The Trifold is also my preferred choice because this specific product has sides that can fold into itself for easy storing and has a compartment on the bottom to store things.
4 led lights provide a feature to have bright and natural lighting. It makes your eyes feel comfortable and doesn't give them a burning sensation that over bright bulbs can do.
It comes with a sensitive touchscreen. You can adjust the brightness and also turn the lights on/off. A Tri-fold and detachable design make this ideal for any 0space.
This LED lighted mirror works on USB charging or 4* AAA battery. Battery power won't be consumed it's in the USB charging mode.
You can use the standard glass in the middle or one of the 3 panels magnifying mirors that include, 1X/2X/3X magnification. Multiple rotation options make it easy to see every angle of your face. 180°up/down stands on your countertop, can be freely adjusted and fixed.
Writers Recommendation: Great for people who have played with lighted makeup mirrors. Not the cheapest product in the world, but won't break your bank. All the bells and whistles you could ever wish for can be found in this mirror.
If you are a pro to the lighted makeup mirror and want to go full time with one, I suggest getting a wall mounted one.
Wall mounted makeup mirrors free up space on your counters and can be more convenient. Because you decided where you mount it, it can be placed perfectly to your eye level. All the hardware you need to mount is included.
This specific wall mounted mirror has been used in hotels and spas. Once this is mounted the product can move at 360 degrees. Swivel design and 1x, 5x magnification zoom complete this product. A 14-inch extension and an elegant bronze finish make this versatile and compliments a large varity of bathrooms.
Writers Recommendation: Great for those who are committed to having a lighted makeup mirror and want the extra benefit of leaving their counter clutter free.
This trifold makeup mirror offers you 10x magnification. Not sure if anybody really needs 10x magnification, but if you really want to zoom into your face that much the option is available for you. 1x,2x and a 3x option is also available.
Unlike the other products mentioned in this article, this one has 21 piece light bulbs instead of a light strip. Pressing the sensor switch will allow you to adjust the brightness.
If 10x magnification is too much for you, a standard mirror, 1x,2x and 3x magnification are also available to you.
A UV coating makes this resistant to scratches, heat, chemical, and fingerprints. Ideal for any ladies bathroom because it won't melt if your curling iron or straightener accidentally touch it.
Dual power supply through a micro USB cable or 4AAA batteries.
Writers Recommendation: Great for those who really want to see as close as they can possibly get. You won't find one that ofers moe than 10x magnification. If you need more than that I suggest you maybe get your eyes checked and purchase some contacts.
If I had to pick just one for traveling, this would be the one. It's portable enough to take with you on your travels and big enough to actually be called a legit lighted makeup mirror. While this may be too big to fit into your purse, it works great for easy storage in your suitcase or carry on bag.
This mirror is wireless and cordless which makes for a clean appearance. Chrome accents and 7x magnification are all found within this product
. A suction cup arm that allows you to attach this to any smooth surface.
Natural, warm and white LED lights to last up to 10,000 hours. Go to the store and pick up 3AA batteries so you can power the light on this bad boy.
Writer's Recommendation: Great for those who travel and are committed to having a sturdy, reliable lighted makeup mirror.
Conclusion:
With so many options out there it should be easy to find one that fits into your lifestyle. Read the fine print carefully to see if those that need batteries to operate come with them or if you need to order some of those as well.