Dyson Supersonic is the hairdryer form the future. Just looking at it makes you stare in a state of wonderment and awe. It's a hairdryer you can see-through…does it really work? The simple answer is yes! Anything that has a cult following year after year is going to be worth the big price tag. While Dyson is best known for its vacuums it has really changed the hair game with their new Supersonic Hair Dryer.
While Dyson products always seem to be a bit more expensive than most, no one ever buys a Dyson product and regrets it or ends up returning it. While they are pricy in comparison to other products on the market they are always worth the money. Dyson has come up with all the solutions to problems that other companies have failed to do.

What does the Supersonic hairdryer do?
It dries your hair, duh. Besides that though it protects hair from unnecessary heat damage as well as
Increases smoothness by 75%
Increases shine by 132%
Decrease frizz and flyaways by 61%
---
Does the supersonic hairdryer hurt or protect hair?
Dyson made this product with hair quality at the forefront. They knew they needed to develop a product that would dry hair fast while still protecting it from damage.
How does the Supersonic Hairdryer work?
Dyson's Air Multiplier technology, found in both the Supersonic dryer and their Bladeless fan, creates a high-velocity air stream. It does this by sucking air upward toward the rim where it's joined with air brought in through the back and then channeled outward in a horizontal direction. The finished result is a smooth, even flow of air…sort of like a wind tornado tunnel.
---
Magnetic Attachments
The biggest thing I love about this as a user and as a professional user is that all the attachments are magnetic! Noting is worse than wasting time-twisting attachments on and off. Over time the tread starts to wear down, and the accessories no longer work. Magnetic attachments mean the product will last longer, and it is more user-friendly for both professionals and users at hone.
Smoothing Nozzel
This attachment allows you to dry and smooth your hair out at the same time. It has a wide range of airflow, which is excellent for those who like to dry all their hair at the same time. If you typically don't section your hair and dry it with a brush piece by piece to get a blowout look, then this is the attachment you will want to use. Great at drying all your hair out at the same time in one go.
This attachment blows out air at a lower speed.
Styling Concentrator
This attachment allows you to dry and smooth your hair fast and efficiently; great for those who want a blowout or straight look. People who typically use hair sectioning clips to divide sections of hair and straighten it section by section are going to want to use this attachment.
The air that comes out of this attachment comes out in a straight, more forceful airflow. You can use this to blow dry one section of hair at a time without blow-drying other sections you don't' want to be dried at that same time.
Diffuser
Diffusers are made to disperse air around curly hair which helps dry curls without disrupting the curl pattern. It helps define curls and waves without air pressure that will frizz up and break the curl pattern.
This attachment has long prongs that will dive deep into the hair and reach more into the curls.
Buttons
The buttons on the Dyson hairdryer are perfect for allowing you to pick the ideal button combination for your hair.
Example: Thin or short hair can use a lower heat and speed to prevent excess damage vs. thicker, longer hair can use the higher speed and heat to dry their hair faster. Additionally, you can use low heat with a high speed or a high speed with a low temperature and any other combination in between – the choice lays, literally, in your hands.
3 Precise Speed Settings
High – for fast precise drying
Medium – best for regular styling
Low – best speed for diffusing hair
4 Precise Heat Settings
212 degrees – best for fast drying and styling
176 degrees – best for regular drying
140 degrees – cooler setting for drying and diffusing
82 degrees – consistent cold that is great for setting hair also referred to as the cold shot button on the hairdryer
---
Specs
The cord to this is 9ft which makes it great for any type of styling environment like a bathroom or vanity.
Product Height
9.6 inches
Product Weight
1.8 lbs
Product Width
3.1 inches
Product Length
3.8 inches
Motor
The motor found in this product is made to be as quiet as possible, which can be great for people who live with others and need to get ready when their family or roomies may be sleeping.
For professionals having a quiet motor allows you to continue a conversation with your clients without having to talk extremely loud; which is both annoying and rude to those around you.
The motor itself is actually placed in the handle, which makes it better for styling and feels overall more well balanced. Nothing is more embarrassing than getting lost in conversation, and you lose the weight distribution of the hairdryer, causing the hairdryer nozzle to knock your clients in the noggin. I'm sure you've either done it yourself or have had that done to you at least once in your life. With the Dyson dryer that will never again be an issue.
Heat Sensor
One of the best things about this product is the heat sensor found inside of the product itself. It has the capability to measure the heat being put out and can adjust it so it doesn't get too hot or overheated.
---
Colors
This hair dryer comes in a few different colors.
Grey / Fuchsia
Black / Purple
Black / Nickel
White / SIlver
Iron / Red
Blue / Gold
---
Reviews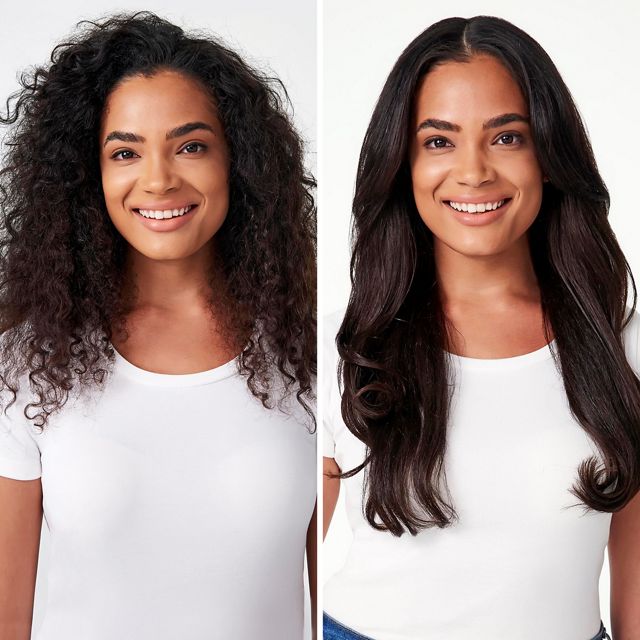 Those with curly hair who love a good blowout choose Dyson for the fact it holds up against their thick and voluminous hair.
Anyone with curly hair has tested the true strength of hairdryers and they often go through them much faster.
When a hairdryer is tested to its limits its parts are going to wear down faster, much like anything else in life. This is why Dyson is so important to those with curls. It gives them a reliable and dependable product.
Looking at user reviews is a great way to take a peek into what you can truly expect from a product. Below are some first-hand reviews of people who own this product.
I was a little skeptical that one hair dryer could make a big difference over any other, but this product has proved me wrong. I was using a Babyliss when I got this, and I was blown away. It has sensors to adjust the heat to optimize it for your level of wetness and it turns out we need all the heat that we think we need.
I am so happy I bought this. This truly does what it says its going to do. It dries my very thick, very frizzy, very wavy hair. If I use the right brush with good styling products, I get the perfect blowout. I love that it is extremely quiet and I don't feel like I'm "frying" my hair. I love the different settings and once you get used to the feel of the hairdryer weight it is very comfortable and doesn't cause my arms to hurt from having to hold it.
Drys hair faster.- it's lightweight and compact – Hair doesn't get sucked into the motor since it doesn't have a fan-you don't damage or burn your hai.- it comes with 3 great attachments, including a defuser for curly my hair.
---
Final Thoughts
While this is quite a big buck the bang backs up every single penny. It is an all-around improved product that can benefit your entire grooming routine. One of the best features is the quiet motor so you can still have conversations with those around you; great for moms who have kids that can cause havoc around the house because you can get ready while still keeping an ear out to see who knocked over the lamp in the living room…again!
If you want to take your morning hair drying time for 30 minutes to less than 7 than this is the product for you!
---