Your hair is one of the first things that can age you or make you look years younger. Don't fall into the trap of wearing the same old hairstyle, and try these tips to make you look so young you will start getting carded again!
You don't need to follow every single one of these tips, but even just utilizing one of them will help you achieve a more youthful look.
If you plan on getting a new cut or color soon, you will want to keep these in mind so you don't have to make a second appointment.
Snip it, Chop it, and Say Adios To It
The Karen haircut has deterred people from ever wanting to cut their hair, especially as women get older, because no one in their right mind would ever want to be called a Karen or be associated with looking like one.
This is a big mistake, however, because a good haircut can take years off.
Who should get a short haircut?
Women who deal with thin hair will want to stick with shorter hairstyles because having long hair will look straggly and straw-like.
Thin hair kept at a shorter length will help hair achieve an overall fuller look. It will also be best for the other haircut to be kept blunt to give a thicker appearance vs. layers which will accentuate the thin density.
While this girl in the picture has a mean stink face, you can clearly tell the enormous difference between the before and after. Her long hair just hung down like dad grass, and her new chop on the right has shape and gives her a more put-together chic appearance.
Pixie Cut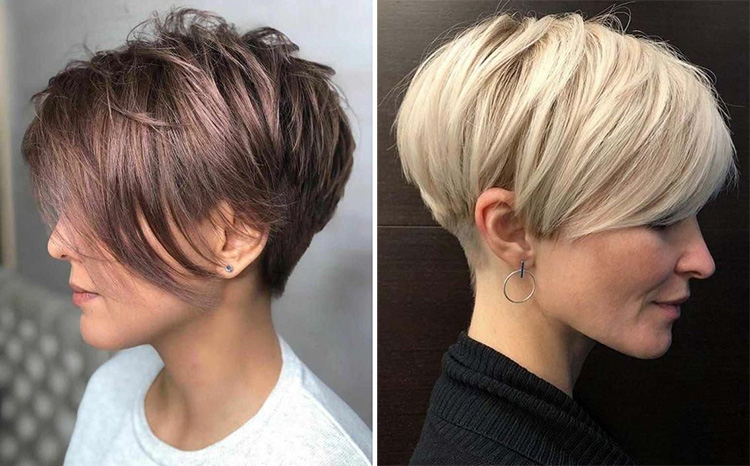 Take it from Jamie Lee Curtis herself; a pixie cut throws off major youthful vibes and can give a person an overall playful look.
It is important to note that you want a pixie that isn't too short, or the spikey style may make you look older.
Ask your stylist for a new modern pixie that leaves the top and sides longer with the back shaved. Think more of a sideswipe bang than a full frontal fringe.
If you don't want the back fully shaved, you can ask them to keep it short but not as short as the sides and top.
Pick The RIght Color
One of the biggest questions you may be thinking about is what color I should dye my hair?
This may be one of the best issues you can indeed ask yourself. A person will look best in a hair color that complements their skin tone, eye color, and overall season.
You don't want to pick a hair color that fights against your features, rather one that works with and compliments them.
A quick and simple guide to follow:
If you have cool skin – stick with cool hair colors
If you have warm skin – stick with warm hair colors
Here's is a more in-depth look into each season.
Winter
You have light porcelain skin with a pink undertone, and your skin type does not tan easily.
Winter seasons will want to stay away from golden tones, copper, and honey blondes. Instead, pick hair colors that are ash or cool, dark and deep tones, white or platinum blonde, grey, dark violet or red, jet black.
You have a similar physical appearance to Megan Fox or Courtney Cox.
Spring
You have light skin with a yellow and slight pink undertone.
Don't use any warm colors like copper, orange, honey blonde, gold, strawberry blonde. Beigy blonds can look good when mixed with low lights. Instead, use colors that have an undertone with a violet, blue or green base. Icy, ashy, or any cool colors loo good. Red is okay as long as there is a cool undertone.
You have similar features to Taylor Swift, Cameron Diez, or Mandy Moore.
Autumn or Fall
You have darker white skin, medium, olive, or a deep undertone that glows overall.
Stay away from grey, super ashy blonde or browns, any shade with blue, green, or violet undertones, and go for orange or red tones that look best on you; think golden or honey blonde, rich auburn, and reds, coppers, all shades of brown.
Your celerity twin will be Jenifer Lopez, Jenifer Aniston, or Mila Kunis.
Summer
Your skin will always appear to glow year-round with yellow, golden, and warm sunshine hues throughout.
Choose color with a warm red, copper, yellow, beige, or neutral base. Think caramel browns and blondes, coppers and reds, butter or honey, and bright platinum blonde.
You are similar looking to Beyonce or Kate Hudson.
Use Volume and Texture Products
There are so many products currently on the market, and you should 100% be utilizing all of them!
If the only product you have is hair spray, you're going to want to pay attention. Using products to help give your hair volume, texture, and movement will take years off of you!
Voluminous hair instantly slims your face and throws off a playful vibe.
You can add volume to the roots but also throughout the midshaft and ends.
You can use those products with straight, curly, or wavey hairstyles if you want more texture.
Below are my favorite and professional recommendations for hair products.

Volume products are a great alternative to hair sprays that can leave your hair rough to the touch.
You can always find volume shampoo and conditioner products, but I prefer ones like these to apply to wet or dry hair.
Stay Up To Date On Current Trends
Nothing will scream old and out of date like a hairstyle that isn't on-trend.
With the ability to have the entire internet at your fingertips, there is no excuse not to be on top of the latest trends. But, of course, you don't need to have the latest social media apps, and a quick google search is sure to pull up a hairstyle that will suit you.
If you need some inspo, go to any magazine website and browse around what the stars and models are wearing. Those are always the trends people are going to mimic and will be what is considered trendy at the moment.
I always look to other countries for trending styles because they do it first and Americans follow months later. Doing this will keep you AHEAD of the trends instead of fitting in with the crowd.
I find it's always better to be the one setting the trends than the one who is simply following along with the crowd and blending in.
Being a few steps ahead of trends will, in turn, make you appear younger and more youthful.
Go For Extensions
Now I know what you're thinking. Wait a second, didn't you say above to go for the chop? Isn't this new advice a tad bit contradictory?
Just hear me out for one second. Getting extensions follows the same principle as go big or go home.
While a chop can make you look younger, so can a good set of extensions.
As you can see below, I decided to get extensions for my engagement photos. My natural hair is just below my shoulders, and I knew being outside in the wind, I would want some more length to play with and help me hide the fact that I am a 32 yr old bride.
These extensions gave me an overall more modern look and were a nice compliment to the youthfulness we wanted to capture in our photos. We both may be 32, but I feel like our true spirit is in our younger 20s.
After a certain point, most people's hair eventually won't grow anymore. Instead, the ends will start to get straggly, and it's why you might feel your longest hairstyle has always been around the same length.
This can be due to genetics or simple things like overall hair health. In addition, factors such as the environment you live in and heat tools can cause damage to the ends of your hair, which is why you frequently need chops and is why your hair doesn't necessarily grow all the way down to your butt.
Not all extensions need to be rapunzel length, and many extensions can add length and volume.
Did a light bulb go off in your head? Yeah, I see it shining bright above your head. Extensions go hand in hand with the other suggestion I gave, which was to use volumizing products. What better to go with those products than extensions to add volume that can help elevate your style to the next level.
I treated myself to hand-tied extensions, but for years I have worn clip-ins. To be honest, after the wedding, I will most likely rotate between getting my hand-tied extensions moved up and wearing my clip-in or halo ones.
Below are my favorite and most worn extensions.
IMAGE
PRODUCT
DETAILS

Top Pick

GOO GOO Clip in Hair Extensions

Lots of colors
Offered in 14-24 inch
100% Remy human hair 120 grams

Sunny Clip in Hair Extensions

Multiple color options
Offered in 12 – 24 inch
120 grams
Human hair
Double weft

Easiest To Use

GOO GOO Halo Hair Extensions

Offered in 12 -20 inch
Has clips and wire for extra sturdiness
A single piece you can put in under 30 seconds

WENNALIFE Halo Hair Extensions

Different color options
Offered in 12 – 20 inch
Fish wire and clip combo
Breathable
My recommendation with extensions is to make sure you know your hair. For example, if you have thicker hair, you will want to buy two packs of extensions, and if you have thin hair, you only need one.
If you don't buy enough packs, you will see where the extensions are vs. your natural hair. It can also be beneficial to have your hairdresser cut the extensions for you to blend into your hair.
Bang It Out
Bangs are one of the oldest tricks in the book for making women look younger.
I'm not talking about the old-school blunt or straight across bang, but pick a bang style that's currently in fashion.
Since side parts are out and so is the side sept bang, I suggest the fringe or curtain bang if you are looking for something current.
I know you might be tempted to do the straight across blunt bang to cover your forehead and your wrinkles but don't do it! It's one of the first things in a haircut that will age you. If you want a straight-across bang make sure you go to a professional to cut them so they can feather them a bit more ad make the edges softer.
If you don't want to go for the full permanent cut, you can always opt for fake extension clip-ins. They are the perfect solution for a night with them but not a total commitment day in and day out.
They aren't as perfect as they seem in the picture, and you're going to want to play with them a bit and learn how to style them.
Much like any other extensions, you will want to go to your stylist and have them trim them for you. They should also be able to guide you on how to style them into your current hairstyle.