Milwaukee is one of the most underrated cities in America, and it is a fantastic place to throw a bachelorette party. There is a little bit of something for everyone, and since it is a smaller city, you can cram in many different activities in one day or an entire weekend.
Living here gives me the inside scoop on what activities are a must-do and which restaurants will be the most fun for you and your girls.
Edelweiss Cruises and Boat Tours
You can't come to MKE without doing a boat tour! They are, in fact, one of the best activities to do in the city.
Edelweiss offers cruise and boat tours as well as pontoon rentals, and it gives you a super fun view of the Milwaukee River and Lake Michigan aboard this hour and a half-long cruise.
They have themed tours, and they just added one specifically for bachelorette parties called Sippin Saturday.
If you need a recovery day with some hair of the dog, they also offer a themed ride called Sunday Funday, and they offer a $5 mimosa.
The boats have a full bar on them, and they offer a $5 Rum Punch. The bar also has beer, wine, soft drinks, and mixed drinks. They accept cash or credit cards at the bar, and all boats have bathrooms.
Sign up ahead of time because they always sell out!
3rd St Market Hall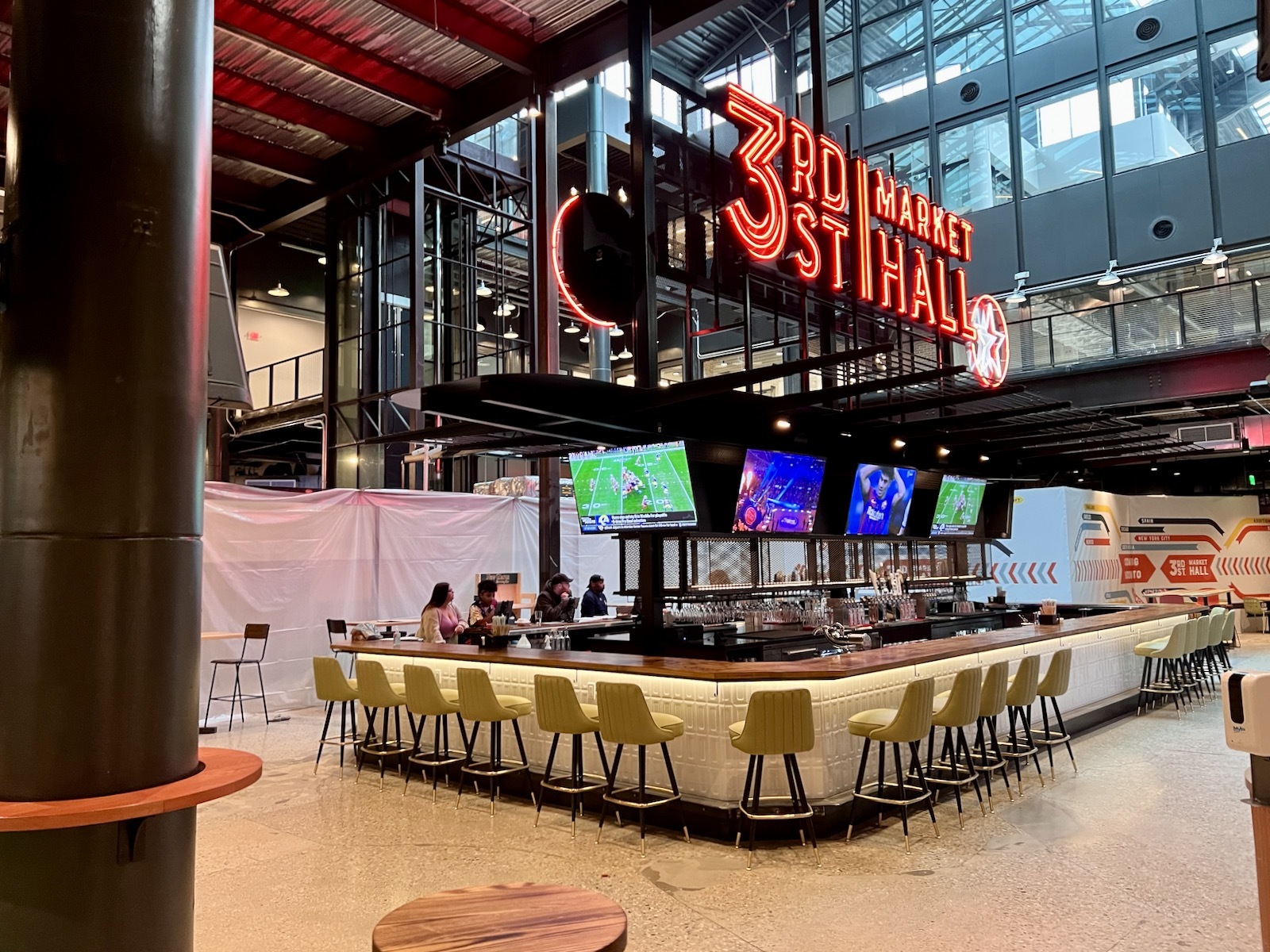 The 3rd St Market Hall is newer to the Milwaukee scene, and it has a little bit of everything. This is an excellent option for those who want food and activities all in one place. The vibe is a bit more laid back.
They have a giant bar in the middle and tons of food vendors with a little bit of every type of cuisine.
You will find shuffleboards, bags, giant Jenga, a top-golf simulator, and classic Nintendo games for activities.
No bachelorette party would be complete without the perfect photos, and here you will find Milwaukee's only selfie museum. So grab your cameras and immerse yourself in 3rd St Market Hall & MIAD's creative selfie museum, Photoverse! Take the perfect Instagram-worthy selfie with our interactive photo stalls with props and backdrops specifically designed to make your pictures pop.
On Sundays, they offer bottomless mimosa, which is $20 per person.
St. Paul Fish Company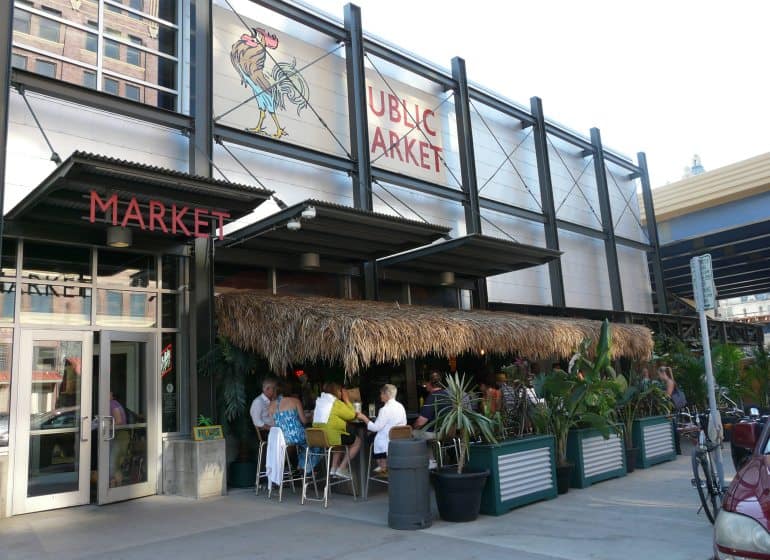 The tropical oasis known as St. Paul Fish Company is one of the best bars in Wisconsin, and it is literally a party any day of the week. They have incredible drinks and even better food.
They are known for their strong AF margaritas, and the bartenders are the best in the city.
The bar is on the side of the public market and is heated so that you can be outside even in the middle of winter.
It's located in the third ward, one of my favorite parts of the city. This place is made for events like a bachelorette party, and it's a place you won't want to leave once you get there. It always has a fun party atmosphere.
Glassnote Candle Bar
This place is super beautiful inside, and it's one of the more unique experiences you can do with your girlfriends.
Pick your drink, pick your scents and make your candles.
All the candles are natural and soy-free.
If you are going with a bachelorette larger than four, you must contact them for a reservation.
From their site:
Enter the world of private candle making through our Openers Package or elevate your experience with our Select Package, both in which you and your guests will have access to our turn of the century speakeasy candle bar. You can expect a full sensory experience, from our exposed cream city brick, iron beams, and old-growth pine floors to our cool vibin' music and lighting, customizable and seasonal craft cocktails, and an intimate olfactory candle making experience. This package is great for birthdays, bridal showers, bachelorette parties, and a great bonding experience for you and your coworkers.
The Outsider – Rooftop Bar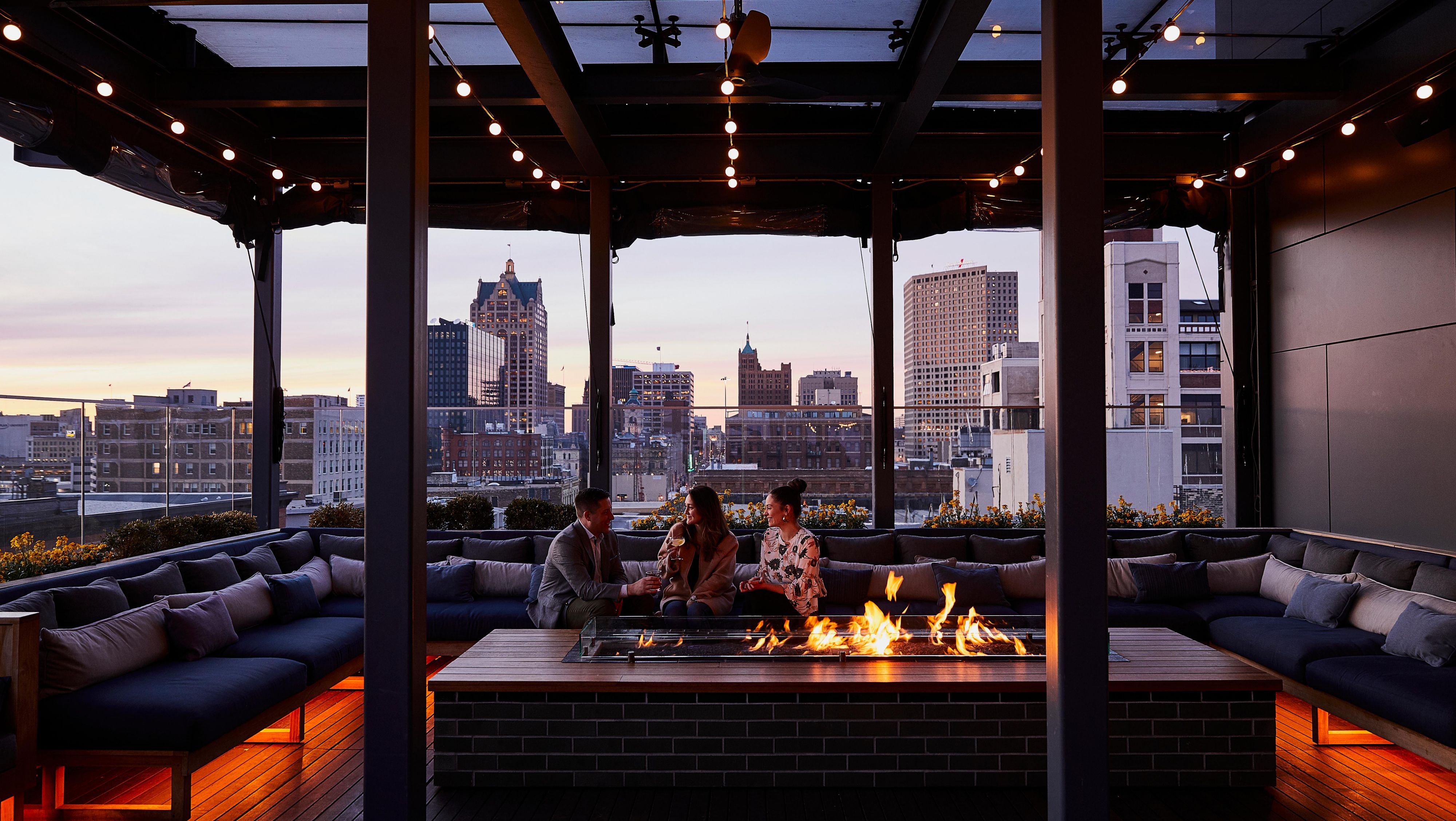 Out of anything on this list, The Outsider is a MUST!
Located on top of the Journeyman hotel, this open bar concept sits nine stories above the city in the third ward. They have fire pits that you can sit around, and if you can't get a spot outside right away, you can find a spot inside, and eventually, you will be able to grab one outside. People are cool about not taking up a firepit spot all night long, and even on the busiest of nights, I have gotten a spot around the firepit.
They do not take reservations and are a first-come, first-serve type of place. However, if you want to be guaranteed a spot, you can contact them about a private. Food & beverage minimums for private events start at $4,000.
To be honest with you, the drinks are a bit pricy compared to other bars in Milwaukee, but they are tasty, and for a special event like a bachelorette party, it is totally worth it. The vibe here is very chic, and if you want to impress the bride and leave a lasting impression on her big party, then this is the place to take her.
The food is delicious too, and it's perfect for those who want a small bite without committing to a full meal at a restaurant because they are all shareable.
Hamburger Marys
Enjoy Milwaukee's original Drag Queen Brunch every Sunday … fabulous entertainment, yummy brunch menu items, and BOTTOMLESS MIMOSAS! They are excellent at refilling your mimosas here!
TWO SHOWTIMES: 11:30a & 2p
I have been to other Hamburger Marys, and there is something super fun about this location.
They offer different types of shows, Wednesday – Sunday, and each is slightly different from the other. In addition, they have bingo, karaoke, and more!
To see what events are offered for the dates you are interested in, it's best to check their calendar, which can be found on their website.
Donut Boat MKE
When you first hear donut boat you might be thinking it would be way to small to fit a bachelorette party, but you can actually fit up to ten people.