Milwaukee is one of the most underrated cities in America, and it is a fantastic place to throw a bachelorette party. There is a little bit of something for everyone, and since it is a smaller city, you can cram in many different activities in one day or an entire weekend.
Living here gives me the inside scoop on what activities are a must-do and which restaurants will be the most fun for you and your girls.
Edelweiss Cruises and Boat Tours
You can't come to MKE without doing a boat tour! They are, in fact, one of the best activities to do in the city.
Edelweiss offers cruise and boat tours and pontoon rentals, giving you a super fun view of the Milwaukee River and Lake Michigan aboard this hour and a half-long cruise.
They have themed tours and added one specifically for bachelorette parties called Sippin Saturday.
If you need a recovery day with some hair of the dog, they also offer a themed ride called Sunday Funday, where they offer a $5 mimosa.
The boats have a full bar on them, and they offer a $5 Rum Punch. The bar also has beer, wine, soft drinks, and mixed drinks. They accept cash or credit cards at the bar, and all boats have bathrooms.
Sign up ahead of time because they always sell out!
3rd St Market Hall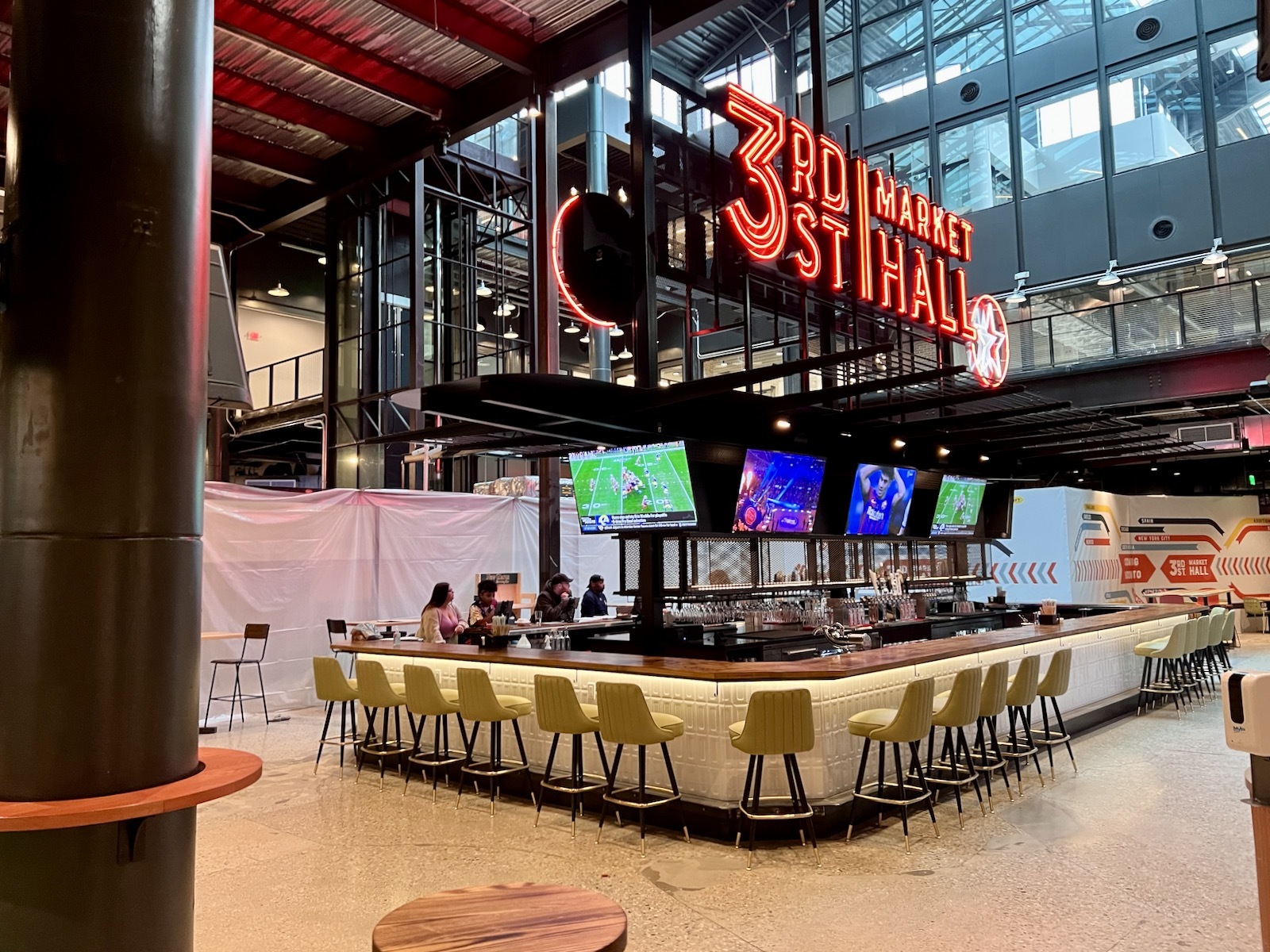 The 3rd St Market Hall is newer to the Milwaukee scene and has a little bit of everything. This is an excellent option for those who want food and activities all in one place. The vibe is a bit more laid back.
They have a giant bar in the middle and tons of food vendors with a little bit of every type of cuisine.
You will find shuffleboards, bags, giant Jenga, a top-golf simulator, and classic Nintendo games for activities.
No bachelorette party would be complete without the perfect photos, and here you will find Milwaukee's only selfie museum. So grab your cameras and immerse yourself in 3rd St Market Hall & MIAD's creative selfie museum, Photoverse! Take the perfect Instagram-worthy selfie with our interactive photo stalls with props and backdrops specifically designed to make your pictures pop.
On Sundays, they offer bottomless mimosa, which is $20 per person.
St. Paul Fish Company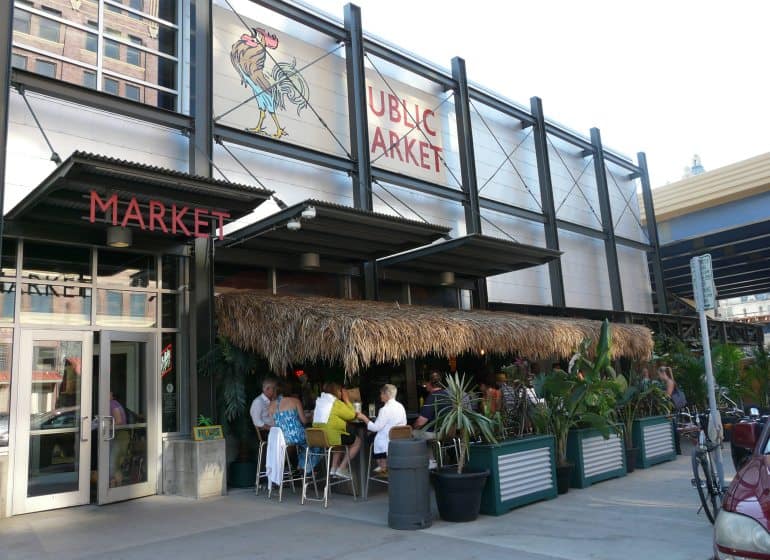 The tropical oasis known as St. Paul Fish Company is one of the best bars in Wisconsin, and it is literally a party any day of the week. They have incredible drinks and even better food.
They are known for their strong AF margaritas, and the bartenders are the best in the city.
The bar is located on the side of the public market and is heated so that you can be outside even in the middle of winter.
It's located in the third ward, one of my favorite parts of the city. This place is made for events like a bachelorette party, and it's a place you won't want to leave once you get there. It always has a fun party atmosphere.
They have one of the best seafood selections in the city, or you can go into the market to grab something from one of the many vendors.
Glassnote Candle Bar
This place is super beautiful inside, and it's one of the more unique experiences you can do with your girlfriends.
Pick your drink, pick your scents and make your candles.
All the candles are natural and soy-free.
If you are going with a bachelorette larger than four, you must contact them for a reservation.
From their site:
Enter the world of private candle making through our Openers Package or elevate your experience with our Select Package, both in which you and your guests will have access to our turn-of-the-century speakeasy candle bar. You can expect a full sensory experience, from our exposed cream city brick, iron beams, and old-growth pine floors to our cool vibin' music and lighting, customizable and seasonal craft cocktails, and an intimate olfactory candle-making experience. This package is great for birthdays, bridal showers, bachelorette parties, and a great bonding experience for you and your coworkers.
The Outsider – Rooftop Bar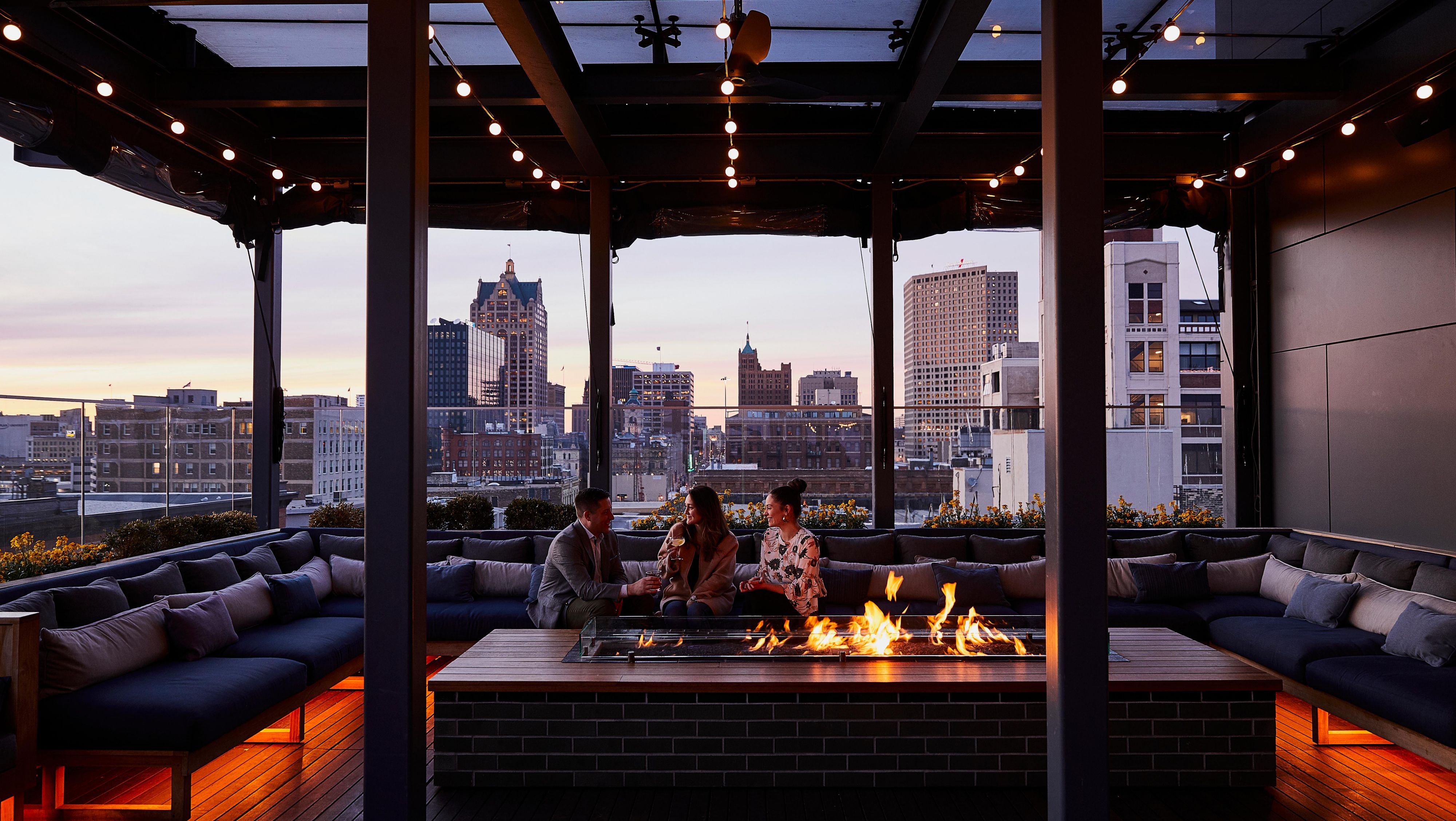 Out of anything on this list, The Outsider is a MUST!
Located on top of the Journeyman hotel, this open bar concept sits nine stories above the city in the third ward. They have fire pits that you can sit around, and if you can't get a spot outside right away, you can find a spot inside, and eventually, you will be able to grab one outside. People are cool about not taking up a firepit spot all night long, and even on the busiest of nights, I have gotten a spot around the firepit.
They do not take reservations and are a first-come, first-serve type of place. However, if you want to be guaranteed a spot, you can contact them about a private. Food & beverage minimums for private events start at $4,000.
To be honest with you, the drinks are a bit pricy compared to other bars in Milwaukee, but they are tasty, and for a special event like a bachelorette party, it is totally worth it. The vibe here is very chic, and if you want to impress the bride and leave a lasting impression on her big party, then this is the place to take her.
The food is delicious too, and it's perfect for those who want a small bite without committing to a full meal at a restaurant because they are all shareable.
Hamburger Marys
Enjoy Milwaukee's original Drag Queen Brunch every Sunday … fabulous entertainment, yummy brunch menu items, and BOTTOMLESS MIMOSAS! They are excellent at refilling your mimosas here!
TWO SHOWTIMES: 11:30a & 2p
I have been to other Hamburger Marys, and this location is super fun.
They offer different types of shows, Wednesday – Sunday, and each is slightly different from the other. In addition, they have bingo, karaoke, and more!
To see what events are offered for the dates you are interested in, it's best to check their calendar, which can be found on their website.
Donut Boat MKE
When you first hear donut boat, you might be thinking it would be way too small to fit a bachelorette party, but you can actually fit up to ten people.
Renting one of these boats is perfect for those who want to do a bunch of different activities in one day because you only rent the boats for up to 1 hr and 30 min.
BYOB
You may bring any coolers, drinks, or snacks to enjoy. They provide a built-in or wireless speaker for you.
Have more than ten people? Per their website > Contact us if you have more than the allowed amount of people. Creative solutions have been generated.
I've rented almost all you can on the river, and this one is ideal for those who don't want to be responsible for crafting a big boat. It's the least intimidating type of boat you can rent. You can also hire someone to drive the boat if nobody in the group feels comfortable doing it themselves.
Since space is a bit smaller, I suggest talking to your group and organizing one small cooler with a few drinks per person each to save space.
Lakefront Brewery
Lakefront Brewery is a Milwaukee town resident favorite and is probably the first place that comes to mind when you want to show friends from out of town a good time.
Milwaukee is synonymous with beer, and Lakefront makes some of the best you'll find (this statement comes from someone who is not a beer drinker).
Lakefront Brewery is a one-stop shop for a good time. They have a giant inside with plenty of seating and plenty of seating outside along the river.
Brewery Tours
They offer brewery tours that are 45 mins long and only $13 on weekends. The tour comes with two 16 oz pours and a souvenir glass you get to keep. You can also book a private tour if you want.
Outstanding Food
And what is a good brewery without good food?! Lakefront has some bomb AF food, which is NOTHING like the other bar food you find around the city. I actually choose to eat here over other restaurants in the city; they have some unique options. FYI this place has the best cheese curds in the city with the BEST dipping sauce.
They are open from 11-9, so you can fit this stop in at any time of the day. It is close to Water Street, where the party bars are located, and you can take the riverwalk right up to the bar area or take the sidewalks to the street, or as always, there is Uber and Lyft.
Merriment Social
This place gives you the best of both worlds: fantastic food and a fun party vibe. I love this place so much that I had my bridal shower here!
They have the best brunch in the city and some of the most satisfactory drinks. I highly recommend the breakfast potstickers to share, along with their cheese curds. You don't find anything like these two menu items at other restaurants, and they help lay the base down for a long day of drinking.
They offer bottomless mimosas for $25 and have boozy slushies with rotating flavors.
All the servers here are fun, and it's one of the few places I've gone to where they elevate the entire experience and are always on top of their game. The food is consistently cooked to perfection, and it's one of the first restaurants I recommend to people when they ask for suggestions.
North South Club – Axe Throwing + Shuffle Board Deck
This place is located directly next to Merriment Social, and I often suggest people pair the two together.
Whether it's axe throwing in the north or deck shuffleboard in the south, you're in for an adventure at NorthSouth Club.
​NorthSouth Club transports guests from the rugged northern tundra of flannel, beer, and axes to the southern shores of palm trees, umbrella drinks, and deck shuffleboard. The facility features a full bar and private event space highlighted by tall ceilings, large skylights, and open garage doors in summer.
Reservations are recommended, but you can also walk in. Make sure to wear closed-toed shoes, or they won't let you throw.
Bachelorette Packages
For bachelorette parties, they can do special balloons, and I highly recommend surprising the bride with that because it makes it feel more special and bachlorettey. They also offer a Final Fling Before the Ring gift package for the future bride or groom, specialty cake options, and tons of cool logo merchandise available. So give them a call, and they'll help ensure your celebration is extra special.
You can reserve a lane for 1.5 hours, and they can put multiple lanes next to each other if you have a bigger group. You reserve by time so each person can really get a ton of throws in.
Can I bring my own decorations? You can bring in your own decorations, but you need to contact them to discuss what it is and how you want to set them up.
Axe throwing is a bit more expensive than the shuffleboard, but they are both cheap enough that you could do both.
Indulgence Chocolatiers
Indulgence Chocolatiers meticulously handcrafts all of its confections in its Milwaukee, Wisconsin kitchen. Working with the finest chocolate from around the world and other locally sourced ingredients, our talented chocolatiers create confections that are as delicious as they are beautiful. There is no mass production, no artificial preservatives, just quality ingredients handcrafted into artisan confections in classic and unique flavor combinations.
Stop by for a chocolate pairing bar in the Walker's Point neighborhood of Milwaukee; you can enjoy their confections thoughtfully paired with wines, craft beers, cheeses, and whiskey as you watch our chocolatiers at work in our kitchen.
You can do a walk-in type of situation or schedule a class, which is the route I would go if you want a truly unique experience. You can check their schedule through their website and see which classes they offer. Each class is unique to the day; even if you have been here before, you will get a totally new and fun experience. Classes are about 90 min to 2 hours.
This can be great for those who want a little bit more of a classy bachelorette activity.
What happens in a pairing class?
Anwer directly from their website.
When guests arrive, they are invited to take a seat at either the bar or one of the group tables. Once the class begins, our staff will serve each attendee their first of several pairings, explaining the background of the pairing's components and the reasoning behind the selected pairing. Guests will have time between each pairing to enjoy and visit, and questions are welcomed throughout the class.
What is the difference between a pairing class and just coming into your pairing bar any other time?
Our chocolate pairing bar is open anytime during regular shop hours for you to come in and order off our seasonally changing menu. Our staff members will lead you through the pairings you order, explaining the composition of, and reasoning behind each pairing.
Our classes, however, are held after regular hours in a group setting and are a little more structured. Indulgence owner Julie Waterman usually teaches them, and they allow us and our guests to focus on certain themes or pairing items that are not typically part of our regular menu.
Milwaukee Pedal Tavern
Before diving into the pedal tavern and all it offers, I can guarantee you this is a good time. I did this for my 30th birthday party, and it was an absolute blast. We had a big group and went the route of renting a private one for our entire group.
The public tour is priced per person, which might be better if you have a smaller group. ll tours are 2 hours long, and they typically will visit 2-3 bars along the way.
It can hold up to 16 people, there are 10 seats with pedals, 2 seats above the back wheels, and 3 bench seats on the back row, and one person can man the middle as the bartender and fetch the group drinks and snacks.
How does it work?
Their tours start from the Cooperage Building and give you the local's tour of the 3rd Ward/Walker's Point areas of downtown Milwaukee. They let you choose your own adventure! You pick what bars to go to, or if you would like, they also have suggested bars. With drink specials set up at 25+ bars in this area, they guarantee you will leave with a new love for the downtown Milwaukee bar scene.
They have a sound system on each bike, and you can play your own CDs, iPhones/iPods, and other music players! I suggest having a Spotify playlist ready, so you aren't having to play DJ while trying to enjoy the ride.
BYOB
You sure can, Bring Your Own Beer!! They have coolers or bring your own; each rider is allowed to bring up to 3 cans of beer. and must be 12 oz. or smaller.
Hours of operation
10:00 a to 10:30 pm. They can even start earlier upon request!
Harbor House
Harbor House is a bright, spacious New England-style seafood restaurant Milwaukee residents and visitors love, set on the shore of Lake Michigan. The restaurant offers a premier lakefront dining experience and the freshest seafood flown in daily from both coasts. The interior features a three-sided bar, a raw bar, an open kitchen, and a private dining room for special events and parties. A seasonal outdoor patio features a full bar, Adirondack chairs, and unparalleled views of the lake, the Milwaukee Art Museum, and Milwaukee's skyline.
Harbor House specializes in oysters, selling more than 10,000 each month and offering a different variety each day depending on what's available and fresh. n addition to fresh fish and seafood options, the menu offers a variety of specialty dishes, from steak and pasta to sandwiches, salads, and a signature hamburger. Sunday brunch features raw bar offerings, salads, desserts, and breakfast and lunch entrée options.
Amazing Views
This place has the BEST views of the harbor (duh) and is truly a one-of-a-kind dining experience. The price is a bit higher than other places in Milwaukee, but it is 100% worth every penny. You can not find another view like this of the harbor unless you are on a boat.
If you are planning the bachelorette party during a warm season, I highly recommend trying to sit outside on the patio.
Up-Down MKE – Barcade
I love this place and wasn't a huge arcade kid growing up.
Up-Down Milwaukee is an arcade and nostalgia-based bar featuring more than 60 arcade games from the '80s and '90s, pinball machines, three classic skeeball alleys, Nintendo 64 console gaming, and an array of patio activities on our two floors of outdoor patio that you could want.
All games cost just 25 cents, and they usually have some deal with a token and drink special. The drink menu includes an extensive craft beer selection with over 60 beers on tap, even more bottles, and cans, and you can get mixed drinks.
Great Photo Backdrops
I'm always too in the moment to remember to take pictures, but for those who can multitask, you'll be happy to know this place has some fantastic backdrops for photos.
Between the nostalgic wallpaper and the neon lights, you will be able to get some fire content for your socials.
Pizza By The Slice
They have a window inside that sells pizza by the slice, and the pizza is legit.
Weekend Specials
Friday: 20 Free Tokens To The First 100 Guests, $2 slices until 8 pm
Saturday: 2 for 1 Token Until 9 pm
Sunday: $25 Six Pack & A Pound
Game Variety
This place can offer you whatever you want in terms of fun and cost levels.
You can play individual games, or there are plenty of multi-player games to include the entire group. Since you play the games with tokens, each person can decide how much they want to spend.
Location
This location sits between two major streets to go out on Brady Street (more hipster) and Water Street (younger/more party vibe).
SPIRE Fitness
This is hands down the best place for those who want to do a group workout! I have belonged here for a few years now and am just as addicted to it as when I first signed up to try out a class.
Classes are only 45min, making it a super quick but fun workout. They offer spin, crew, and TRX. If you don't have cycle shoes, they have some for you to rent, and if it's your first class, they will let you use them for free.
All instructors are cool AF, and their playlists are always on point. The spin room is like nothing I've experienced at other gyms; it is entirely black except for the colored lights they change throughout the class. The sound system is legit, and you almost feel like you're at a concert cycling.
Since each person is in control of their own bike, people can make it as challenging or as chill as they want. Because the room is dark, you don't feel pressured into going balls to the wall if you aren't able to. If they say to turn the dial up five times to increase the resistance, but you don't work out much or aren't into cycling, then just turn the dial up three times, no one will ever know.
I did a Saturday morning class once with a bachelorette party, and they reserve bikes next to each other and make the party feel special. They help you set up the bike and go over how everything works.
Henry Maier Festival Park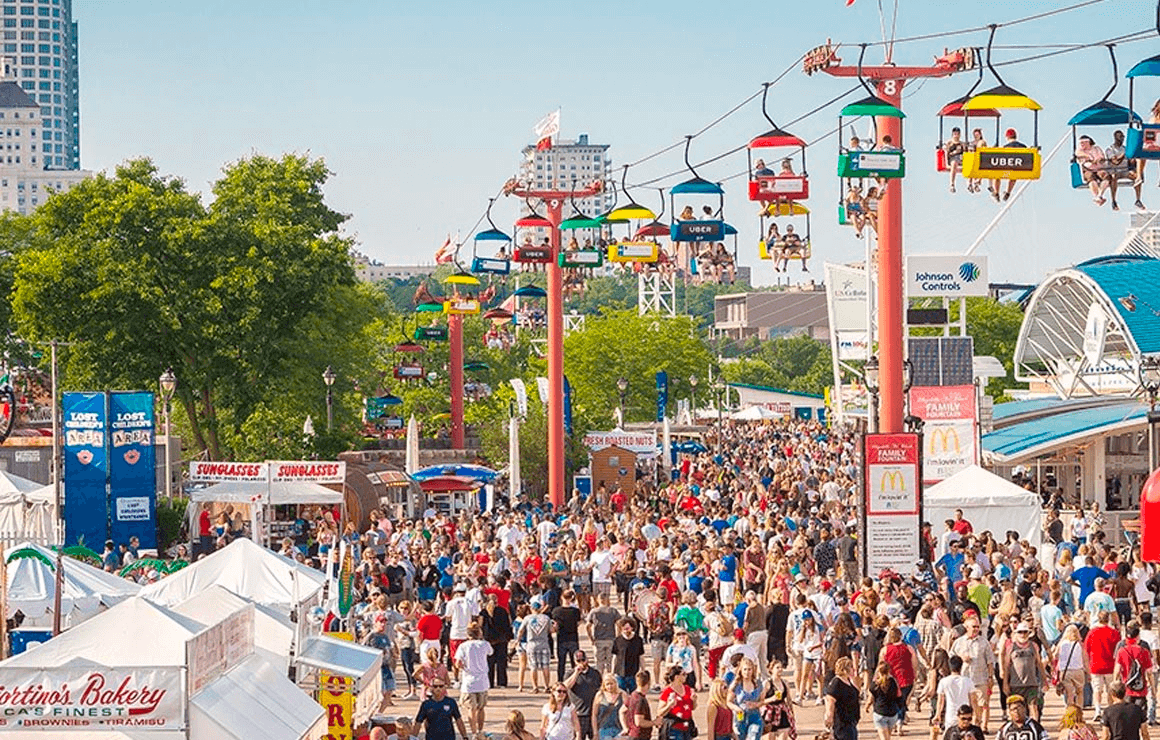 Milwaukee is THE festival city of the US. Every weekend there is some type of festival at the Henry Maier grounds, the most famous being Summerfest.
Check out the event calendar to see what festival will happen on the weekend or day of the bachelorette party.
The festivals are all day and night, so you can stop by for as long or as little as you like.
The grounds are located near the third ward, and you can walk to nearby bars before or after you head in. Merriment Social and the Axe throwing pace are located a few blocks away from here. There is also a place called camp bar, which is the closest stop and is always a fun time.
Food and Drink
Each festival will offer a little bit of its unique flare, depending on which one is happening.
For instance, Irish Fest will have Irish food, and German Fest will have German food, etc.
The Saz's sampler platter is one of the best things to get if it's there (some festivals have Sazs, and some don't).
Brewers Game
There are 30 teams in the professional baseball league, and Milwaukee is home to one of them: the Milwaukee Brewers.
They play a few minutes away from downtown at American Family Field, or what the locals still refer to it as Miller Park.
Going to a Brewers game is one of my favorite things to do in Milwaukee, and there are so many different ways you can attend one. What do I mean by this? Keep on reading!
Tailgating
Tailgating is one of the best things about Miller Park, and I didn't realize it until I was older, but not every park has the space to allow tailgating. For those living under a rock, tailgating is where you park your car in the stadium parking lot, play games, eat food, and drink.
There are a few ways you can go about tailgating. You can keep it simple and do a platter of sub sandwiches and ask everyone coming to bring a dish to pass. Or you can get real Wisconsin with it, bust out the grill and make some burgers, brats, or hot dogs. If you do want to go the grilling route, they have spots for you around the lots for hot coals!
The parking lots fill up fast, and it's super fun to play games and interact with people around you. Most people keep the games simple like bags, flip cups, beer pong, and any other pregame drinking game you can think of. they only park the cars two deep, so there is plenty of room for activities.
The only downside to tailgating is that somebody has to stay sober to be the DD, or you can look up tailgating events and sign up to join one of those buses.
 Parking lots open three hours in advance of the game.
Shuttle
A shuttle is the lazy person's approach to pregaming before the game, and it's something I've been really starting to love as I get older.
It puts zero pressure on people to bring a dish to pass, and fewer moving parts are involved.
There are tons of restaurants that offer shuttles to the game, and they are basically free. If you buy a drink, you get a ticket to ride the shuttle.