Wheater you're going for a warm-up run or are running in a race, it's beneficial to always grab a headband. Headbands hold back those annoying flyaways and help prevent sweat from dripping into your eyes. Nothing's a bigger buzz kill then finding your groove a few miles in and abruptly having to stop to wipe your eyes. Sweat + last nights moisturizer = instant pain. I can only relate the feeling to maybe getting sprayed in the face with pepper spray!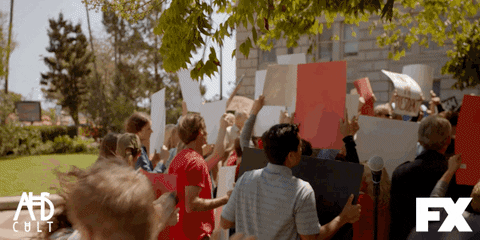 Running headbands is a must have for men or women, with any hair type. Long or short hair it doesn't matter, they are key in making your run go as smooth as possible. Now that you know you need one it's time to pick one out. No two are the same and the options can be overwhelming for first-time buyers. Let me help you pick out the right band for your next run. I've been running my whole life and can confidently say I have tested just about every running headband on the market.
Things To Consider Before Buying A Running Head Band
Climate
Climate is going to play a huge factor in the type of headband you are going to want to pick out. In winter you are going to want to pickone that will keep your head warm. Summer months will require the opposite, and you will want a headband that keeps your head cool.
Material
Running headbands should be made out of specific sports material that absorbs sweat while also staying put on your head. Having a one made with the ability t absorb sweat but falls in your face every two seconds deficits the whole purpose of wearing one. At the same time having a band that stays put but doesn't absorb sweat is equally pointless.
Style
Don't just buy a random running headband to just buy one. Pick out a style that you like so you will be more likely to wear it during runs. There are so many styles out there with fun patterns, materials, and sizes that you are sure to find one that fits into your athleisure wear.
Size
Some headbands are going to be adjustable and some are going to be a one size fits all. Take into consideration if you want to be able to adjust the band to fit perfectly to your head or if you are typically fine with standardly sized.
Programs
If you are new to running or are finding yourself in a rut then you may want to follow a running program! I have found much success from a few programs found here! 
TrailHeads Ponytail – Winer Running Headband
This ponytail winter running headband is perfect for any head! Made out of polyester fleece it covers your ears fully to help keep your head insulated. Fleece material will keep heat from your head in and sweat from your head off, by absorbing it into the band itself.
For those of you who are new to running,  polyester material is key in absorbing sweat and is used in sports clothing. Yes, it may be cold outside but your body is still going to sweat and you don't want that sweat turning into icicles around your head.
Spandex binding outlines this TrailHeads product and thus allows it to fit over any size ponytail or you can lay it flat for when you don't want to pull your hair through the hole. Ponytail or no ponytail this headband works wonders.
Unless you are blind you can clearly see this is a running headband ear warmer and covers your full ear. Not just the left ear, but the right ear as well. I could keep going with the corny jokes, but I don't want to Ear-itate you.
Available in a wider range of colors including:
Black
Black with numerous colored outline
Neon green
Pink
Orange
Blue
Measurements for this specific product comes in at 2.5" at the front and can widen to 4" over the ears. This is a one size fits all band.
Find out which kitchen tool women everywhere are using to lose weight, get in shape and boost their energy! The answer is here! 
Running Headbands Mens and Womens 
This sports headband is unisex and is made as a one size fits all. The material used to make this is chinlon and lycra spandex. For those of you who don't work in a fabric store, chinlon is a type of nylon. Chinlon is super soft but is used in sports clothing to absorb sweat and control odor. 
Unlike the winter running band we went over above, this one is going to be more breathable. The overall feel to this is smooth and lightweight, like the super soft running tops you most likely wear. I don't suggest this in the winter as your main band for warmth or to help insulate heat.
During winter runs I do suggest you wear this running headband around your neck because it will absorb the sweat in that location and be a little barrier from the outside winter elements. Often times runners protect their head but forget about their neck.  Anytime you can cover skin in winter will help keep you warm and will prevent chapping.  Heat can be emitted from any part of your body, especially during a run, so make sure you're always aware of covering up any skin exposed.
Like I said this is a one size fits all however you will notice the back band can stretch from 9.45 inches to inches.
Unisex Temple Tape Headbands 
Guarantee you have seen at least ten people in the last ten days wearing one of these headbands. This one size fits all bands are gaining popularity every day, and for a good reason. The material used to make this non-slipping running headband absorbs and evaporates sweat 8x faster than your standard cotton band. 
You can get multiple colored bands, of your choosing. You can choose to wear this in a thick style spread out or together to appear thinner. Because this weighs less than an ounce you can wear it under hats, helmets or visors. Great option for those who like to wear hats to shield their face from the sun but want a little extra something underneath to absorb the sweat!
This style of running headband is oftentimes referred to as a running bandana, made from 95% polyester / 5% spandex.
Can be purchased in a number of colors including:
Black
Burgundy
Deep purple
Grey
Navy
Olive green
Pink
White
This product wins my writer's choice award for best non-slipping, sweat absorbing and trending running headband. Temple Tape works great for men or women and works wonders with every hair type! Curly hair tested and curly hair approved!
Knotted Headband in Powervita™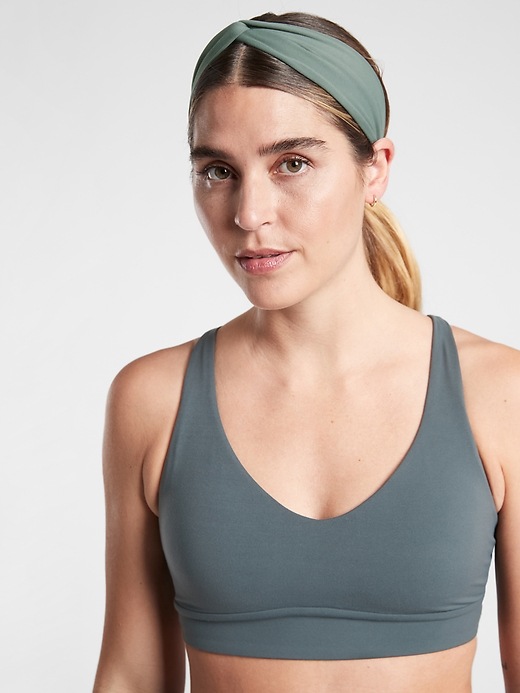 Product deatials:
FOR: Indoor and outdoor yoga practice
FEEL: Powervita fabric is buttery soft and gently compressive
FAVE: Knotted front detail adds a flattering twist to your workouts
Ultra-comfortable fit keeps your flyaways under wraps
It comes in a variety of colors!
I love that this is a more stylish one that can be worn outside of running.