Are you in the search for full volume, extra length to your hair, or maybe a bit of both? Then you have come to the right place. Since I myself am a licensed cosmetologist I understand your hair needs, but more importantly, want you to achieve your goals in the healthiest way possible.
Amazon halo hair extensions are a cheaper alternative to the pricey brands, and they will help you achieve luscious and full locks in no time. Halo hair extensions are the healthiest type of extensions currently on the market and are gaining popularity for a reason.
IMAGE
PRODUCT
DETAILS

Most Comfortable

Sunny Human Hair Extension

12-14-16-18-20 Inch Option
100% Human Hair
Over 30 Color Options
80-100 grams
Double fixed adjustable wire with elastic band and clips

Top Hair Quailty

Knockout Hair

16-20-24 Inch Options
100% Premium Grade 5A Human Hair
Over 25 Color Options
120 grams
Adjustable invisible wire

Best Budget

LaaVoo Flip on Hair Extensions

12-14-16-18-20 Inch Options
Remy Hair
Over 24 color options
Color matching service
Hooks, clips, and wire
80g-100grams

Most Grams

Lovrio 16 inch 100g Halo Human Hair Extensions

16-20 Inch
Human Hair
Over 15 color options
No Clips
Adjustable wire
120 grams

Best Baylayage

VeSunny Ombre Blonde Halo Extensions

12-14-16-18-20- or Combo inches
Human Hair
Over 33 color options
Clifs, invisible wire and lace weft
80-100 grams
What Are Halo Hair Extensions?
You are probably thinking, "These are those extensions that are one giant piece with a wire or string…I heard a girl say they actually use a fishing line, and another girl said it makes your head look like a mushroom before you put it on".
You aren't too far off, to be honest, in any of these assumptions. Halo Extensions don't need to physically attach themselves to your hair via a clip, bead, glue or any other type of adhesive. Instead, they sit on your head by using a micro-sized invisible wire.
Halo-hair extensions are attached to your head via an invisible wire, which is part of the reason why they are so exceptional. Typically a fishline type of wire keeps the extensions on your head without damaging the hair or scalp in any way. Fishline slips around your hair and scalp and doesn't pull or damage hair integrity to have to say attached to your head.
How To Apply Halo Hair Extensions
You can either choose method 1 to apply or method 2. Both are easy and it comes down to personal preference.
Method 1: Simply section off the top of your hair, place the halo around the sectioned out hair until it lays flat and comfortably on your head. Once this is done take the top section down and style as usual.
Method 2: Place the halo extension directly on your head, then take a rat tooth comb and start pulling out the hair around the halo until the weft with the hair is covered to your liking. You can use a significant amount of hair or less depending on what your goal is for the halo – volume or length. Once you have the amount of hair you want over the extension weft, you're done. To finish, take the comb and simply brush down any pieces that look out of place. As you are pulling hair around the weft, the string will start to blend in with your natural hair. To continue covering, comb the hair in downwards motions.
Pro TIp: Use two pairs of halo extensions to get that victoria secret bombshell hair! More length and more volume at the same time. You can leave the hair the same length or cut one pair for a more layered look.
Do Halo Hair Extensions From Amazon Stand Up To Big Brand Ones?
I get just as many compliments on my halo hair extensions from Amazon as I do on my pricey ones from other places.
At the end of the day, there are only so many pieces of synthetic hair, human hair, and Remy hair on this planet. What makes other companies charge so much is the brand name they sell it under, and the cost to make it.
Amazon is a goldmine for products and is slowly become THE place to shop for everything. With same-day and two-day free shipping with prime is it really a surprise? Distributors are flocking to Amazon because that is where the consumers are now going.
---
Now let us get into the best halo hair extensions Amazon has to offer! But first, when looking at each option, keep in mind a few things that differ from option to option including:
Grams per pack – the amount of hair per piece, which measures the volume or thickness. More grams equals thicker hair and less grams equals thinner hair.
Hair Type – there are 3 different types that are typically used. 1. Remy – human hair that has been colored, highlighted, permed or straightened 2. 100% Human Hair -hair that is taken off a human head and directly used for extensions or wigs without alteration 3. Synthetic Hair – man-made "fake" hair which is typically made from man-made fibers and no heat tools can be used on it or it will burn.
Length – each pack will range in length and you should choose on based off of the results you want and the hair length you have
Color – packs come in a wide variety of colors ranging from solid colors, highlights, ombre, balayage and everything else in between
While I will go over the 4 best halo hair extensions I will also add in some others that are worth mentioning that I myself also own!
Best Halo Hair Extensions
Below are my picks for the best halo hair extensions currently available!
---
Strongest Attachment – Sunny Hair
Purchasing options include:
Length – 12 inch, 14 inch, 16 inch, 18 inch, 20 inch
Color – over 20 different color options with solid, highlighted, balayage, and a mix of it all
Grams – depending on which length and color you choose the gram range goes from 80g to 100g
Hair type – 100% human hair
Seller Interaction – if you want to match your hair 100% you can contact the seller and they will match your hair color, customize weft width, hair thickness and do custom colors
One word for this brand: extra! Not only does it come with the standard wire to place around the top of your head, but it comes with two clips on the weft part which aids in extra attachment durability.
Within the package, you will also find extra elastic wiring and clips in case you need to use them, but you don't have to. You can also take the two clips off the weft if you don't feel as if you would use them, the choice is a personal preference.
Since this is 100% human hair you can color, cut, curl, straighten, wash, blow-dry and restyle them any way you wish. Just make sure you keep the temperature under 180 degrees and use a heat protectant product as you would on your normal hair.
These extensions are currently the best halo hair extensions I recommend for extra-strength.
---
Purchasing Options Include:
Length – 20 to 22 inches
Color – over 26 different color options with solid, highlighted, balayage , and a mix of it all
Grams – 120 grams
Hair Type – 100% human hair
One of the main reasons this is my top pick is because it has a lifetime warranty. Such little stuff comes with a lifetime warranty nowadays, especially when its a beauty product.
It includes an extra wire kit that can be helpful in case you mess up and cut the wiring wrong the first time.
This wire loops through a study notch, unlike others that just go through the weft itself.
---
Best Budget Option – LaaVoo
Purchasing Options Include:
Length – 12 inch, 14 inch, 16 inch, 18 inch, 20 inch
Color – over 25 options color options with solid, highlighted, balayage , and a mix of it all
Grams – 80 grams
Hair Type – Remy human hair
Seller Interaction – they will work with you to choose the right color or make a color to match your hair exactly
One of the things I love about these halo hair extensions, besides the budget price, is the color. The colors to these are natural and a bit on the matte end which makes them look more real.
They have a great customer service team that accepts refunds, works to get the color you want and is great at communicating back and forth.
Each piece comes with clips that you can remove or use to attach the hairpiece.
---
Most Natural Hair Color – Lovrio
Purchasing Options Include:
Length – 16 inch and 20 inch
Color – over 17 options color options with solid, highlighted, balayage , and a mix of it all
Grams – 100 grams for the 16 inch and 120 grams for the 20 inch
Hair Type – 100% human hair
This particular set is great for volume and length. Each color available is natural-looking and if you want something to match true to your hair this is a great set to start with.
These are some of the best halo hair extensions for the natural hair look. If you're someone who really loves looking natural, these are worth a look.
Exceptional for those who have natural hair and don't get it colored. People who have natural hair typically have a true tone with natural highlights and these extensions match that perfectly because it is hair that is taken from those who haven't colored or altered their natural hair. Natural hair paired with natural hair is naturally beautiful.
---
Amazon Alternatives
While I love Amazon halo hair extensions you may find you are still looking for something a bit different. Below I will go over other extensions that will still fit your budget but can be purchased from an alternative place.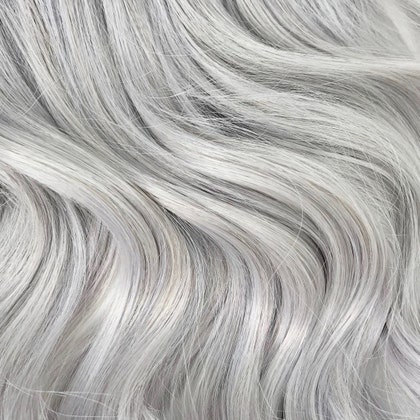 Purchasing options include:
Length: 14 inches to 20 inches
Color: this seller has pretty much every color you can imagine, plus great for those who are looking for fashion colors because they offer a wide range of those as well!
Grams: 35 grams to 200 grams
Hair type: 100 % human hair
I love that this seller has so many different options, not just for hair color, but for the overall type of halo hair extension.
You can purchase these in triple layers, quad layers, and a deluxe layer option! The higher layer option you go up, the thicker the hair will be.
You can also choose what type of texture you want including straight, curly, or wavy. An option of having additional clips and wires is available for an extra charge, but obviously it is not a must-do before checkout!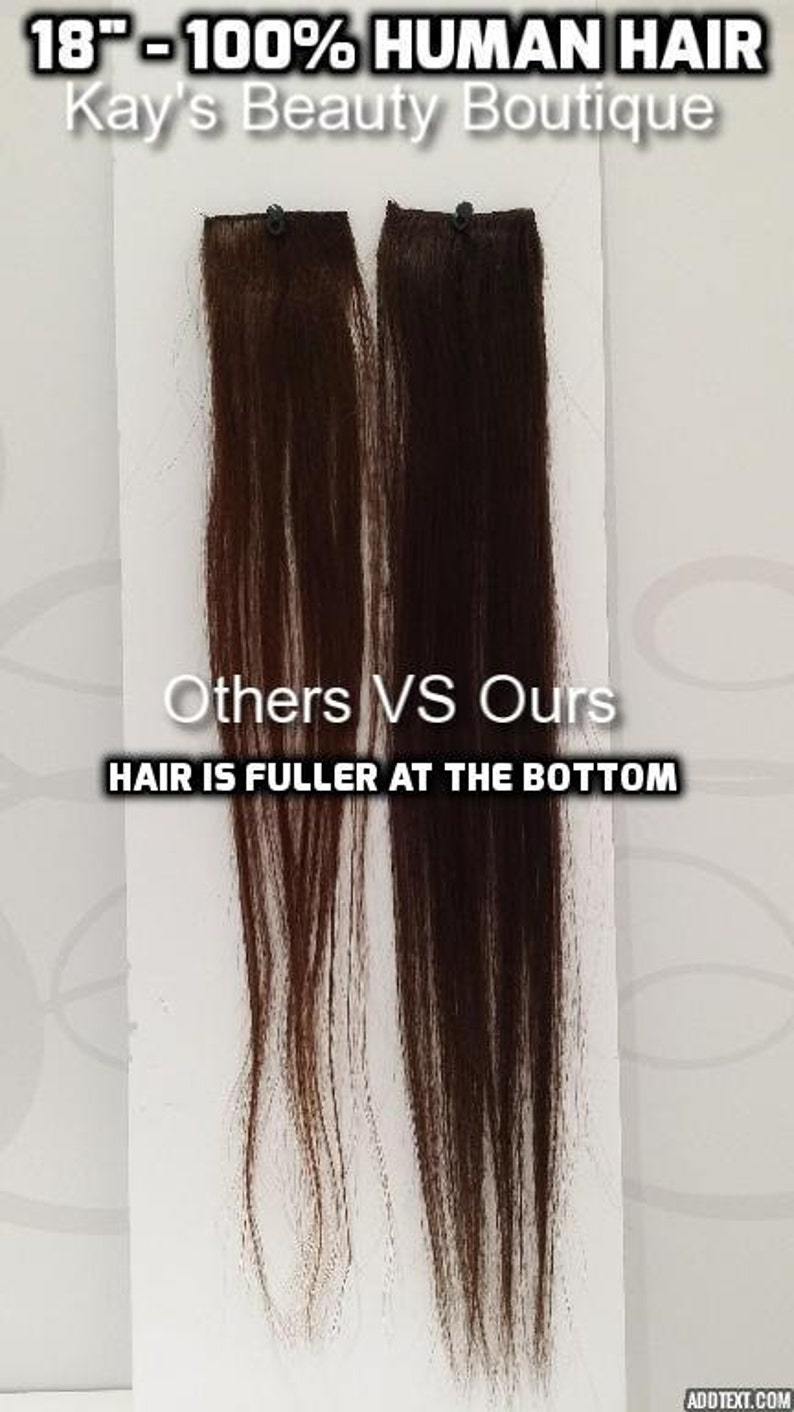 As you can see from the example picture on the left, the bottom of the extension is overall thicker than other brands.
This is going to be especially important if you are wanting to wear these straight and don't have time to take them to your stylist to have them trimmed.
A big reason why this seller stands out to me is the personal customizations you can do. You can contact the seller for special requests, and they will even make a color to match your hair exactly!
If you aren't sure what color to get in gerneral they will help you with that as well!
You can send them a message to customize all orders in any weight(100g-200g also available), width, length and the colour.
---
Wrapping Up
These halo hair extensions are currently my favorite picks available. These are all affordable, but most importantly, they all look real and natural.
I hope you found this helpful for picking out the best halo hair extensions currently available!