Any day of the week is a good day for a cute headband! Toddlers shouldn't wear adult headbands and should instead wear ones that are made for their tiny heads.
Headbands for toddlers will be overall more comfortable and are smaller in size when compared to adult ones, which allows them to fit around their heads properly.
As a cosmetologist and an Aunty, I know there is a big difference between hair products made for adults and ones that are made for kids.
As always, it is never a good idea to have them go to sleep with any headband on!
Take a peek below at some of the best headbands for toddlers, that will have you wanting to do a photoshoot!
Best Floral Knotted Style – Full Headband
These are a great option for toddlers or infants who like to pull and tug at stuff on their heads.
Since this is a headband that fully goes around the head it will stay put on them better, even if they try to touch the top bow.
It is made from elastic cloth fabric which means it won't leave any indentations on their little heads.
This pack comes in a 6 pack, and there are other options available with colors and bow styles!
These are soft and stretchy without becoming stretched out over time.
Stats: 4.5 out of 5 stars with 1,605 reviews. Many reviewers have said that the pictures don't do the product justice and they are beautiful in person.
---
Best DIY Headband Base
For crafty parents who want a headband to be used as a base to glue glitter, bows, gems or jewels onto then this will be the pack you want to buy.
If you aren't a big DIY person then this can still be a great option for those who just want a simple, plain-colored headband.
This pack comes with 26 different colors and is covered with shiny sating material.
---
Best Glitter Bow Headband
Little girls live for glitter and everything shiny, and these just scream buy me.
This pack comes in a set of 10.
There is a bit of mixed material in this headband. On the bottom is white with a claw-like material that grips to the hair and scalp, allowing for a non-slip grip.
On the top is a cloth material and on top of that sits a bright, glittery bow.
---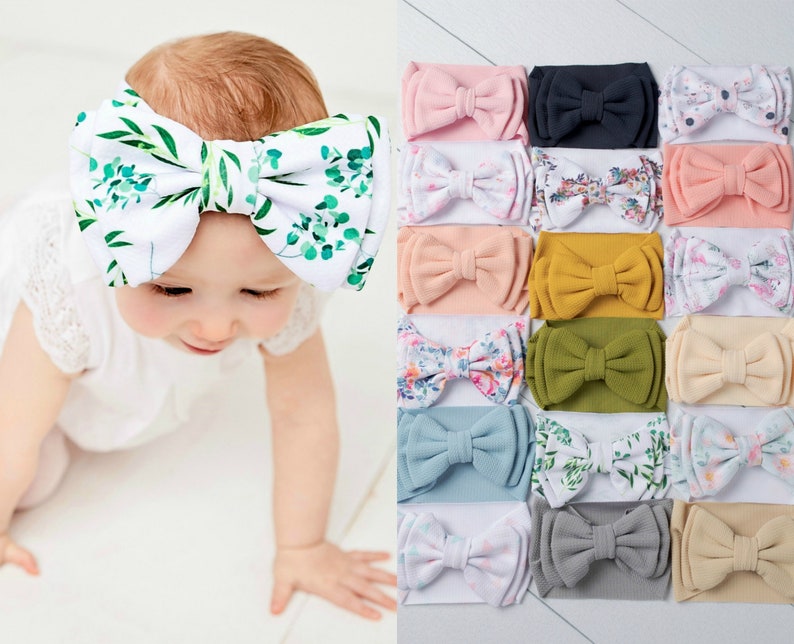 Best Baby Headwrap
These come in two different sizing options:
13 inches for 0 to 9 months
17 inches for 9 months and up
You can also pick the amount you want to come in the pack. Pick 1,3,6 or 10 different baby headwraps!
I love that this pack offers a knitted option, which pairs cute for holidays or family pictures.
---
Best Name Brand Toddler Headband
Babies and Carters go hand in hand and when you hear one name you instantly think of the other.
These are made out of a soft blend of 95% polyester and 5% spandex.
Those who want a thinner band with a smaller, more petite bow will love this set.
These come in 6 different colors and patterns.
While these look small they are made to be for toddlers and will be a bit big on some newborn heads.
---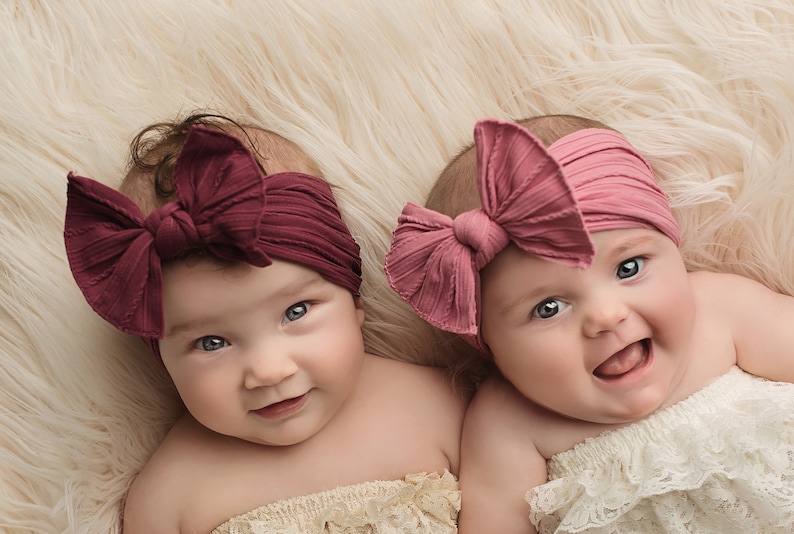 Best Cable Knit Headwrap
How cute are these? Depending on how you dress your little cutie these can play off of a vintage or boho vibe.
There are over 12 different colors you can choose from and they are handmade which means they won't fray anywhere.
These knit headwraps for toddlers come form a bestseller at Etsy! If you follow her on Instagram she gives you 15% off!
---
Best Floral Crown Headband Set
This set comes in 3 but there are also other options available from the seller.
You can also choose different floral sizes and different floral arrangements.
These would be super cute for a wedding, either as a guest or a little flower girl.
The different styles from this seller are really above the rest I have seen.
---
Best Vintage Headband
These patterns are so fun, I wish they made them in adult sizes.
Each headband has a happy retro/vintage pattern made out of corduroy material.
This seller also offers corduroy options in other shapes, sizes, and colors.
This specific set has a 3-inch bow and a 1-inch headband width.
---
Best Mixed Pack
If you are like me, then you probably have a hard time just picking out one pack of headbands for the favorite little cutie in your life.
With this pack of mixed hair accessories for infants, you don't have to pick one, you get them all.
Each accessorizes is on top of a nylon headband that stretches and feels soft on top of little heads.
As with other packs, this seller has multiple pack options with different colors, sizes, and patterns.
Out of all the packs, this seller has the most unique and stand out headbands! These would be my top overall top pick!