Paperbag shorts are going to be everywhere this season! They are super cute and look flattering on everyone no matter what shape, size or height.
Paperbag shorts are ageless and can be worn through multiple generations. Each style is a bit different and unique to its own maker.
Some will be closed with a tie belt, some will have zippers, and some will have buttons. The material used to make these come in a wide variety so make sure to read the descriptions carefully.
Take a peek below at this years must have paperbag shorts.
---
These come in this tan color as well as olive green.
Sizes range from XS – L.
They come with an elastic waistband and a belt so you can wear them as loose or as tight as you want them.
Modal/polyester blend.
In the back, you will find two flat pockets and there are no zippers or buttons.
These are a pull-on style that makes them super comfortable and hassle-free.
---
These navy shorts come in a size 0 – size 14.
These are high rise with a belted waist.
Side pockets are deep and can actually be a great place to store your phone or walled if you don't want to carry around a full purse.
Overall these provide a regular fit and are very true to size.
These only have side pockets and don't have back ones.
The material used to make this breaks down to 71% Cotton, 29% Linen, Lining: 100% Polyester.
Because of the material used to make these, they are super breathable.
---
Jean paperbag shorts are going to be a go-to once the warm weather comes around.
These go with everything and can be dressed up or dressed down.
Sizes for these range from XS – XXL.
Much like most paperbag shorts these are high waisted and come with a belt.
The material used to make these are 99% Cotton and 1% Spandex which makes them super comfy to wear.
---
Unlike most paperbag shorts these come with a standard belt instead of a tie belt.
You will find both front and back pockets on these shorts.
Sizes for these range from 23 – 37.
A snap closure and zip fly make these a bit more of a traditional style short mixed with the new paperbag style.
Made from 100% cotton, make sure not to throw these in the dryer and instead try to hang dry them.
These are a mid-weight and can be great for those who like a more structured type of short.
---
The only thing that is going to be bigger than paperbag shorts is going to be tie die.
These are a tie dye that can be worn even by people who claim to hate tie dye; think of it as a chic tie die.
Available in size 0 – 18.
Instead of a belt, these shorts are closed with four front buttons.
Side and back pockets are found on these shorts.
Brought to you by Topshop.
Made from 100% cotton.
---
Looking for some nautical vibes? Then you have found exactly that with these shorts.
They also come in blue and white stripes, and overall black.
Available in size 00 – 14.
A zip fly and a tie belt secure these shorts nicely to your waistline.
Made from cotton these shorts truly give off sea breeze vibes.
---
Looking for a little sex appeal to your paperbag shorts? Then you will want to put these in your cart ASAP.
Available in size 00 – 18.
A side hook and zip closure make these fit snug against your body.
These have those fake back pockets. For those who don't know what I'm talking about, fake pockets are the ones that have the tiny pocket top sewed on but aren't actually pockets. This gives shape to your butt without having the bulk of an actual pocket.
A pleated shape gives these shorts an almost skirt looking vibe.
---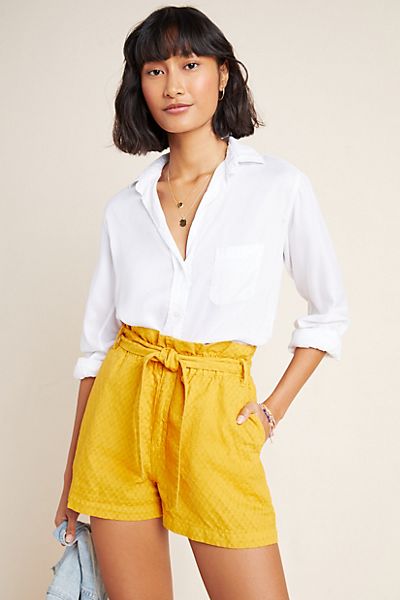 What's better than a bright yellow short? A bright yellow textured short!
These are also available in a moss color.
Made from cotton.
These have a thinner tie belt and are high waisted.
Side slant pockets are smaller than standard large wide ones.
If you don't want to wear the belt it comes with you can remove it and wear a different one.
Made from cotton.
Overall fit to this is very casual.
---
How Cute are these?
Checkers or Gingham Check as some refer to these as are a pattern that will stay timeless.
Sizes 00 – 16.
Made from a mix of 55% linen and 45% cotton these are the softest shorts out of all the ones we have gone over.
These come with a thin, tie waist belt.
Dress these up for work or dress them down for a weekend brunch.
For you math people out there the width of the checkered patterns are about 1 inch.
---
Outfit Ideas
Not sure how to wear paperbag shorts? No worries, I'll help you out.
Shoes
The great thing about paperbag shorts is that they fit any style. Depending on the tops you pair it with you can wear any type of shoe.
Pair it with sneakers to make it casual or pair it with pumps for work.
Tops
For a casual look pair these shorts with a graphic or plain boyfriend tee. Make sure you tuck the shirt in all around and tie the belt tight. You can have loose shorts with a loose top but you will want the belt tied to give your body some sort of shape. Without the belt tied, you'll be walking around looking like a paper bag from the grocery store.
For work or a more proper occasions pair these shorts with a button-up blouse. Again, tuck the top in all around.
Bodysuit
Bodysuits work amazingly with these shorts. A tighter bodysuit with a casual bottom makes for a sexy, cool-girl look.
Tights
If you are ancy and don't want to wait till warmer weather to wear these then go ahead and throw some tights on underneath these. Play around with shear to thicker tighs, either will be a good option with these.
My Favorite Paperbag Outfit Looks
Still on the fence about paperbag shorts? Take a look at some of my favorite outfits and they might give you the inspiration you need to purchase some for yourself.