I've worked on a ton of clientele who wear contacts, and the number one issue they have is finding an eyeliner that won't be cried off within the first hour of application. Whether you have contacts or sensitive skin, finding an eyeliner to match your sensitivity can be tricky, and you are not alone!
So many of my clients gave up on eyeliner years ago until I introduced them to some of the gems I will be going over below. Lucky for you, I have done all the tedious research one would ever need, go through multiple trials and errors, and have compiled a list of the top 8 sensitive eyeliners.
Best Sensitive Eyeliners At A Quick Glance
IMAGE
PRODUCT
DETAILS
Better'n Ur Eyes Natural Eyeliner Pencil

Best for sensitive eyes
Vegan
Hypoallergenic
Brow and black color
Pencil

Beauty For Real I-Line 24-7

Waterproof
Best Gel eyeliner
Available in 9 colors
 The formula includes conditioning Vitamin E

Top Pick

NARS Larger Than Life Long-Wear Eyeliner

Rich, intense color
Long-lasting formula
Available in 9 colors

Lavish Liner by Hairgenics Pronexa – 2-in-1 Precision Liquid Eyeliner Pen with Eyelash Growth Enhancing Serum

Liquid eyeliner pen infused with our amazing eyelash growth serum and castor oil.
 Water-resistant and smudge-proof
Biotin for natural growth
Clinically tested, allergy tested & dermatologist tested.

Burt's Bees
Defining Eyeliner

Selection of high payoff colors in both classic satin and on-trend metallic finishes
specially formulated for your delicate eye area and safe for sensitive eyes and contact lens wearers
Ophthalmologist tested and cruelty-free.

MAC
Liquidlast Eyeliner

It comes in over 7 colors
Combines long-lasting wear with a non-smudge, non-flake precision line
Ophthalmologist-tested
Long-wearing, 24-hour wear
Transfer-resistant
Waterproof

Clinique Quick Intense Eye Liner Midnight

The tip can be used as an eraser
Available in 9 colors
Best luxury brand
Smooth gliding material


stila Stay All Day Waterproof Liquid Eye Liner

Best premium beauty
Available in 6 colors
 Waterproof
Liquid Eye Liner made with a thin, marker-like tip is easy to use even for the least experienced.
Paraben-free; sulfate-free; phthalate-free
---
I have used all of these on my clients who have sensitive skin or easily irritated eyes, and there is bound to be one in here you'll fall in love with! So don't miss one more day of a smokey eye again! You can wear eyeliner that will stay put all day long without causing you to blink a hundred times a second.
Besides myself just using them, I have also added other user reviews.
8. Better'n Your Eyes Eyeliner
Best Sensitive Eyeliner Made In The USA
Colors: Available in brown and black
Type: Eyeliner pencil
Rating: 4 out of 5 stars with 103 reviews.
Benefits: Hypoallergenic, Cruelty-free, Gluten-free, Vegetarian. It lasts for 8 hours.
Special Ingredients: Jojoba, Castor oil, Shea butter, Cocoa butter
Reviewers Have Said:
My eye allergies are so bad that my eyelashes can actually fall out which means I can't wear most eyeliner, mascara or even eye shadow. I can actually wear this eyeliner pencil for hours on end with no irritation.
I'm not usually one who wears eyeliner in the pencil form because I don't like getting it off but this comes off super easy and all I use is a baby wipe.
My doctors don't' know why I have allergies so bad to most makeup but I do know that this product works for me and I am a repeat customer.
I really love the texture of this! The only warning I have is to use this with a setting powder or setting spray or you can get some raccoon eyes after about 7 hours fo wear!
Professional Tip: Always put on eyeliner pencil sharp. People often blame a product for being smudgy, but in actuality, they are putting it on when the pencil is dull. An eyeliner pencil is the same as a pencil you use to write with- writing with a dull pencil will be bold and large vs. writing with a sharpened pencil which will be thinner and easy to control.
---
7. Beauty For Real I-Line 24-7 Waterproof Gel Eyeliner
Best Sensitive Gel Eyeliner
Colors: Metallic Gold, Black Matte, Brown Matte, Rose Gold Pink Metallic, Jade with Gold Shimmer, Metallic Champagne Gold, Navy Matte, Black with Rose Gold Sparkles, Silber Metallic, Whiskey Bronze, and more!
Type: Gel & Waterproof. Twist and more products will come up! Never have to sharpen or worry about the product drying out.
Ratings: 4.5 stars out of 496 reviews!
Benefits: Cruelty-free, Paraben-free
Special Ingredient: Vitamin E which is nourishing and conditioning for the skin
Reviewers Have Said:
I have dry eyes and a ton of things can irritate my eyes more; this eyeliner pairs well with my dry eyes and stays on well when I need to apply eye drops.
I originally got this product through a monthly makeup box I subscribe too and ever since I have been buying it to use in my daily makeup routine.
The formula in here is creamy but doesn't smudge while I put it on…which says something when you're left-handed lol
I love that this product comes in so many colors. I am not one to play with eyeshadows but I do love playing with these different eyeliner colors.
Professional Tip: If you want to play around with different eyeliner shades but are nervous about taking the plunge, I suggest laying down a back or brown base and layer new colors on top so that it pops out more. Putting it on your natural lid will make it appear muted.
---
6. NARS Larger Than Life Long-Wear Eyeliner
Best Vibrant Colors
Colors: Blue, Green, Black, Gold, Rose Gold, Teal, Turquoise, White, Gray, Silver, Purple, and so many more.
Type: Mechanical pencil
Rating: 4 out of 5 stars with 136 reviews.
Benefits: its smooth formula leaves a consistent line over the lid, which means the application is as easy as one stroke.
Reviewers Have Said:
Anyone who wants an eyeliner for sensitive eyes but also one that just glides over the lid is sure to love this product.
NARS is a high-class product that fits between drugstore and break the bank product range. I don't use all NARS products but I find this one to be very beneficial to me.
Silky smooth like a piece of pie.
Love the pigmentation in these colors, holy moly they do not disappoint.
---
5. Lavish Liner by Hairgenics Pronexa
Best For Growth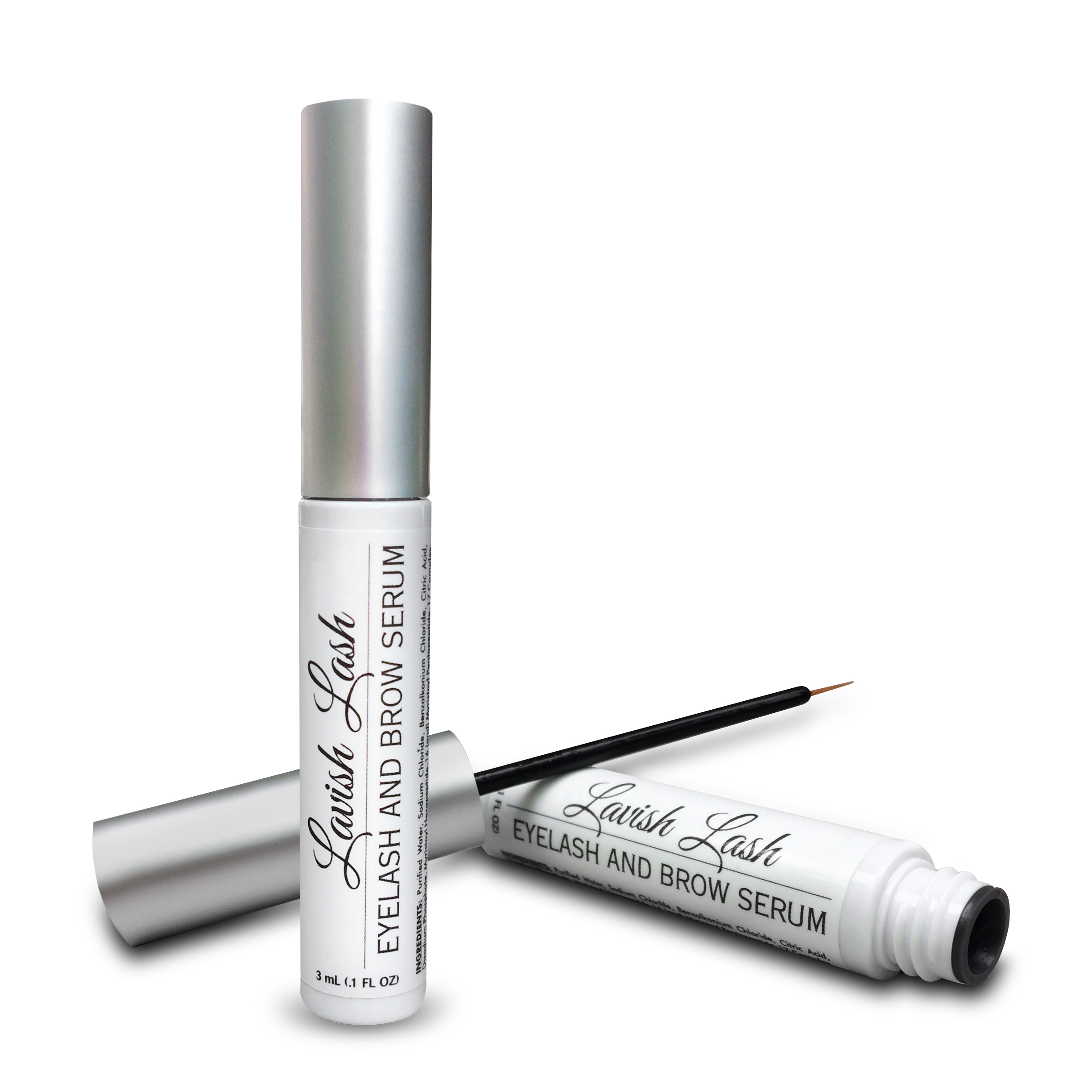 Color: Black
Type: Liquid eyeliner pen
Rating: 4.5 stars out of 5 with 478 reviews
Benefits: Infused with eyelash growth serum, biotin, and castor oil, this not only makes you look beautiful but promotes eyelash growth.
Ingredients: Biotin and castor oil both promote eyelash growth. Swipe this over your eyebrows as a filler and watch those bad boys grow! This is dermatologist tested and used in FDA-certified labs!
Reviewers Have Said:
Absolutely awesome! My eyelashes truly have become more fluttery.
Just to make sure I could leave an honest review I tried two tubes of this and this product is no joke. This is worth every single penny.
I love that the felt tip of this never leaves the dreaded skid marks when applying it. Great for those who like a good cat-eye.
Easiest liquid eyeliner I have ever used. Identical to Kat Von D's tattoo eyeliner product.
Professional Tip: For best growth results, you will want to use this every day or at least every other day for at least 60 days. You might see growth before then, but on average, the most growth will be seen in that 60-day time frame. And it should be noted that this eyeliner product will last that full 60-day frame.
If you try putting it on sporadically for 60 days, you aren't going to see any change; that's not how a beauty routine works.
4.Burt's BeesDefining Eyeliner
Best Tested By ophthalmologist
Color: high payoff colors in both classic satin and on-trend metallic finishes offer shades to compliment your natural eye color
Type: gel-like feel
Rating: 4.5 out of 5 stars
Benefits: Eyeliner is specially formulated for your delicate eye area and safe for sensitive eyes and contact lens wearers. It's formulated without parabens, phthalates, SLS, petrolatum, or synthetic fragrances. And it's ophthalmologist-tested and cruelty-free.
Ingredients: Made responsibly sourced jojoba oil and shea butter, which helps strengthen and condition lashes.
Reviewers Have Said:
Love how they offer colors that match my eyes!
This brand satisfies my need to have an eyeliner last all day without irritating my eyes
The blue color is to die for!
---
3. MACLiquidlast Eyeline
Best Water-Proof Formula
Color: black, green, silver, copper, and more!
Type: Liquid
Rating: 4 out of 5 stars
Benefits: combines long-lasting wear with a non-smudge, non-flake precision line. Goes on effortlessly. It applies with its own brush to draw a perfectly defined line that is Ophthalmologist tested.
Reviewers have said:
One of the only eyeliners that doesn't need to be refreshed throughout the day.
If eyeliner could be liquid latex, this would be it! I am a total convert from the other pricey eyeliners I use to use, and I have been wearing eyeliner since I was a teen.
You can wear this overnight and into the next day if you oversleep and don't have time to fully get ready..or are going into work from um, a fun night out if you know what I'm saying.
Applicator took a bit for me to get used to since I have only ever used pencil eyeliner.
---
2.Clinique Quick Intense Eye Liner
Color: Black, Plum, Charcoal, Ivy, Midnight, Ebony, Clove, Peridot, Aubergine, Chocolate, and more.
Type: Gel material with a pencil mix
Rating: 4 out of 5 stars with 97 reviews ( It does have 4.5 stars out of 5 with 657 reviews via cliniques website) Clinique is a high-end beauty brand and one of my top recommended for those who want to keep up with skin health.
Benefits: Made to be "buildable," so you can wear your eyeliner as light or as dark as you want. Gel pencil needs no sharpening! It comes with a sponge tip to give you a smokey eye effect if you so wish. It is also Ophthalmologist tested.
Ingredients: It is made for sensitive eyes and has a form of alcohol which is why it is the best smudge-proof formula.
Reviewers Have Said:
I am a sensitive person so I was in search of a good eyeliner that stays when I cry, yeah don't judge. This is my go-to formula every day because I am that person who cries at movies happy or sad and you always need to be prepared for the waterworks. I love clinique and have been an almost lifelong customer for over 35 years!
This stuff doesn't smudge and it stays on all throughout the day.
Love that you don't need a separate sponge or brush because one comes attached to the liner.
I almost forgot what it was like not to have red watery eyes and rashes with makeup. This product and this brand are my favorite because they are the only one to work with my sensitive skin.
Professional Tip: You can use the sponge on end as a tool to help give you a natural smokey eye or as a tool to help you clean up anywhere you draw outside of the lines.
To use it as an eraser type of tool: Dip the sponge in water, pat it back onto a paper towel or towel to remove excess liquids, and then go ahead and clean up unwanted eyeliner areas. The second patting process is key, so you don't have water dripping down your eye and over the product, or it'll be one messy situation to clean up.
---
1. stila Stay All Day Waterproof Liquid Eye Line
Professional Top Pick – Best Overall
Color: Black, Grey, Blue, Brown, Cream, and multiple other colors can be viewed here!

Type: Liquid Eye Liner
Rating: 4 out of 5 stars with 5,596 reviews!
Benefits: Tip allows you to draw any line you desire! Tip puts out product in a silky smooth consistency. The eyeliner left on the lid is a consistent line without any holes in it. Great for those who want to make their eyelashes look thicker with a minimal thin line. Waterproof dry fast and won't smudge.
Ingredients: Great for sensitive eyes, and you can put it on once a day without bothering your eyes by reapplying it.
Reviewers Have Said:
I am blind and it is easy for even me to put on. Yes, blind people wear makeup and yes they have functions to talk and leave reviews. Many people might think blind people don't care what they look like but we do, and we actually live lives similar to those who can see.
Best eyeliner to use because it goes on well the first time. I hate when eyeliners have a smudgy look to them and this is a great solid line to really make my eyes pop.
This product is thin enough to throw in my purse to use throughout the day if I am feeling self-conscious. Sometimes I don't need an actual touch up but it makes me feel more confident in my head to have a "fresh" application.
Love that this tip can be used in an angle to get a thin line by the crease of my eyes and progressively get thicker towards the edge. Very versatile.
---
Things To Keep In Mind With Sensitive Eyeliners
Everyone Is An Individual
Everyone is their own unique personality, which means that some sensitive eyeliners may work for some but not for others. For example, one specific ingredient bothers you in one formula, which won't disturb others. This means you need to test out eyeliners before settling on one, and if one is for sensitive dyes but doesn't work for you, it shouldn't be written off as non-sensitive.
Application Is Key
If you are new to one type of eyeliner over the other, practice will make perfect. For example, if you have always used pencil eyeliner and are switching to gel or liquid, make sure you take your time and get the hang of it before writing it off as defective.
Gel and liquid will come out of the applicator differently than a pencil. So if you misapply it, it won't necessarily be the formula you are sensitive to, but the excess amount of product you are putting in your eye.
Pinky Fingers Are Liquid Eye Liners Best Friend
A little trick that professionals use to put on liquid eyeliner flawlessly is the piny trick. Use the pinky finger on the hand, applying the eyeliner as a base to steady the hand. When you have a solid base, the drawing of the line will come as second nature.
Practice On Your Hand
As I went over already, practice is perfect. Applying makeup is an art, and just like anything else in life, it will take some time; it sounds stupid, but it's true. To master your new eyeliner, I suggest you practice making lines on your hand. This will help you get a feel for the consistency of the product, and you can see what it will look like more accurately.

Before you go ahead and put it on a sensitive area like your eye, use your hand so you can really inspect the product for things like color, feel, consistency, and you can play around with application techniques. Some might go on in one smooth line, and others might take a series of baby strokes. Additionally, you may like one swipe of color, or you may want to use multiple applications. Finally, your hand is the place to layer various colors together to master your perfect shade before you go ahead and ruin your eye primer.
Use A Setting Powder or Spray
The final step of every makeup routine should be a setting powder or setting spray. These will come in hand, especially for the life of your eyeliner, and can help it last that much longer. As I always say, a good setting product is like the hairspray for your face. If you don't want an eyeliner to run, you have to set it!
---