Before we dive deep into the best foundation brushes and how to use them, let's quickly take a peek at my favorites!
Best Foundation Brush At A Glance:
Foundation brushes belong to an overwhelming makeup market. They come in many different shapes, sizes, and bristle densities. I'm here to dive into everything you need to know on choosing the correct makeup brush for you. Think of this article as the bachelor for your face; I'll go in-depth about each and then let you decide who gets the final rose.
Back to Basics: What is foundation?
Foundation is skin-colored makeup applied to the face to create an even, uniform color, cover flaws, and, sometimes, change the natural skin tone. Some foundations also function as a moisturizer, sunscreen, astringent or base layer for more complex cosmetics.
Why is it important to use a foundation brush?
Finding the correct foundation brush to help aid in applying foundation will set your face up for the whole overall make-up routine.
If you have problems with sensitivity, I just put together the best eyeliners for sensitive eyes. I find these go hand in hand with foundation and foundation brushes.
Much like the foundation of a house, the make-up foundation is essential in setting the groundwork for your daily routine. Having a poor foundation will negatively affect the rest of your make-up routine and overall look. After all, you wear foundation to help your skin appear smooth and flawless, not to make you look worse.
What type of make-up user should use foundation brushes?
If you wear natural makeup or like to full out Kardashian contour your face, it is crucial to have a good foundation set to properly apply the rest of your makeup, such as blush, highlight powder, and so on. So the simple answer to this question: EVERYONE should be using a foundation brush.
What types of foundation brushes are there?
We will dive into each brush more in-depth below, but the basic overview of each includes:
Buffer Brush – used with cream, liquid, and powder foundation
Stipple Brush – used with cream and liquid foundation
Flat Brush – used with cream and liquid foundation
Kabukis- used with cream, liquid, powder and mineral foundation
Sponge – used with cream, liquid, powder and mineral foundation
Oval Brush- used with cream, powder and liquid foundation
How do I choose the correct foundation brush to use?
The type of brush you choose will be based on the type of foundation you use, skin type, the result you are trying to achieve. Additionally, personal preference on which feels the most comfortable while using it will play a part.
How do I keep the foundation brushes clean?
Each should be cleaned at least once a week to prevent bacteria growth and build-up. Foundation brushes should be replaced after a few years, depending on how often you use them. If you don't wear make-up every day, you can keep yours for a longer time!
Is there a universal brush that combines them all in one?
The simple answer is No, dummy. If there were one brush that did everything perfectly for everyone, then this article wouldn't exist. However, there is one universal shape that can be found in each brush category.
Each type is typically has a bristle option referred to as a Flat Top. These can be described exactly how it sounds; all the bristles are arranged in one even pattern, creating a… wait for it…drum roll please… a flat top! Flat tops provide a quick, easy and flawless airbrushed finish.
A flat top provides more coverage, even when using a light foundation. Flat tops are not meant to be used with a powder foundation.
Buffer Brush
Buffer brushes work best with liquid, cream, and powder foundations. Buffers give you medium to full coverage.
Soft bristles on the buffer work great for evening-out skin tone while leaving you with a more natural finish. Buffer's come in both round and angular shapes so that you can get full coverage around the nose and eye area.
I like to call this the miracle worker because they do all the hard work for you. Essentially you just have to swirl, dap or swoosh the brush around your face, and the bristles do the damn thing, allowing you to be selfie-ready.
Anyone and everyone can use buffers.
Writers Tip: If you have dry skin, a buffer will accentuate dry flakes if you use it with powder foundation. I recommend either switching foundations or choosing a different brush. Remember when using powder foundation with a buffer to tap off the excess powder before applying the product to your face.
Steps:
Start by putting the foundation on your hand
Tap the brush into the foundation and apply to your face working in circular motions towards your hairline
ALWAYS swipe upwards to avoid getting the foundation stuck in cracks and wrinkles. (If you have a ton of peach fuzz you can go down in those areas to avoid sticking the hairs up)
Remember to apply foundation onto your chin and neck area, to avoid a line of demarcation
For a more covered look try dabbing the buffer over your problem areas
Buffers are great beginners or for those just diving into the foundation makeup world.
---
It Cosmetics
This little guy comes in a mini size. Perfect for people who travel or use a small makeup bag to get ready at the gym!
Rounded bristles make it perfect for buffing and blending your foundation. In addition, this product is pretty close to a flat top, making it an easy item to use for more coverage.
Bristles are made from cruelty-free hair and have a soft touch handle.
---
Tarte Buffer Airbrush Finish Foundation
This Tarte buffer is one of the top-rated on YouTube and Amazon! Recommend by a makeup artist for Kylie Jenner.
The handle is made from sustainably harvested bamboo.
Soft bristles deposit a perfect amount of foundation across your face.
These bristles work great with all types of foundations, and the bristle spacing allows it to pair nicely with powder foundation.
The final result leaves you with an airbrush finish all around, which makes skin look flawless.
---
BaeBlu Buffer
BaeBlue buffer is Vegan and Cruelty-free.
It contains densely packed and soft bristles that won't shed even after washes.
Bristles are hypoallergenic and cruelty-free, making them ideal for sensitive skin.
If you prefer a longer handle for your brushes, this is the foundation product for you!
---
Stipple Brush
WTF is a stipple brush? I know that's what you're thinking right now. But, don't worry, it's a newer cosmetic product that many people have seen but don't know its purpose or how to use correctly.
A stipple has finer fibers towards the top (typically white) and thicker, more coarse fibers near the bottom(typically black).
The shape of these fibers leaves you with a diffused, airbrushed look. In addition, because the fibers are so fine, they will leave you with an overall light coverage look and feel.
Stipples are made to be used with cream or liquid foundation.
Suggested if you're trying to use foundation to cover scars and other skin imperfections.
How to use a:
Pour foundation onto your hand
Lightly tap the tips of the stipple brush into the foundation and then tap the foundation onto your face. Your face should look like you have a million dots all over it (yeah, this one isn't recommended for people with trypophobia)
DO NOT mash all the dots together by forcefully pushing the brush onto your face. Instead swirl it around, just moving the white tips. This swirling motion will blend the dots and give you an airbrush finish.
Have a light hand at all times when you are tapping and swirling
Using a stipple brush will help keep makeup on longer than just simply using your hands.
Writers tip: Using a stipple brush uses slow and precise light-handed swirling; it is not suggested for people who are constantly in a rush or are super low maintenance. In addition, misusing a stipple will leave users' overall complexion looking janky and chunky, which is the opposite of using a foundation brush.
---
Bdellium Tools Professional Makeup Brush Maestro Series – Foundation Application 948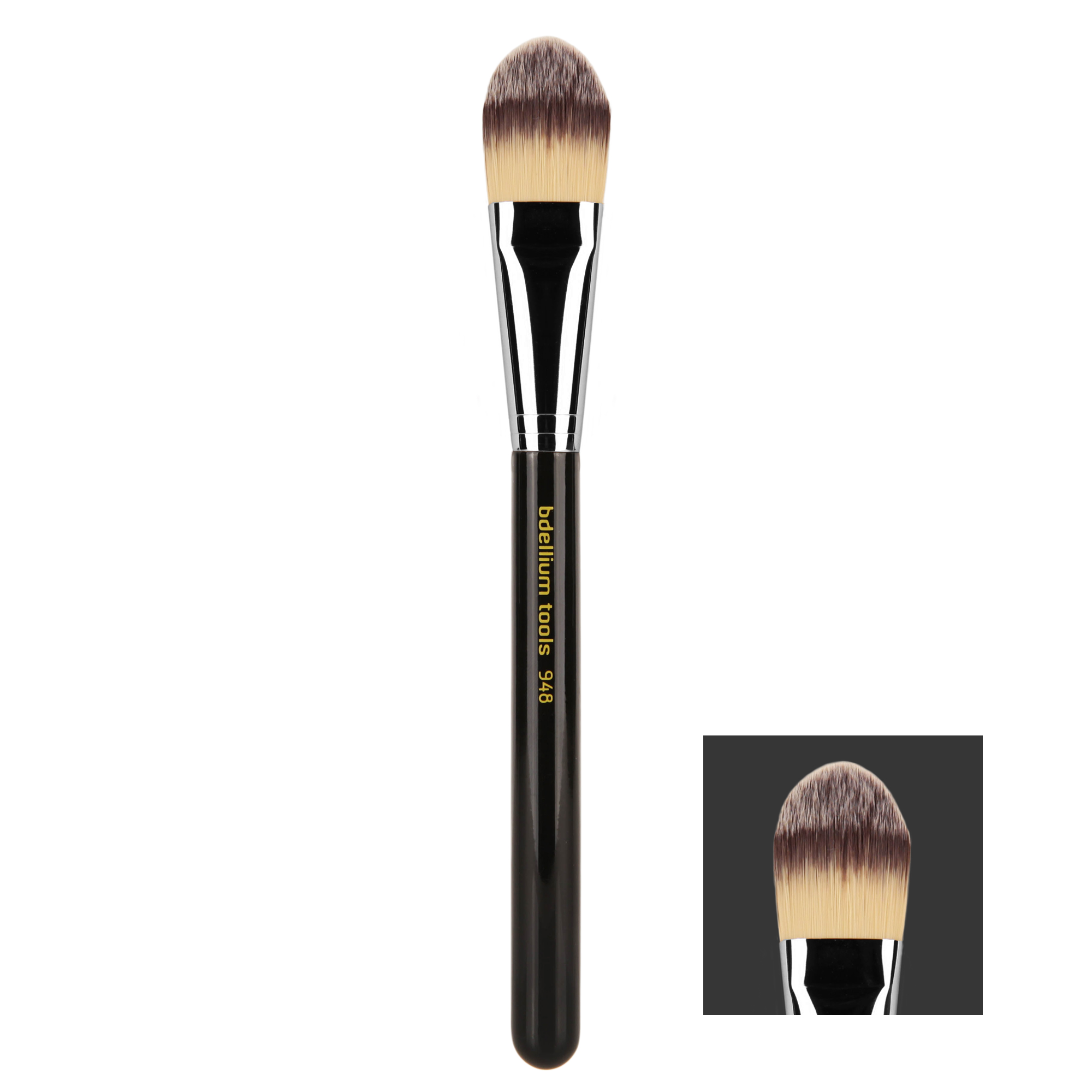 Bdellium stippling covers more surface area than your typical brush.
Made with a bamboo handle and vegan bristles that are uneven throughout.
This specific product is very versatile for many different skin textures and shapes.
---
BEAUTIFULLY BARE STIPPLE BRUSH
Bristles are synthetic, vegan, and cruelty-free.
This product is regular when it comes to size and shape.
This specific set comes with a blush and bronzer that can be used over your foundation.
It also has a white tip, so you can see exactly how far down your product is going.
---
Trish McEvoy Brush 76 Perfect Foundation
One of the best in its class made with the highest quality bristle, made by Trish McEvoy, who has been in the business for over 40 years.
Made with a weighted Lucite handle and brass ferrule. Bristles on this are laid out in a Flat Top shape, making it one of the easiest out of this category to use.
This product is a little bit more pricey but worth every penny. Because of the quality, this can be a lifetime product if you upkeep cleaning.
Flat Brush
Flat brushes are meant to be used with cream and liquid foundations. A flat brush will be the most time-consuming to use out of all the brush types and allow you the most control.
These will give you the best overall coverage out there. Often used by celebrity makeup artists, especially before a night out on the red carpet. The flat bristles don't absorb products, therefore allowing more product to be applied to your face.
Writers note: Next to just using your fingers, flat brushes will be the most cost-effective when it comes to product consumption used.
How to use :
Dab your foundation directly onto your face covering only your chin, cheeks and forehead
Work foundation around slowly in small, precise back and forth motions
To get rid of streaks and lines, use small, soft dabbing motions
Writers Tip: If you are just starting with the painting technique of the flat brush, finish off your routine by pairing it with a sponge or buffer to clear away any imperfections not erased by the flat bristles alone.
---
MAKE UP FOR EVER 108 Large Foundation Brush
This 100% full fiber flat makeup product is great for those who want to cover large areas super-fast!
Large and round shapes with straight bristles allow for high coverage. Because of its shape, it is easy to cover every corner and crease on your face.
128 Make Up Forever is ideal for those who don't want to spend extra time with a sponge to remove streaks because the bristles are large enough to cover your face and cheeks with a few strokes.
Writers tip: Because this is so large and made with high-quality bristles, allow at least a day for them to dry after you wash it.
You want any makeup brush to be arid before using it, or the foundation will mix with any extra moisture allowing bacteria to grow. Yuck, yuck and yuck.
---
Takeda Brush
This Takeda brush, like all Takeda products, is handcrafted by specialty artisans.
Takeda flat is made to be well balanced to aid in the application of your foundation.
Bristles on this have a medium to firm density and are attached without the aid of any chemical hardeners. This prevents your skin from breaking out.
Kabuki Brush
Kabuki products come in a variety of shapes in including flat, round, angled, and dome. Kabuki was originally made for theatre makeup providing actors an all-over airbrushed finished look. However, today kabuki brushes are used by everyone to achieve the same poreless, soft skin look. 
Best when used with cream, liquid, powder, and mineral foundation.  These give you light to full coverage depending on what type of product you use and how much you use.
Writers tip: If you are a brush snob, kabuki brushes are the perfect products for you. They come in both short, handheld lengths or long and flowy handles. These can be found in wood and aluminum materials. Wood handles are heavier, allowing you to distribute your foundation evenly.
How to use:
For powder foundation- Dap the brush in the powder, tap it against the lid to remove excess powder and apply the bristles to your face in circular motions
For liquid or cream foundation- Squeeze foundation onto the back of your hand, dip it into the foundation, dab medium-size "globs" onto your face and then blend in a circular motion. Dabbing medium-sized globs will allow for faster coverage and the bristles will pick up the foundation and spread it around easier.
---
Gaya Kabuki Brush
Gaya kabuki is 100% vegan made with high-quality synthetic hair.
This short handle allows for quick, precise application.
If you're not a fan of the wood/bamboo handles, I suggest going with this product.
Great for those who travel and need pocket-sized products.
Gaya is made in Italy and is cruelty-free.
---
Bdellium Pink Bamboo Brush
An all-over pink kabuki brush with a bamboo handle, do I really need to say more than that!
Round and dome-shaped make this one that people of all makeup levels can use.
Vegan soft bristles make it 100% hypoallergenic.
This particular product is also available in yellow and green.
---
Too Faced Kabuki Brush
Too faced products, in general, are some of my favorites, so it's no surprise I am a big fan of their kabuki.
This is pretty down the middle when it comes to price. It won't break your bank but still isn't the cheapest on the market. But, remember, readers, you get what you pay for.
This has ultra-soft bristles that don't fall out! Wear and tear on this product are nonexistent.
Mr. pink here is small enough to be clutch portable and comes with a convenient top!
One of the most customer-reviewed cosmetic items out there!
---
MIZUBAKE KABUKI BRUSH
The famous NARS company makes this long-handled kabuki.
A handwoven handle allows for the precise application of your foundation.
Top recommended product for blending.
Go ahead, be vain, buy this and become a narcissist!
---
Sponge
Unless you have been living under a rock, blindfolded with ear muffs on in the middle of the desert or the bottom of the ocean, you should know what a sponge is. It is one of the most popular makeup applicators around right now.
Sponge applicators come in various shapes and sizes. Typically they have a short pointed end to get in hard-to-reach places in your nose, mouth, and eyes. The curved side is used for the nose wing and chin. The fat bottom is used to apply the foundation to your chin, forehead, and cheeks.
Sponges can give you sheer to full coverage and decrease application time by half.
You can use sponges both wet and dry. I don't suggest you ever use a sponge dry, but if you're in a pickle and have to, then, by all means, you apply it dry. A pro tip for sponge use is to rinse it with lukewarm water, squeeze out all the moisture, and then apply your foundation.
How to use:
Wet sponge, and wrap paper towel around it to drain out excess moisture
Put foundation onto the back of your hand
Pinch sponge and apply foundation in back and forth motions over your cheeks
Use small end to stipple foundation onto hard to reach places
Finish applying foundation by blending all over with the big end
One of the most important things to remember with the sponge applicator is because it is a porous material, they are 100% not meant to be used for longer than a few applications. Especially because you are getting it wet and dry so often, bacteria can grow very fast. Sponges need to be replaced monthly, if not more frequently. Some sponges are meant to be one-time use only, so make sure you look at what type of sponge you are getting.
---
The OG Beauty Blender Sponge
The OG sponge applicator took the sponge from the kitchen to its big debut into everyone's bathroom!
Beauty blender comes in the classic egg shape and can be found in its original pink color.
There are many knock-offs of these out there, but don't be fooled. Like I stated before, you get what you pay for. These sponges are made specifically to be lightweight and spread the foundation more. Knock-offs will be heavier and soak up more product in the end, therefore, wasting your money and giving you a cake face.
Beauty blender sponge works great for sheer to medium coverage.
---
MAC Softpoint Sponge
MAC made this sponge mimic a crayon shape for easy application and a comfortable handgrip.
This little guy is a latex-free sponge.
Ultra-soft material will be gentle on your face and will aid in the prevention of breakouts.
One of MACs top-rated sponges.
---
6 Pack Makeup Sponge
This package comes with 6 different sponge shapes and a single sponge holder.
Available in pink, green, purple, and hot pink.
Made of non-latex material.
These shouldn't be used for more than a few months.
It can be washed with soapy water and then left out to air dry.
Click here to find out all about the Best Vegan Masks for face + Hair!
---
Oval Brush
Let's be honest; oval brushes are aesthetically the best-looking makeup items out there. In addition, oval brushes have short, dense bristles making them the easiest to use.
They were made to mimic the application of your fingers. Oval handles are made to fit comfortably in your hand, like a toothbrush, providing the most natural application next to bare fingers.
Oval items come in many sizes, so they may seem intimidating, when in fact, they are the least intimidating to use. I suggest buying a pack of varying sizes. Then, simply match the brush size to the area size of your face you apply the foundation to.
Hot to use:
For powder application pick up a small amount with the bristles and for liquid application dot your foundation directly onto your skin
Using LIGHT pressure, glide your foundation back and forth while still applying small circular motions
Oval brushes should not be stippled or bounced
Writers tip: Clean directly after each use.
---
10 piece oval set
These pretty in pink oval products are made from synthetic bristles.
They come in a nice range of small to large sizes, making them ideal for everyone.
Bristles on this slide your foundation over your skin, with zero tuggings involved.
With so many pieces, you are sure to find one that works with every single part of your face.
---
Professional Makeup Oval Set
What's better than these being rose gold? The head of these is flexible and bendy, allowing every crevice of your face to get covered.
A wide base allows this to fit smoothly in your hand for comfortable application.
One of the top-rated oval products, it works great to achieve a glam or natural makeup look.
---
ARTISElite Mirror Five Brush Set
For those looking for a professional option, I highly recommend these.
It comes in five pieces, and one of them can be used for contouring around your nose and eyes.
What it is formulated WITHOUT:
– Parabens
– Sulfates
– Phthalates
Artis brushes feature a handle designed to mimic how your fingers move across your face to give you the best application.