Before we dive deep into hot rollers and all the FAQ let's quickly view the best hot rollers at a quick glance.
Each is a bit different and it honestly comes down to personal preference on which one is going to be best for you.
Best Hot Rollers For Thick Hair At A Swift Glance
IMAGE
PRODUCT
DETAILS

Best For Long Hair

Calista Tools Ion Hot Rollers Long Style Set 12 Base



Comes with 12 long hot rollers, charging base, 12 hair clips, a travel bag, and instructional booklet
Heats rollers in under 3 min
Remain hot for 20 min

Top Pick

CHI Smart Magnify Medium Ceramic Rollers




Trusted brand
LED Blue Lights with Antibacterial Properties
Eco-Friendly Ceramic Heated Rollers
Comes with 9 rollers, charging base, travel thermal sotrage case and magnetic clips

Best Budget

BaBylissPRO Nano Titanium Roller Hairsetter



Available in different roller sets with varies sizes and number of rollers
Velvet rollers for easy grip – great for those with hand issues
Comes with rollers, slips, pins, heating base and lid
Has natural ions for hair shine

Best For Volume

T3 Volumizing Hot Rollers Luxe Set


Dual temperature settings ensure long-lasting style for all hair types. 
Velvet flocking are easy to handle and warp hair
1-Hour Auto-Off great for forgetful people
8 Crease-free Clips and rollers

Best Clipless

InfinitiPRO Clipless Silicone Rollers


Clipless – great for those who want something simple
Silicone rollers for shine
Storage/travel pouch included
Dual voltage
Free gift with purchase
---
Hot rollers are a lazy girl's dream and great for those who like to multitask. Hot rollers are one of the most used professional tools for a reason because they help hold your hairstyle all day long.
Girls with thick hair need certain types of rollers because more hair can be a bit tricky to style. Once you try hot rollers, the only thing you will be using your curling iron for is going to be touching up curls.
You most likely have an image of your mother or grandmother with rollers in her hair, and I want you to take that image and throw it away. Hot heat rollers nowadays have significantly improved since they were first introduced to the hair scene.
Before we get into the hot rollers for thick hair, I'll go over a bit of information all buyers should know before purchasing a roller set!
What Can Hot Rollers Do?
Hot rollers can give you curls, obviously, but they can also give hair much-needed volume and shine.
How Do Hot Rollers Work?
Hot rollers work in such a convenient and smart way. The heat from the rollers put shape into the hair, and as it cools, the curls will set, which is why they last all throughout the day.
The rollers heat up from their inside out via the electrical "stand" they sit on. The stand the roller rest on is typically made from ceramic or a ceramic mix. Being made out of ceramic heats up the rollers without heating up too much to cause burns on your hands as you use them.
Why Use Hot Rollers vs. A Curling Iron?
Hot rollers are better for your hair than curling irons because of the simples reason of how they work. You don't use consistent heat to curl your hair with rollers as you do with curling irons. The heat from the rollers curl hair, but as the rollers sit in your hair, the temperature instantly starts to decrease, while your hair is still taking hold of the shape.
Hot rollers use their shape and time to curl your hair with minimal heat where curling irons use just heat and shape to transform hair without keeping hairs integrity in mind quickly.
Are Hot Rollers Safe For Your Hair?
YES! Hot rollers are actually safer for hair and cause less damage than curling irons. It is an excellent option for those who have damaged, bleached, or colored hair.
---
Heat Roller Heat Source
There are two different types of heat source for hot rollers.
Ceramic and Ceramic Infused
The first is going to be the classic old school ceramic base with a hard roller. These rollers heat up via their middle producing infrared heat. Infrared heat will penetrate the hair strand from the inside and does the most immeasurable job of keeping hair healthy. You can style your hair in a way it will stay undamaged while keeping hair shiny and also minimizing frizz.
Steam Rollers
The second type of hot roller is a steam hot roller. These rollers are typically some type of foam material in the middle and can be used on wet or dry hair. Zero damage is detected when this type of roller is used – however, they can also produce ringlet curls if you don't choose the right shape and size.
---
John Frieda Body & Shine Smooth Waves
Award: Best Rollers For Shine + Smoothness
Heat Source: Fast heat up in under 2 minutes. Titanium ceramic makes up the bae to these.
Temperature Options: High, Low or Off
Pieces: This set comes with 8 pieces, 2 of which are jumbo-sized!
Reviews:
Used a few times and can honestly say these are the holy grail of roller
Clips in this roller set will not leave dents or ridges in the hair
Great for achieving the Jacki O Look
Note: this roller set isn't meant to give you ringlet curls. These are meant to give you a salon blowout look, which leaves your hair smooth with big waves, lots of volume and bounce.
---
BaBylissPRO Nano Titanium Roller Hairsetter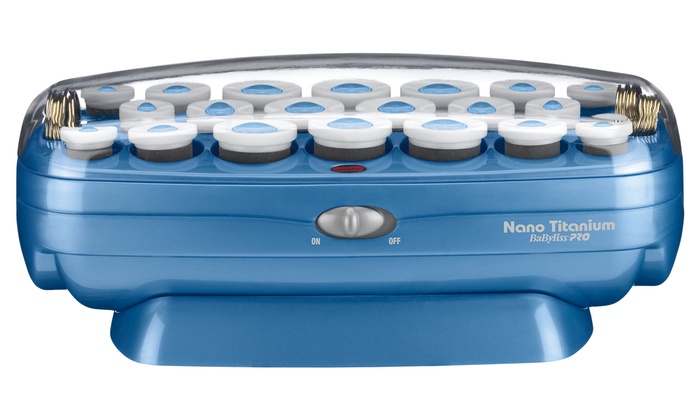 Award: Best Customer Reviews + Statistics
Heat Source: Nano titanium ceramic hair rollers create far-infrared heat
Temperature Options: On/Off switch that has an indicator light
Pieces: 12 rollers that have a velvet base. These rollers are all the same size, so there is no variation which means curls will be uniform.
Reviews:
I bought the pack with more rollers. I have long thick hair and the bigger pack allows me to use all the rollers I need which is typically 18-20.
These don't get too hot which has helped my hair damage.
Longer I leave them in the tighter and more defined my curls.
Finally a set of rollers with enough pieces to fit my long, thick hair.
Note: This device will give you more of that defined curl look. Check all the purchasing options because these come in different sized packs and different size rollers, which is good for getting a natural curl pattern and more overall movement.
CHI Smart Magnify Medium Ceramic Rollers
Award: Best Name Brand Compact Set + Easiest To Store
Heat Source: Ceramic and can heat up in under one minute.
Temperature Options: On/Off switch
Pieces: Rollers can be bought in small, medium, and large sizes.
Rollers themselves feature a velvet finish for smooth, tangle-free, voluminous results.
Best for all hair types!
Reviews:
Amazing, I use these to replace my curling iron. I have Asian hair and usually need extremely high heat to get a curl, these work even better than the hottest curling iron!
Wish I would have found these sooner! Great for long, thick hair.
Ladies they are worth every penny.
Note: These come with easy to use clips and a case that makes for easy storage and helps if you want to travel with them.
---
Caruso Professional Molecular 30-Piece Multiple Size Steam Hair Setter
Award: Biggest Set Hot Roller
Heat Source: Steam
Temperature Options: On/Off button and is heated with steam. You can choose when to take the roller off the steam.
Pieces: This is one fat daddy set and comes with 30 pieces. This will give you the option to give yourself tighter curls which will most likely need to be brushed out.
Reviews:
Using these rollers has actually improved the overall quality of my hair.
My hair is long and thick and I surprisingly use about 20-25 rollers.
My hair doesn't typically keep curls in but with these, I can have curls in my hair for days.
Use this to get big, easy, shiny barrel type of curls
Note: These can be worn in overnight or if you use them directly out of the shower you can roll your hair and then simply blow-dry it while these are in.
---
Related Articles