Most people assume that dying hair from blonde to brown is easy peasy.
As a professional cosmetologist, I am here to tell you that it's not!
You need to take a few extra steps when going back brown to ensure your hair doesn't look muddy or have a green undertone.
Going from brown to blonde hair is a process; the same is true when you want to go the other way.
If you plan on dying your hair darker at home, this is a must-read article!
A hair transformation from blonde to brown is a big change and something you should think about before doing it.
Once you go dark, it will be a long and challenging process to go backlight. In fact, many stylists will have you come back for a few appointments. This will cost quite a bit of money and require lots of time.
Prep Your Hair Before Coloring It
Unlike going blonde, going darker will actually make your hair healthier in the long run.
But, there is still a bit of stress you will put on your hair when coloring it dark. Hair color works because of the chemical reaction it has with peroxide.
This peroxide is hard on your hair, and you will want to make sure you use moisturizing products before you go into your appointment or color it at home.
I suggest using a moisturizing mask at least a month before coloring your hair, once or twice a week.
I would personally suggest this Moroccanoil Intense Hydrating Hair Mask.
This brand is the OG in moisturizing and has been used for decades.
This is infused with antioxidant-rich argan oil and nourishing ingredients; it improves hair's texture, elasticity, and manageability.
What's great about this product is it is something you can use even after you go dark!
This only takes five minutes to use, and it helps hydrates, condition, and even reduces static.
Anytime you are altering your hair, it is always the smartest idea to make sure you are doing so when it is at its healthiest. Using a hydrating mask such as this one will help you do just that!
Healthy hair will also absorb hair color better than porous or damaged hair.
Use A Filler – Red or Orange
You're probably thinking, do I have to use a filler when going from blonde to brown? And the answer is yes!
Using a filler is by far the most crucial step you are going to HAVE to do! This isn't a tedious extra step that you can just skip over.
Since you are going from one end of the spectrum to the exact other, you will need to add warmth back in and do the middle color step, aka using a filler.
Using a filler will help even out the hair's porosity so that the color will take even all over.
What will happen if I don't use a filler when going from blonde to brown? Without a filler, you risk the brown color turning muddy or even green. Also, you might end up with uneven spots, and some pieces will turn splotchy.
To go blonde in the first place, you are removing the red, warm pigments, so when you go back to a brown color, a filler adds back the missing color molecules.
As you can see here, I did a filler color of rose gold. The pieces in front are a bit pinker in color because I rebleached them, and therefore, the filler color took better than the filler put on the rest of my outgrown blonde hair.
This might contradict the above advice of putting a hydrating mask on your hair before you color it, but I am a professional. I know what my hair can and can't handle, so I knew bleaching the front pieces would be okay before I applied color over it.
My hair is thick, coarse, and I wouldn't have done this if I had thin hair.
Will adding in a filler mean I have to be a warm brown? No! Even though you are adding warmth back into your hair with the filler, you can still get a final result of a cool or neutral brown. To get this effect, make sure you are choosing a brown color that says neutral or ash.
Of course, you can pick a warm brown color if you do prefer that as well.
You can pick a warm brown color if you do prefer that as well.
I always suggest going to a professional to color your hair, but if you do it at home, I recommend using Madison Reed.
What filler color should be used when coloring hair? Use a filler color 1-2 shades lighter than the brunette shade you want to do. For example, if you want a light brown level five, use a level six or seven filler color.
Words to look for when using a filler color should include red, orange, copper, rose, or gold. I did a rose gold because I wanted my brunette shade to have more of a pop to it.
Use 10 or 20 Developer
Another important thing you should be thinking about is what developer you should use with dark hair? When picking a developer (if your color allows you a choice), go with 10 or 20.
A 10 developer is going to deposit only, and a 20 developer will lift and deposit. So if you have any grey hair, you will need to use a 20 developer to cover your grey hair fully.
A 10 developer is the safest on hair and only contains 3% or under of peroxide, and a 20 developer contains around 6% peroxide.
It would be best if developers like 30 or 40 were used only when trying to go lighter.
You should always use the developer that goes with the color line you are using.
Pick The Right Tone
Dark hair can get a bad reputation for being dull. Oftentimes, people assume dark hair is all the same, and there isn't much variation.
This could not be further from the truth. Dark hair takes up over half of the color chart, which means the possibilities are endless.
A big thing to keep in mind is at-home upkeep. Going darker doesn't mean it will necessarily be easier to keep up with.
If you want the least maintenance possible, you will want to pick a brunette shade that matches your natural tone. For instance, if you have naturally cool tones in your hair, pick a brunette with a cool tone.
If hair maintenance and upkeep aren't an issue for you, you can pick from a wide range of colors with a warm tone, and ash tone, a neutral tone, or a cool tone.
There are a few things to keep in mind if you want to find the perfect hair color for you. Simple things like your skin's underlying tone and your eye color will play a big role in what color you should dye your hair.
Use A Gloss
I know, I know, ugh, another step! But I promise you all of this work will get you the rich dark hair of your dreams!
Besides picking out a filler and the color, you will want to pick up a gloss!
Soooo what is hair gloss? A hair gloss is basically a shine treatment for colored strands. The intended outcome of using a hair gloss is a longer-lasting and more vibrant hair color and reducing split ends, frizzy hair, and overall dryness. 
Hair gloss can also be used to tone your hair color. It can help level out the demarcation line, blending your natural roots with your colored ends.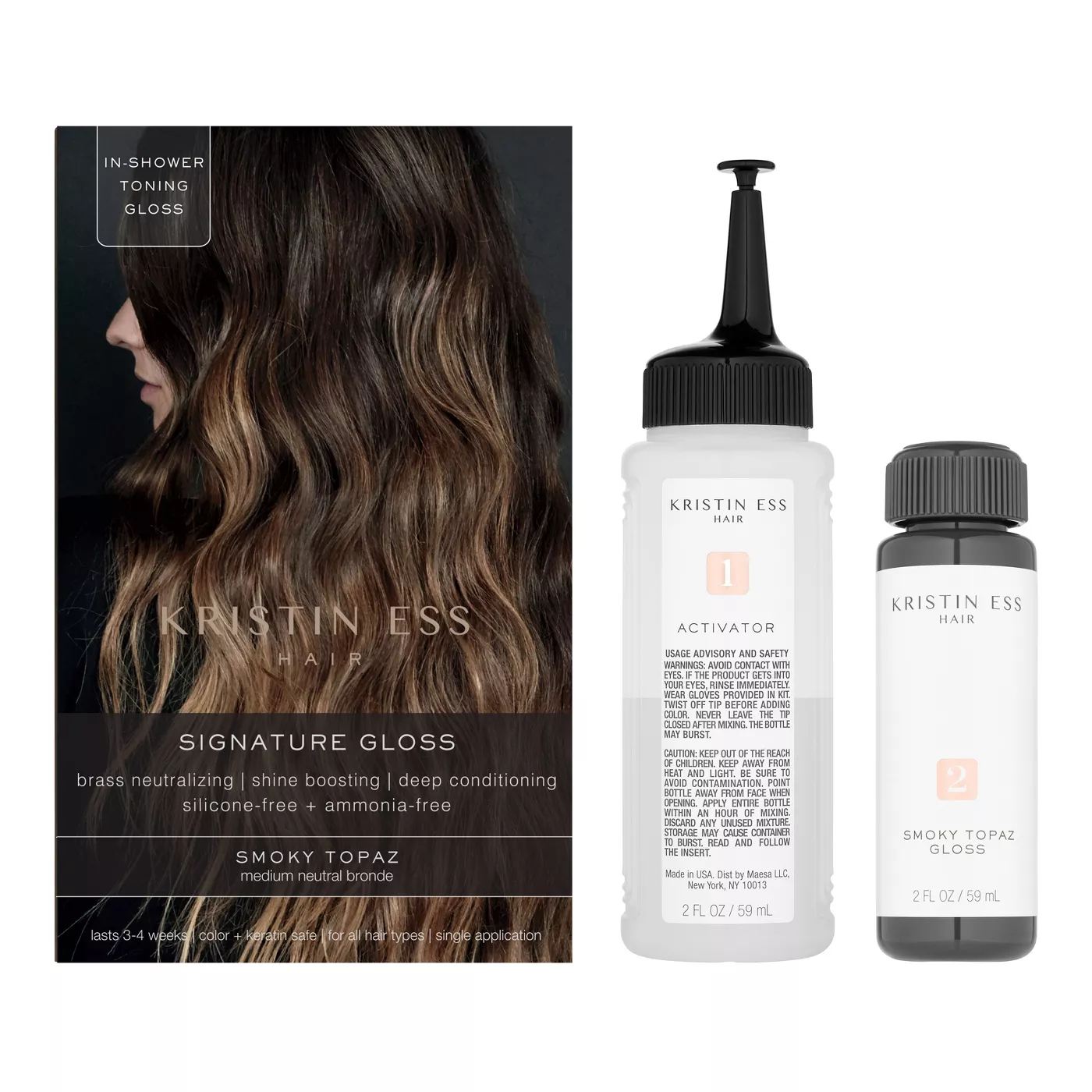 I suggest using this gloss! It's super cheap and colorless, so it will add a ton of shine without changing the color.
It is formulated to be Silicone-free + ammonia-free and lasts up to 4 weeks!
A gloss like this will also help extend the life of your new dark color while also instantly boosting vibrancy and shine.
Invest In Color Maintenance Products
Swap out your blonde maintenance products with some brunette maintenance products.
You will want to invest in sulfate-free, color-conserving shampoo to your routine. Still recommends products with low pH to keep hair cuticles safely shut, so color molecules aren't released.
To keep your hair at its best, use hydrating products that will help keep it moisturized.
I would also suggest you purchase a color depositing conditioner if you have very porous hair or hard water. This will deposit color onto your hair, preventing fade and making it always look its best.
I feel like it is crucial to have a color depositing conditioner on hand at all times, so I will suggest a few of the ones I have used!
As you can see, some color depositing products will come in a shampoo and conditioner duo, and some will be a conditioner.
They have a few different brown options, and they can be mixed to match the custom color on your head.
Set Aside Time
If you decide to color your hair at home or go into a professional, make sure you plan for the proper amount of time.
The initial appointment of going from blonde to brown will take a bit of time, but the follow-up appointments will be faster!
Dark hair color needs a certain amount of time to process once it is covered in the brown color. This processing time is usually 25-45 minutes.
It is a bit of a process between the processing time and the number of steps required, but totally worth it.
Try Different Colors
Before making the big leap to a black or dark brown, try a few of the colors in between. You might think you want to go super dark, but trying a color in between might show you a color that suits you better or one you like more.
It's always easier to go darker, but it will be challenging to lighten up dark hair color.
I also suggest going to a professional so that they can do some different colored lowlights. For example, having different browns will give hair more dimension.
FAQ
What is the best hair dye to go from blonde to brown?
I would suggest demi-permanent color. The low volume of developer used is necessary to oxidize the dye but causes almost no damage because it is so diluted.
What color cancels out blonde hair?
Yes, this is in the google search, so I decided to go ahead and answer it.
Nothing technically cancels out blonde, but you can use dyes to color the hair, thus putting color back into the hair strand. So in this sense, it would cancel out the blonde.
Can you go from blonde to brown with box dye?
Yes, but I recommend going to a professional or using a custom color kit like Madison Reed.
There is no instance where I would recommend an actual box dye from the store.