I have had my cosmetology license for over a decade now, and I know all the hair's ins and outs.
In this article, I will go over how to get hair shiny, how to keep hair shiny and suggest a few natural remedies.
What Makes Hair Shiny?
In order to understand how to get glossy hair, you will need to understand what makes hair shiny to begin with.
Hair is going to be shinny due to two things: from products or naturally.
Those who have naturally shiny hair are going to have a healthy, clean diet. Your diet directly affects your hair health and how it appears. A poor diet will produce poor, dull hair vs a healthy diet that will produce healthy hair.
People who don't have naturally shny hair are the ones who need assistance via products, both inside and out.
Foods To Promote Healthy + Shiny Hair
If you are wanting to start by promoting hair naturally from the inside I suggest checking out a few of the food below.
Eating foods is an excellent natural way to make hair shiny. The saying you are what you eat applies in this situation.
The foods below will help you get shiny hair from the inside out.
Chia Seed: they are filled with fiber, omega-3 fatty acids, protein, phosphorous, and calcium which helps with hair growth.
Green Tea: Green tea contains vitamin A, which can help to stimulate sebum production (your body's natural oils).
Many green tea hair products are available in stores or online, but be sure to apply them to the scalp and roots for best results. You can also rinse your hair with brewed green tea after shampooing and conditioning hair.
Fatty Fish: Fatty fish like salmon and tuna are full of Omega 3 fatty acids, which helps in making your hair stronger, preventing hair breakage.
A lack of Omega 3 fatty acids in the diet can lead to brittleness in the hair and make them vulnerable to split ends.
Split ends are going to be very apparent in those who don't get their hair cut regularly. If you have not had a haircut in a while you can take a few strands of hair, look down and you can actually see the hair spitting. This is very easy to do for those who have dark hair.
When I was in high school I would sit and pick my split ends for hours. I think it is what actually got me through school.
Soy Flour: soy flour is packed with Biotin. This hair-friendly vitamin is a must for anyone who is looking to improve their hair.
Coconut Oil: this is like the OG shiny hair products. Infuse this oil into your diet to ingest or put it right over your hair for a full-proof shine look.
Whole Grains: I mean any excuse to eat carbs is good enough for me without even needing an explanation. Whole grains are high in Biotin, a B vitamin, contain high amounts of zinc that help to keep a dry scalp and hair loss at bay. Having a healthy scalp means your hair will retain its natural oils, thus increasing hair shine.
Carrots and Spinach: rich in a compound called the Beta-Carotene which is converted to Vitamin A in the body, which leads to the secretion of natural hair oil or sebum. This process prevents the hair from looking dull or dry.
Walnuts: there is an abundance of vegan foods to make hair shiny. You can opt for walnuts and flaxseeds, which are also packed with this essential nutrient. Walnuts contain Vitamin E, which is responsible for restoring hair follicles.
On the opposite spectrum, some foods can be bad for hair.
It is best to avoid high mercury fish or to eat it in a small amount. Some fish contain high levels of mercury, and high levels of mercury can lead to hair loss. Eating a lot of fish, she stresses, and particularly sushi, sometimes four or five times a week. 
Canned light tuna, salmon, and shrimp are all low in mercury, according to the FDA.
Use A Proper Brush To Keep Hair Glossy
100 strokes a day was a popular term created decades ago and has been wildly debated. Some say it is just a myth and others say the phrase rings true.
I am here to tell you it is sort of true, and here's why.
Regular brushing gets rids of tangles and smooths the surface of the hair. This means that your hair will better reflect the light, so your brushed hair will be amazingly shiny after you've brushed it. What the brushing also does is distribute the oil molecules from the roots along the length of the hair, adding to the shine effect.
Don't over brush or your hair might go from glossy to greasy real fast.
Use the proper brush!
Hairbrushes don't fall under the one size fits all category. In fact, the opposite is true.
You should always use the proper brush at the appropriate time. For example: use a wet brush or wet comb for when your hair is wet, and don't use any other type of brush. Doing so will cause damage and dullness to the hair.
I highly recommend investing in a good hairbrush, and my favorite brand is Mason Pearson.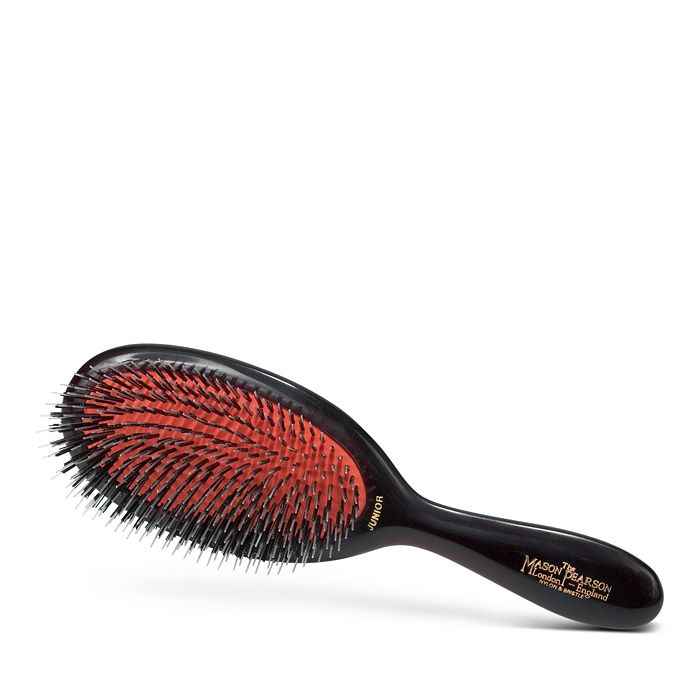 Mason Pearson uses boar bristles which will leave your hair shiny and smooth, and they have tons of different kinds to choose from.
This is my favorite brush of theirs, and it is the Junior Mixture Brush.
Features nylon spike to aid brushing through thick, textured or wavy hair
It comes with a manufacturer's 1-year limited warranty
It is also made with boar bristle, which they collect ethically.
This brush is a bit on the pricer side but it is one that you will use for the rest of your life.
Below is the top burhses I suggest you use to keep your hair shiny.
IMAGE
PRODUCT
DETAILS
Mason PearsonJunior Mixture Brush

Specifically for brushing through fine to normal hair types
Boar bristle
Comes in regular and pocket-size

The Hair Edit – Tame Comb

Rounded wide-teeth are gentle on the scalp & glide easily through all hair types
Soft-touch finish allows for a non-slip grip
Hang hole gives you the option for storing on a hook

Siena Paddle Brush

Lightweight
Nylon and 100% boar bristles help redistribute hair's natural oils
Comfortable styling

Ceramic + Ion Thermal Hairbrush

synthetic bristle thermal brush features a vented ceramic barrel for faster and more consistent styling
 includes an ion-charged material designed to help smooth and shine hair. 

The Original Detangling Hair Brush


Multi-award winning
Instantly detangles wet or dry hair, making styling quicker, easier, and pain-free.
Any of these are great options, and using a few of them together will be the most ideal.
Invest In Good Hair Oil For Glossy Hair
There are tons of hair oils on the market, and using one regularly is the no-brainer answer on how to make hair shiny.
I suggest a few of the hair oil below, and they are the top-selling hair oils on the market.
If your hair is super dry and dull, you can wear oil in your hair overnight. I don't suggest doing this if you don't have super dry hair because too much oil will make you look greasy and not shiny.
How does hair oil work? Hair oil has fatty acids and antioxidants within the oil which adds a protective layer to your hair, helping to prevent breakage.
The natural oil produced from your scalp has a hard time traveling all the way to the ends on its own, even when you brush regularly.
Hair oil will replenish the lipid layer on the surface of the hair. It will also penetrate deep into the strand to strengthen weak spots and prevent damage, and add shine.
The nice thing about hair oil is you can use it on wet or dry hair. Obviously, when used on dry hair, it will add an extra touch of shine.
IMAGE
PRODUCT
DETAILS

My Favorite

Olaplex No. 7 Bonding Oil



Works with any hair type
Helps bonds in hair
Highly concentrated, ultra-lightweight,

OUAI Hair Oil

A multitasking oil that smoothes frizz and seals split ends for a high-gloss, super-smooth finish
Packed with African Galanga, Ama and Asian Borage oils to keep color from fading and protect hair from heat damage.

Living Proof
No Frizz Vanishing Oil

A silicone-free, fast-absorbing oil that vanishes into hair, blocking humidity and hydrating for a smooth, shiny finish.

Bumble and Bumble -Hairdresser's Invisible Oil

 clear oil that vanishes into hair, leaving a frizz-free, feather-soft feel and a trace of shine while helping to provide heat and UV protection.

Moroccanoil Treatment


Leaves hair soft, smooth, with improved manageability. Controls frizz and flyaway, while imparting shine.
I suggest using some oil on your scalp and messaging it in before you shower.
Getting into a routine with oil on the scalp can really help improve hair from tip to end.
Some oils have the added benefit of encouraging blood circulation near the scalp, which activates the hair follicles, thus resulting in fuller and glossy hair.
Rinse Hair With Cold Water For Optimum Shine
It is a myth as old as time, but it works. Rinsing hair in cold water when you condition your hair has a list of benefits, one being it increases shine.
Coldwater seals and smooths the hair cuticle, locking in moisture and adding shine. Rinsing in cold water also helps lock in hair color.
The hair cuticle will also lay flatter when rinsed in cool water vs. warm water, and when the cuticle lays flat it will produce more shine. Water, itself, can open or close the cuticle through absorption and swelling of the hair, and overall it is a very fast process.
To picture this think of different clothing fabrics. Wool sweaters are not going to shine in the sun as much as a flat fabric like sweatpant material
If you are super sensitive to cool water you can do lukewarm water, or try to just wash your hair and not do a full body shower.
Use A Clarifying Treatment To Get Shiny Hair
Our hair is a product of our environment,. What does this mean?
Studies have shown that airborne pollution causes oxidative stress, in other words, the body's inability to detoxify free radicals with antioxidants. This leads to increased hair shedding and buildup on top of the hair shaft, thus making it look dull.
Eventually, the air particles, dust, and soot make their way into the water cycle through rainfall. Pollutants in surface and groundwater combined with other minerals, like those in hard water, cause dryness, breakage, thinning of hair follicles, and decreased shine.
Pollution has also been linked to oily, itchy scalp, and dandruff, which are fairly common symptoms for the average person. Whilst there could be a much simpler explanation, it's important, especially if one lives in a large industrial city, to keep in mind that pollution may be the root cause.
Smoking or exposure to second-hand smoke is also hazardous for hair. Smoking can cause damage to the DNA of the hair follicle, research shows. It can also cause oxidative stress in the body, a factor that can lead to hair damage and even hair loss. Second-hand smoke isn't healthy for hair either. Quitting smoking or encouraging your loved ones to quit isn't just good for your lungs — it can help prevent hair damage and add shine back.
Because of all of these things, you should use a clarifying shampoo, conditioner, and monthly or weekly treatments.
Clarifying treatments, or 'hair detox treatments are used to remove buildup from excess product buildup, dirt, toxins, pollutants, free radicals, or minerals from hard water commonly found in water systems without filters.
If you have a specific shampoo and conditioner you are married to that's fine, just make sure you add in a clarifying treatment into your weekly mix. You could also add a clarifying shampoo and conditioner one day into your normal routine, or even alternate them at every other wash.
Life Changing For Swimmers
If you are someone with dull and lifeless hair, it could be correlated to the fact you are an avid swimmer, pool or ocean person.
I was a diver my whole life, and every season my hair would go from fab to drab quick.
All the chlorine (and god knows what else) in the pool water takes a significant toll on hair. It is the same with the ocean; all of that salt will dry out your hair and remove the shine right out of it. These factors literally strip the hair of natural oil and minerals that are crucial for hair shine.
IMAGE
PRODUCT
DETAILS
OUAI Detox Shampoo

Has apple cider vinegar in it that will deeply cleanse away dirt, oil and impurities.
Removes buildup from styling products or hard water deposits

Professional Brand Favorite

Kenra – Clarifying Treatment

99% of dulling deposits.
Gentle, color-safe formula is great for swimmers and those in hard water areas
Contains mica to enhance shine and promote restoration.

SUNDAY RILEY – Clean Rinse Clarifying Scalp Treatment Serum


 AHA/BHA-infused, rinse-off serum to clarify the scalp of product buildup, excess oil, dead skin, and pollution for a cleaner, healthier-looking scalp and refreshed hair
Nurtures the scalp with vitamins, minerals and essential fatty acids

l'ange – Detox Scalp Reset Serum

The charcoal-infused serum is designed to enhance the appearance, feel, and overall health of hair and scalp
Contains a soothing, cooling blend of peppermint and tea tree to alleviate irritation while restoring balance and comfort.

Living Proof – Scalp Care Dry Scalp Treatment



Instant Hydration with lasting relief
Cruelty-free
Vitamin-B3-based microbiome complex rebalances your scalp's natural ecosystem for lasting relief