Having a computer on top of your lap while you binge watch TV is as common nowadays as wiping your butt after you poo. It's something that is second nature to us all, however, it comes with some annoyances. After a while the laptop overheats which can lead to malfunction of the computer or overheating of your body.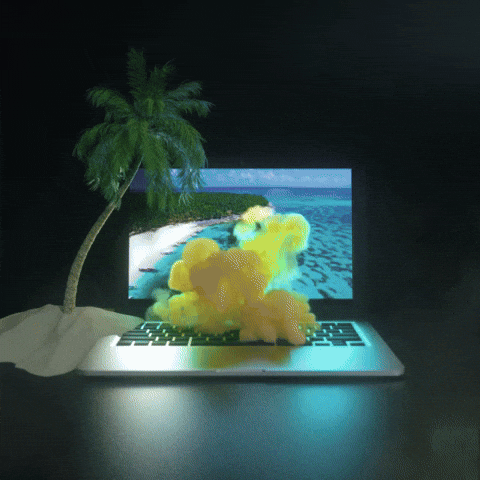 For those who prefer a mouse while using a computer, having it sit directly on top of your legs leaves no space for the mouse to function. This is where the genius of a laptop desk comes into play.
Portable Laptop desks provide much-needed comfort to both adults and children. They aid in the functionality of things such as:
Air circulation for the hardware of the computer
Space and surface area for people to keep important work items such as a notebook and pen
Hard surface for a mouse to move around
Ideal positioning of the computer to the body so people can practice proper body posture while typing and web surfing
Positioning the computer to ideal eye level so people aren't ruining their eyesight
Help with cable management
Place to set your phone so you can have dual work devices going at once
Portable work stations can be used on your lap in front of the TV or even on top of your desk at work. If you travel they can be very beneficial for getting work done at the airport or on the train. Don't do work that requires a computer? No worries, they can still benefit you when watching TV or in the kitchen when you have to follow a recipe via Pinterest.
Let's dive into a few of my favorite workstation desktops below, and perhaps you will find one that suits all of your needs as well! What are you waiting for? Scroll on down Linda, you know you're interested.
[su_divider divider_color="#f0bfe1″ size="2″ margin="5″]
This product is great for those who are looking for something classy for the office and for home use. It has a minimal, sleek design that is unisex in nature and fits in any setting.
Non-slip rubber feet located on the bottom means you can use it on your bosses desk to give a presentation without scratching it up. Looks like you won't have to be filing for unemployment like the last person who used Mr. Adams desk to give a presentation. Good for you Linda.
A lip extender allows users to put thick, older or bulky laptops on the surface without fearing it will fall off. The clip-on mouse extension makes it easy to use when you need a surface for your mouse and perfect when you want a less bulky design in bed or on the plane.
2 USB cooling fans will be found on the bottom of the main tray allowing your laptop to circulate air properly and your computer will no longer overheat.
Lightweight aluminum material used to make this stand makes it sturdy but transferable. Legs are able to lock in various positions with its 360-degree hinges; making it fit comfortably to your specific body and endless position possibilities.
Available in black and silver. 
[su_divider divider_color="#f0bfe1″ size="2″ margin="5″]
Best way to do a manicure on the go! Click here to learn more now. 
[su_divider divider_color="#f0bfe1″ size="2″ margin="5″]
This product is like the magician who keeps pulling rabbits out of his ass, I mean hat.
At first glance, you will notice the overall product used to make this is bamboo. What might be interesting for you to know is that it is %100 bamboo, which means it's better for the environment and will last longer than portable laptop stations made from plastic.
Legs are wide enough to stand on multiple surfaces, even soft ones like the couch, recliner or bed. Table height is adjustable with knobs you will find on the legs themselves.
A unique feature you will find with this product is the ability to adjust the tilt degree of the table top itself which means you can adjust the screen any way your little heart desires. You like your laptop tilted with a nice little slant for your keyboard, boom that's possible.
On the right-hand side is a small drawer that is kept close via a magnet, so the drawer won't' open while you readjust your butt cheeks. The surface above that has a built-in cup holder so you can set your cup down in confidence knowing it won't spill onto your lap.
The left-hand side has two built-in fan holes to keep your computer nice and chill.
[su_divider divider_color="#f0bfe1″ size="2″ margin="5″]
Unlike the previous products we went over, this little guy sits directly on top of your lap.
Dual bolster cushions allow this portable lap desk to sit on any leg shape comfortably and steadily by adapting to the surface it is put on, or in this case the leg it is put on.
A wrist pad lines the bottom of this which is multifunctional; it keeps your laptop from sliding and works as a nice wrist cushion for typing.
A few built-in options are found on top that includes a built-in mouse pad, pen holder, phone holder, and tablet holder.
The only thing you won't find wit this product is a built-in fan hole to help cool your computer down. A simple fix to this would be putting the bottom of your computer on top of the wrist cushion or putting an extra cushion in the back tablet holder, as to create your own ramp which would allow airflow.
[su_divider divider_color="#f0bfe1″ size="2″ margin="5″]
This product works great for those who use computers at home or those fancy peeps who have couches in their office. Perhaps you hurt yourself, or are pregnant and are forced to be on bed rest; this works great in your bedroom beside your bed. 
Great little send table is made of 100% bamboo stained a darker color. Big enough to rest your computer on and compact enough to stay out of the way when guests come over.
The legs of this table can be tucked under the couch or bed for easy stability of the table throughout.
[su_divider divider_color="#f0bfe1″ size="2″ margin="5″]
While this may be called a bed tray, it can work great in numerous spaces. It is offered in medium or large, and in a silver or a black color. 
You will receive this item fully assembled so you don't need to worry about having to put things together. Wide legs and 5 different adjustable settings allow this table to fit the height you need.
This specific table top has options for you to choose what type of stoppers go on the bottom. You can choose to have no stopper, a tablet holder stopper, and a straight edge stopper. Being able to rotate the stoppers allows you to choose where they go depending on if you use the mouse with your right or left hand. 
Folds up onto itself nicely so you can easily store it out of the way when it's not in use.
[su_divider divider_color="#f0bfe1″ size="2″ margin="5″]
Final Thoughts
With so many portable laptop desks on the market, there's one that is sure to fit your needs, style and wants!