With so many articles out there on female gym shorts, I'm shocked at how useless and unflattering the shorts themselves are which appear within these articles. I'm beginning to think a man or a hired writer wrote these articles without keeping women in mind at all. Half the shorts are not practical for the gym and the rare ones that are, are completely not in style at the moment…or maybe ever.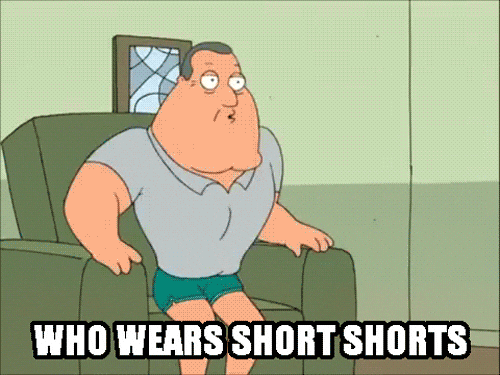 Lucky for you; I am an actual woman, who actually works out and has tried out all the shorts I will be showing you. Looking cute at the gym doesn't have to come at the cost of wearing shorts that are not practical to work out in. You can have your cake and eat it too my friends. Or maybe since this is a workout post I should say, you can have your smoothie and eat it to my friends. But that doesn't sound as fun; so stick with the cake, it's not going to kill ya.
[su_divider divider_color="#ebb4ea" size="1″ margin="5″]
A Few Things To Keep In Mind Before Buying Gym Shorts
Built-In Underwear:
Some gym shorts are going to come with built-in underwear and some aren't. Built-In underwear can be great for those who are big into cardio especially running. Wearing shorts with underwear already built inside of them will help keep moisture control in check, so you don't chafe.  They also aid in keeping your downstairs dry and comfortable.
If you get shorts with built-in underwear keep in mind; it is not necessary to wear underwear with them. It would be like wearing two pairs of swimsuit bottoms when only one is necessary.
Built in underwear provides comfortability and support like your everyday underwear would, but don't stick out showing panty lines when you are lifting. Win-win.
Tie vs Elastic Waist
Each pair of shorts is different and some will offer a tie option built into the waistband and some will offer an elastic waist. This is a personal preference on which is more comfortable for you.
An elastic waistband moves as you move, so you get comfortable moveability without having any private parts popping out. No one wants to see your plumbers crack Linda as you're going down to deadlift.
I tend to find that ties cut your body off at certain angles, digging into places that can distract you from the workout you are trying to do.
Writers note: I have a big butt and while you would think a tie option would be my go to, it isn't. I prefer shorts with elastic in them. They stretch to fit the curves of my butt and hips and are more comfortable to me than waistbands with a tie option. However, I do still wear a tie waist if I think the shorts are really cute.
Material 
Legit workout shorts are going to be made with some type of climate regulating material. The material used for workout shorts is typically lightweight, breathable and durable.
You typically wash workout shorts more often than everyday shorts so you want to get a pair that can hold up to all of the necessary washes. Try to stay away from cotton or nylon as these will not last you long between washes and will start to crumble from all the wear and tear.
---
Are you running frequently and have problems with your hair ties breaking easily? Check out this post for some tips!
---
Style 
This is another personal preference but I suggest sticking with shorts made for females. It is just basic science that male and female bodies are shaped differently, we were born to give birth and therefore are shaped differently than men, especially around the hip area. Getting shorts specifically for females is a good go to, but unisex shorts work great too!
If you feel more comfortable in male shorts than go for it! Whatever you feel most comfortable in, just remember that they do make female shorts with a longer length that might fit you better around the butt and hip area. They also make waistbands with women's hips in mind.
Shape 
The shape of workout shorts is another thing that is going to differ from person to person. While you might not have even noticed, shorts are made with many shapes to the hip and bottom. Some will have a straight bottom, some will with a little V cut on the side and some will have two overlapping flaps.
I personally like shorts with a little V cut on the side or the over-lapping flaps because it allows my legs more wiggle room and feels more comfortable when I move because I'm never constricted.
If you're big into squats or machines having a hemline on the bottom that isn't straight will allow you to move with more ease. Your legs won't be constricted and feel cut off by the shorts as you are doing workout moves or squatting down.
Waistband 
Typical workout shorts are either high-waisted or regular. This is personal preference on what fits your body best, I personally like high waisted so I don't have to keep pulling them up.
Pockets 
Most workout shorts are going to have one little pocket that is tight and secure. Typically people put their key, credit card, cash or workout goo in these pockets. If you like other side pockets you can find those in other workout shorts but it might take a little looking.
[su_divider divider_color="#ebb4ea" size="1″ margin="5″]
Best Kitchen Tool To Help Women Lose Weight! Peep Here To See What It Is! 
[su_divider divider_color="#ebb4ea" size="1″ margin="5″]
I own these in a few colors. Adidas is always my go-to for workout shorts and they never disappoint.
Key Features:
Fabric– soft, 100% polyester, fluid climate will help keep moisture control and the small pocket located on these are waterproof so if you decided to put money in it you can know it will stay nice and dry.
Pocket– A small front key pocket is available as we have gone over above and is located on the waistband.
Waist – Depending on your height these are a good in-between of a regular and high waist. Since I am about 5'3 they border on more of a high waist, but not over the belly button type of high waist. Waistband has a drawcord so you can adjust the fit.
Built-In Underwear – Yes! The built-in underwear is also made from fluid climate control and keeps dry and comfy.
 Shape – The hemline of the bottom of the shorts are shaped with a U built in so you can move comfortably.
You can purchase these shorts in a number of patterns including:
Black
Aztec pattern
Polka dots
Blue
Grey and white
Red
Teal
[su_divider divider_color="#ebb4ea" size="1″ margin="5″]
Enjoying this article? You might also enjoy my Top Rated Tampon Cases You Never Knew You Needed! Click Here to read now! 
[su_divider divider_color="#ebb4ea" size="1″ margin="5″]
Just do it and check out these awesome workout shorts. Great for runners or lifters and come in some of the cutest colors!
Key Features:
Fabric – 100% polyester – Nike Dry Fit is great especially for warm temperatures. These shorts will keep you cool inside or outside so you can finish your workout at a comfortable temperature.
Pocket –  these have a small internal pocket so you can keep your items close to you.
Waist – Midrise waistband tilts up in the back for a comfortable fit. You can bend over and your plumbers crack won't peak out. The waistband is also adjustable so you can ensure the shorts will fit your waist.
Built-In Underwear– Yes!
Shape– Shorts are shaped so the middle seamline goes down more and the outside goes up, sort of like an oblong circle. This allows you to feel comfortable so when you bend your wandering-eye won't come out…for those who haven't seen that movie it means vagina. Side panels also are made from mesh so it gives you extra air to keep you cool and gives the overall short a light, airy feel.
You can purchase these shorts in the following colors:
Black and white
Red
Pink
Blue
Grey
Orange
There are honestly an endless amount of colors, so my best suggestion to you is to click on the link so you can play around and check out the hundreds of colors they offer for these shorts.
---
I recently did a post where I reviewed my favorite gym bags for women, I highly suggest checking this one out! Nothing pairs better with gym shorts than a fresh workout bag! 
[su_divider divider_color="#ebb4ea" size="1″ margin="5″]
Under Armour shorts have been a staple in women's closets for decades. I remember growing up wearing these shorts to workout and they lasted for years! Affordable and made from great quality, you really don't need much more than that.
Key features:
Fabric –  100% polyester – these are more of a loose fit and are super relaxed. The fabric used to make these are a dry climate type of material.
Pocket – These workout shorts have two front hand pockets which allow you way more storage space.
Waist – Elastic waistband is wide which won't cause pinching.
Built-In Underwear – Yes!
Shape – longer sem inside by the thighs. Mesh panels are located on the sides which help with air flow. Reflective detail is located throughout which means you can wear these on road runs and be safely visible.
The shorts are available in too many colors to list so I suggest checking them all out with this link here! A few of my favorite colors include :
Oxford blue
Neon coral
Tropical tide
Fresh Orchid
[su_divider divider_color="#ebb4ea" size="1″ margin="5″]
Related Article Best Water Bottles For Running You Should Get Before Summer! Easy to run with and great to look at. 
[su_divider divider_color="#ebb4ea" size="1″ margin="5″]
This is one of my favorite brands that many people haven't heard of yet. Icyzone makes good quality workout gear for great prices, and all their pieces come in fun relevant colors.
With these running shorts, you will notice an underneath spandex layer. This provides extra support and helps aid in the chaffing area.
Key Features:
Fabric – 95% Polyester 5% Spandex means you are getting shorts that will last through lots of wear and tear.
Waist – Elastic waistband, more on the thin side for width.
Build-in-underwear: Yes! Built-in spandex shorts.
Shape – Slightly slanted for optimal movement control and they also have a little notch in the side which can help with lifting.
Available in the following colors in a two pack:
Black/Green
Black/Red
Dark Grey/Red
Grey/Purple
Grey/Blue
Grey/Red